Yanira, 12 metre Int. C/R
Ref. CP098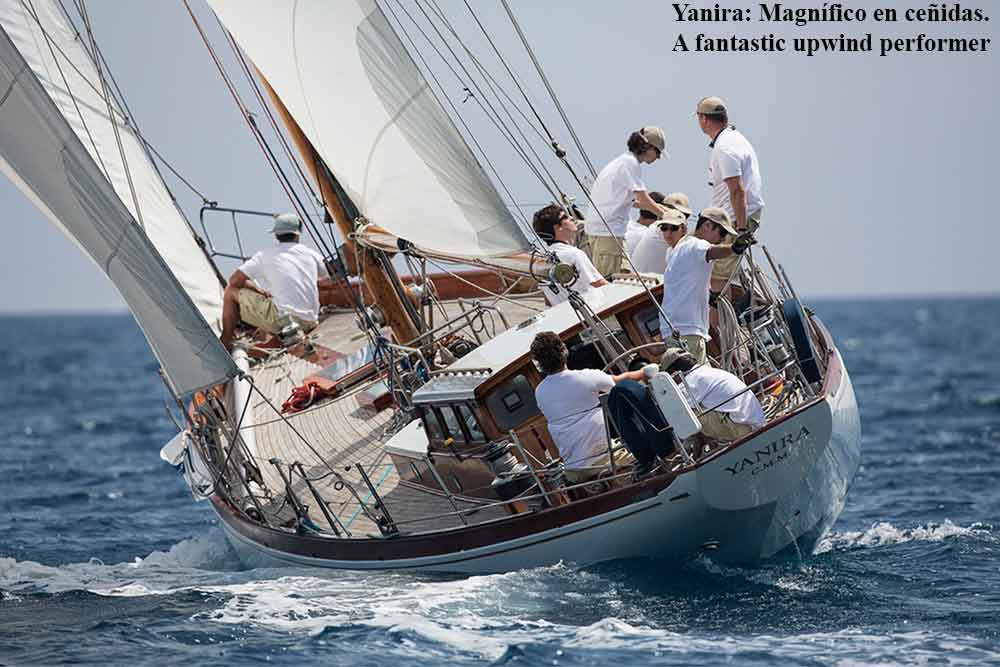 A magnific classic cruiser racer, in perfect shape. She has triumphed in many races either in the past as in the present. She is structurally sound and is being offered at an outstanding price.
EUR 320,000 ,-
Yard:
Bjarne Aas, Fredrikstad
Hull Structure:
Cuban mahogany on oak frames and s.s. reinforcements
Deck Structure:
Plywood teak laid (2017)
L.W.L.:
12.33

m.
37.58 feets
Displacement:
20
20 Tm.
Tm.
Type:
Cutter, Canadian Sitka Spruce (2017), boom Oregon Pine
Winches:
Lewmar (2002): 2x65st+2x55+3x40+2 halyardstores (1953)
Genova Furling:
Main Furling:
Tender:
Zodiac Valiant 340
Safety equipment:
Spanish 60 miles
Serviced:
Rebuilt 2016
Hours:
2.300 h.
Transmission:
Shaft, Hurth 250 H gearbox
Propeller:
Max Prop, three blades
Bowthruster:
Main-sail:
1 Terylene (CIM) + 1 Pentex (IR)
Jib:
Genoa:
1 light (CIM+IR) + n.2 Pentex (CIM+IR) + 2xn.3 Pentex (IR)
Stay-sail:
Terylene (CIM+IR)
Mizzen:
Spinnaker:
Heavy, medium and light (CIM+IR)
Gennaker:
Reacher (CIM+IR)
Autopilot:
Neco (2002, serviced 2017)
VHF Radio:
Sailor RT 2048 + hand-held
GPS:
Raytheon RC70L (2006)
Plotter:
Raytheon RC70L (2006)
Radar:
Other:
Batteries:
1 engine 160Ah + 2 x Victron 250Ah AGM services (2017)
Inverter:
Batteries charger:
Victron 50A (2017)
Total Beds:
Air Conditionning:
Washing Machine:
Water-maker:
Ragnar Appelgren (1909-1993) was a cosmetics industrialist and passionate sailor. In 1953 he asked Bjarne Aas to design him a big boat. It was the bigger boat commissioned to Aas to date: a 12 m. for the then new Int. Cruiser-racer rule. The CR rule could had been inspired by the Int. Metre Rule, but more biased towards the blue water sailing, with more freeeboard, more draft, more displacement. As the Metre rule, the C/R boats spot long overhangs that give them a superior elegance compared with any other kind of classic boat. The new boat was built in Fredrikstad, close to the Sweden border, and was the biggest building to date for the Yard. This Yard was owned by Aas himself. He had made a big reputation, before de Second World War, with the design of Six Metres Int., very much as Olin Stephens, and like him Bjarne Aas was always influenced in his designs by the Int. Metre style. He even won an Olimpic medal in Paris in 1924, with a Six. For all these reasons, the Ingeborg, as was named the boat after the name of Mr. Appelgren wife and daughter, spots so beautiful and impressive overhangs. They give her a buoyancy reserve very important in bad weather. Mr. Appelgren sailed with Ingeborg during three years in the North Sea waters, winning many races and cruising with the family. In 1957 he sailed to the Mediterranean and established his base in Palma de Mallorca, where after another three years he sold the boat to Spanish industrialist Manuel Giró Minguella, the famous owner of the Ossa motorbikes. Mr. Giró changed her name to the present Yanira. Yanira, not denying his fame as Ingeborg, continued winning races so much so than once, when she was entering the harbour in Barcelona, she was so hailed: "Salve Yanira! Morituri te salutant", the Roman Gladiators salute, when condemned to death. Today the Yanira is in very good shape. She is a very fast vessel, even in light winds. She has a full set of recent sails, either for modern or classic races. Her present owner gave her a new life with a new teak deck and a new mast, both to the original design. Her engine was also overhauled and there are just a few aesthetic touches that remain to have her ship-shape. Her asking price is reduced to easy the sale and does not reflect at all the cost of the works carried on board or Yanira's real value.
Request more info Yanira, 12 metre Int. C/R
These details are believed to be correct but not guaranteed. This specification can not form part of any contract. The purchaser should instruct his surveyor and/or agent to investigate any detail he wants validated. The boat is offered subject to prior sale, price change, inventory change or withdrawal without notice.