Amel Sharki 39
Ref. VP243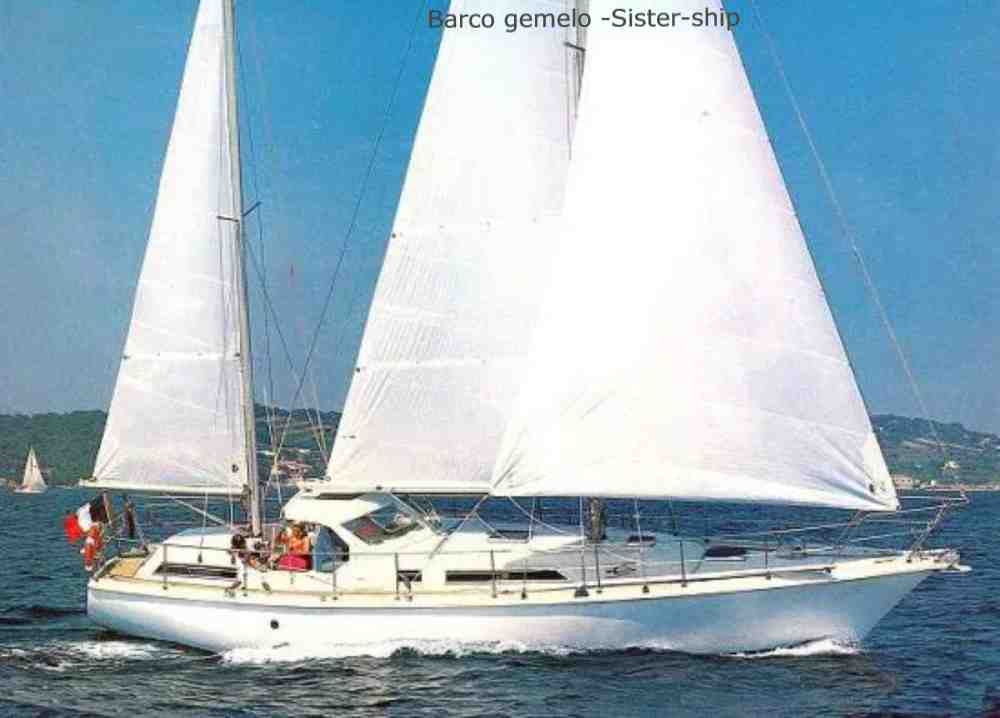 A cruiser still up-to-date: roomy, comfortable and safe. She is in good general shape.
EUR 66,000 ,-
Design:
Henri Amel/Jean Carteau
L.W.L.:
9.71

m.
29.60 feets
Displacement:
9.66
9.66 Tm.
Tm.
Main Furling:
No, Frederikssen ball bearing cars track
Windlass:
Electric, horizontal
Outboard:
E.P.I.R.B.:
Engine:
Midif MD1760 (Mitshubishi engine)
Serviced:
Every Year
Hours:
390
Propeller:
Bowthruster:
Main-sail:
Terylene, Lazy bag
Jib:
Try-sail:
Stay-sail:
Gennaker:
Log:
Furuno FI 50 Digital + Multi
Depth-sounder:
Furuno FI 50 Digital + Multi
Wind Station:
Furuno FI 50 Wind
Other:
Batteries charger:
Victron Energy
Holding-Tank:
Air Conditionning:
Washing Machine:
Water-maker:
Miscellaneous:
Any Naval Architect knows since immemorial times that to obtain the best privacy on a boat, particularly if small, the best way is to put one cabin forward and one aft and the saloon and cockpit in between. The central cockpit was born in the Thirties in the USA, but it reached success in Europe only during the Seventies and today it is considered a North european feature. In France Henri Amel was one of the formula most enthusiasts cranks and when he introduced the Sharki, this model was alredy the third generation of her overall length. In 1980 the Sharki replaced the Euros model, thus keeping with the Yard's tradition of giving to its models a wid name, in this case the Moroccan South. The new model kept also the general lay-out that Amel has continue to offer for more than three decades. Its sharp edged lines, replaced the radiused ones of the Amel Euros. Generally speaking, it kept the older model lay-out with far roomier spaces. Amel built close to 200 units until 1987. It was an important commercial success that sadly Henri Amel did not replicate on this range, concentrating the production on the Maramu and Super Maramu. The Sharki is a boat that still offers confort and safety on blue water sailing, with an impressive water and fuel capacity. The unit on offer is in good general shape, with many renovated important particulars, as the engine, the electric system and sails. It remains to renovate the gel-coat on deck and the upholstery down below.
Request more info Amel Sharki 39
These details are believed to be correct but not guaranteed. This specification can not form part of any contract. The purchaser should instruct his surveyor and/or agent to investigate any detail he wants validated. The boat is offered subject to prior sale, price change, inventory change or withdrawal without notice.