Artako
Ref. CP108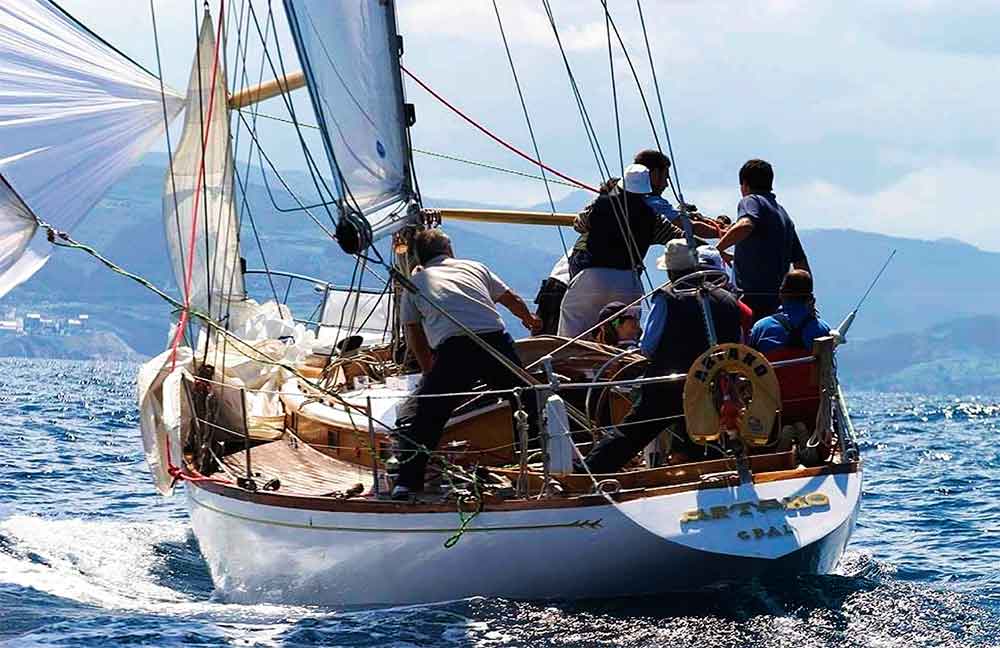 The Artako does not need introductions: she is one of the most award-winners in Spain, either in classic and modern races. She is today in good shape to continue her cruising and racing career for many years to come.
EUR 80,000 ,-
Design:
Sparkman & Stephens
Hull Structure:
Sapelli Mahogany, ash and oak
Deck Structure:
Plywood, teak laid
Displacement:
12.72
12.72 Tm.
Tm.
Winches:
Andersen: 2x58st + 2x52st + 3x28st + 1x12st
Main Furling:
No, Facnor cars
Spinnaker Pole:
2 alloy, 1 carbon
Windlass:
Lewmar, electric
Anchors:
Kobra 20 kg + Allloy Danforth type + Fisherman
Outboard:
Tohatsu 2,5 cv/2 strks.
Safety equipment:
Spanish 25 miles
Serviced:
Every Year
Hours:
Propeller:
3 blades, folding
Bowthruster:
Main-sail:
2 Hood, Terylene, full batten, 1 Lee, Terylene recent
Jib:
Genoa:
Terylene, Hood, 135%
Try-sail:
Mizzen:
Log:
Raymarine ST60 + Tridata
Depth-sounder:
Raymarine ST60 x 2
Wind Station:
Raymarine ST60 Graphic
Autopilot:
Raymarine ST6000, remote control
GPS:
Garmin GPS4010 + Raymarine ST60 Graphic + Garmin Tactic 700 (2017)
Plotter:
Garmin GPS4010 + Raymarine ST60 Graphic + Garmin Tactic 700 (2017)
Radar:
Garmin GPS4010 + Raymarine ST60 Graphic + Garmin Tactic 700 (2017)
Other:
Navtex ICS Nav6 + AIS
Batteries:
95Ah engine + 3 x 105Ah AGM services
Generator:
Oven:
Plastimo Pacific 2000
Air Conditionning:
Webasto heater
Washing Machine:
Water-maker:
Miscellaneous:
The Artako is one of the most awarded Spanish racers. She has won every kind of regatta: coastal, long term, national, international... Her origins have a deep American taste: Sparkman & Stephens mader her from their design n. 1792 with improvements at the rudder, following the fashion of the beginning of the Sixties. Mr. Stanley Woodward made her in his MYABCA Yard (Mallorca Yacht And Boats Construction Association) where many other interesting boats, as the Livia and her two sister ship with centre board for example, have been built. Her first owner was Mr. José María Gamboa Ibargaray, from Bilbao, who even provided the wood for the craft and put her name in antique basque letters, as it is still there. During his ownership two Admirald Cups were made in 1967 and in 1969. In 1998 the Artako changed hands, her new owner being Mr. Juan Olábarri, a well known sailor from Bilbao too. The following year a chain-plate failure dismasted the Artako, her original mast, an aluminium built Proctor, being more difficult to replace that if it was wooden made. Mr. Olábarri asked Naval Enginyeer Íñigo Echenique to draw a taller rig, in accord with S&S, as he felt a lack of power for the hull. In fact, with a meter and a half taller rig, the Artako is now agile, rapid to handle and faster in low winds. The amount of prizes won by the boat during Juan Olábarri ownership has been amazing, either in classic or modern boats races. Her owner was keen to have her equipped for any kind of program mounting the best equipment possible at any moment. He renewed the electric system, the electronics, the deck hard-ware, the engine, he even improved fuel and water capacities, to allow for blue water sailing. At the passing of the grat sailor, her family preferred to look for a new owner, the third, who could continue her sailing history, either in racing or in cruising mood. Today Artako's conditions are good. She only needs new paint job inside and in bilges and some small touches to say that she in in perfect shape.
These details are believed to be correct but not guaranteed. This specification can not form part of any contract. The purchaser should instruct his surveyor and/or agent to investigate any detail he wants validated. The boat is offered subject to prior sale, price change, inventory change or withdrawal without notice.