Bénéteau First 456
Ref. VP241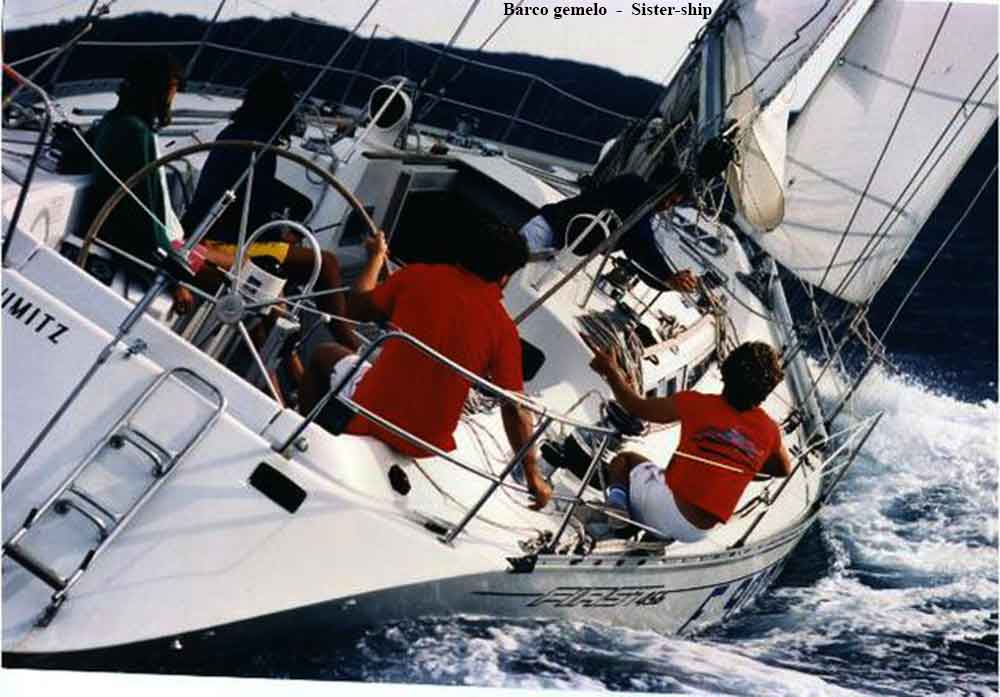 A gorgeus cruiser-racer of the best sailing era. Masterly built, with an interesting history and in a very advanced restoration state.
EUR 46,000 ,-
L.W.L.:
11.99

m.
36.55 feets
Displacement:
12
12 Tm.
Tm.
Winches:
Lewmar: 2x65st + 1 x48st + 2x46st
Genova Furling:
Hood Titanium
Main Furling:
Spinnaker Pole:
Windlass:
Anchors:
Tender:
Outboard:
Safety equipment:
E.P.I.R.B.:
Main-sail:
2, one in good shape
Jib:
Stay-sail:
Mizzen:
Spinnaker:
Depth-sounder:
B&G Network
Plotter:
Radar:
Other:
Total Beds:
Holding-Tank:
Air Conditionning:
Washing Machine:
Water-maker:
Miscellaneous:
The Bénéteau 456, introduced in 1983, was the out-come of a collaboration between the French Yard (that the previous year had reached the peak of the biggest builder worldwide of sailing boats) and the Argentinan Naval Architect Germán Frers who was disputing the victories to Bruce Farr in all the racing fields. The objective was to build the biggest boat for the Admiral's Cup French team and to pose the bases for the biggest luxurious model of the range of the French builder. The first unit, Lady Be, in fact was born with a full racing deck lay-out with open transom and a tiny, testimonial, roof. She could not qualify for the French team and she ended up under Newzealander ensign under the command of a certain Peter Blake. The design of the Lady Be was a derivative from that of Shockwave, which Frers did for Australian Neville Crichton, which was sailing in the same 1983 Admiral's Cup Newzealand squadron. They were not successful due to light winds that favoured small boats. On the commercial side, the First 456 that Bénéteau derived from Lady Be, was a huge success instead. It was the first time for the French Group on the luxurious big boats market. The First's comfortable deck lay-out either for racing or relaxing at anchor and the huge and luxurious interior with different two or three cabins lay-outs determined the success. The unit on offer was incorporated to the Spanish Navy with the name of Denebola and used by the Navy Racing Commission from its base in Cádiz. Among her crew, various Navy Admirals and H.M. The King Juan Carlos. Her present owner started a deep restoration project, but was obliged to quit, due to his job changes. Thus she is for sale. She received a comprehensive anti-osmosis treatment, she has a new electric system, new hull and top-sides paint, new internal upholstery. New galley and three new television screens. She has a good quality electronics set to be mounted and some good looking sails. She needs a new rig, a new windlass and to finish the deck hard-ware mounting.
Request more info Bénéteau First 456
These details are believed to be correct but not guaranteed. This specification can not form part of any contract. The purchaser should instruct his surveyor and/or agent to investigate any detail he wants validated. The boat is offered subject to prior sale, price change, inventory change or withdrawal without notice.