Comet 11 Plus
Ref. VP259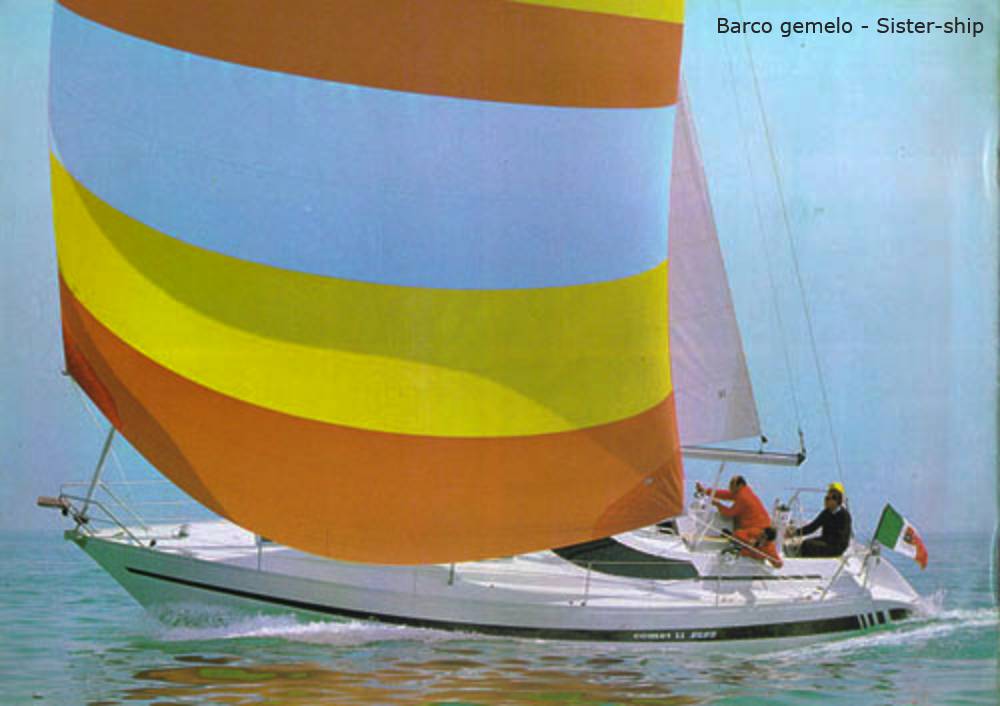 A legendary model which established several marks on cruisers design. A fast, easy and very comfortable sailer with an amazing livability, even by today's standards. She is in correct sailing trim.
EUR 42,000 ,-
Hull Structure:
Solid lamination
Deck Structure:
Balsa cored sandwich, mahogany reinforcements
L.W.L.:
9.00

m.
27.43 feets
Displacement:
6.5
6.5 Tm.
Tm.
Winches:
2 x Barient 28st electric 2 x Gibb, spi 2 x Barbarossa at companionway 1 x Barlow mainsail furling
Genova Furling:
Facnor C 350
Main Furling:
In-mast Seldén
Windlass:
Electric, vertical
Tender:
Walker Bay with sail and centreboard
Safety equipment:
E.P.I.R.B.:
Power:
Serviced:
Rebuilt and paint
Hours:
Propeller:
Fixed, three blades + spare propeller
Bowthruster:
Main-sail:
Beilken, Terylene, in-mast furling
Try-sail:
Stay-sail:
Mizzen:
Gennaker:
Depth-sounder:
Navico Corus
Wind Station:
Autopilot:
Plotter:
Other:
Batteries:
1x75Ah engine + 2x75Ah services
Generator:
Windvane and solar panels
Batteries charger:
25A/12V
Hot water:
Air Conditionning:
Washing Machine:
Water-maker:
Miscellaneous:
LG TV and Kenwood radio CD
The collaboration between the Comar Yard and the Groupe Finot started with the Comet 950 a model quite revolutionary on the racing fields and even for the yacht design. It was based on a prototype meaningfully called Révolution: a beamy vessel, with ample stern, high freeboard, short overhangs and uncommonly roomy down below. She was a fast boat too!That model made a fortune to the Italian Yard and to the French designer. With the Comet 11 bothof them made a step forward on the pure cruising ground, not renouncing anyway to have good performances. With its fair success, the C 11 gave the start to a full range of Comet cruisers that was responsible fir the Yard's growth during the Eighties: the Comet 13 and 14 were the biggest vessels of the range and they are still highly considered on the second-hand market.When in 1976 they introduced the C 11 Comar and Finot innovated in many different fields: the hull kept many Comet 950 features, presenting relatively more beam, higher freeboard and overhangs reduction. Her deck was very modern and was inspired by the world of power boats, with a highly bent fixed spray-hood and a very low coach-roof that makes quite a flusk uncluttered deck. This styling was highly succesful and in Spain was follwed for example by the North Wind 40 and 435 designed by Angus Primrose. It is a lay-out which spots a weak point however with a relatively small cockpit, although full of stowage spaces as everywhere on the boat. On the tiller fitted units, as it is the one on offer, this weak point is less felt, as the full cockpit remains uncluttered while at anchor or moored. The rig of these boats too was innovative, as they have been perhaps the first boats on the market to offer an in-mast rolling reefed main-sail, a by then fairly new technology: their blak painted masts created a real fashion that lasted for more than a decade. Even below decks the Comet 11 was a real revolution: its generous dimensions in terms of beam and freeboard gave to this model great opportunities that were maximised by valiantly opting for an aft placed saloon, below the cockpit. It is thus obtained a huge lighty and airy space for conviviality. At maximum beam we find on port side the galley and at starboard the chart table. In the middle there is a very convenient helmans station with a wheel, very ingenious for a time when there were not remote controls for the autopilot, with a magnific 180º external view. Only weak point of this lay-out, the companion-way ladder heigth: five vertical steps. All the hull foreside is left for cabins that benefit this way of an unbelievable privacy, impossible with other lay-outs. On the unit on offer, on starboard side, instead of a two bunks cabin, there are wardrobes favouring living aboard for long periods. She is finished throughout with African rosewood work a reddish very elegant essence which imposed a fashion then. This unit on offer will be found in very good structural and maintenance mood. She needs deep cleaning, thought, due to a short use during the last period.
Request more info Comet 11 Plus
These details are believed to be correct but not guaranteed. This specification can not form part of any contract. The purchaser should instruct his surveyor and/or agent to investigate any detail he wants validated. The boat is offered subject to prior sale, price change, inventory change or withdrawal without notice.