Diana
Ref. CP93bis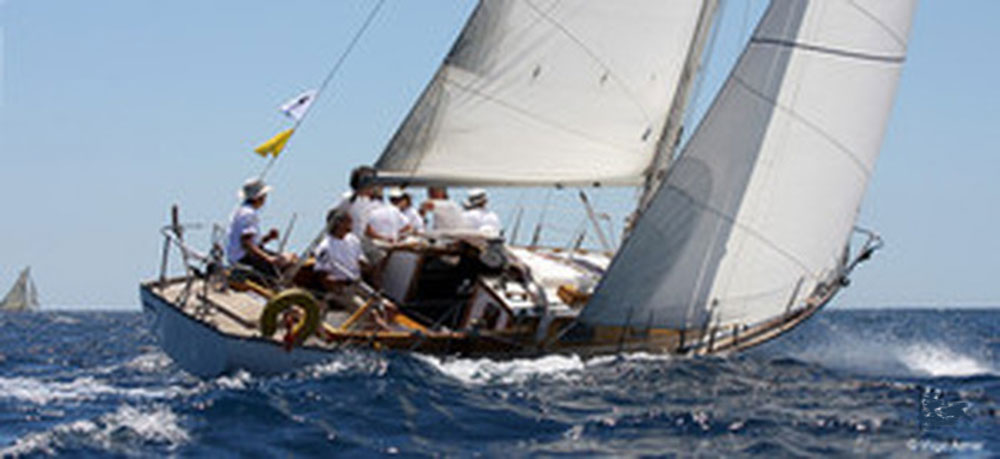 A precious and elegant wooden built cruiser-racer, kept in excellent shape.
EUR 38,000 ,-
Hull Structure:
African mahogany planks. Oak keel and frames
Deck Structure:
Pine and oak beams, plywood teak laid
L.W.L.:
7.40

m.
22.56 feets
Displacement:
5.2
5.2 Tm.
Tm.
Winches:
3 at coamings, 2 on coach-roof 3 at mast, all of bronze
Genova Furling:
Facnor 165 twin canals
Main Furling:
Windlass:
Masterwich 1.000W
Anchors:
CQR, Danforth type, Fisherman
Tender:
Outboard:
E.P.I.R.B.:
Serviced:
Junta, bomba de agua salada y volante cambiados en 2013
Hours:
Propeller:
Barlow folding 3 blades
Bowthruster:
Main-sail:
Depoorter, Terylene (2005) + Tack Velas for racing
Jib:
Yankee, terylene + Tack Velas with batten (2014)
Genoa:
Mylar furling 150% + Terylene (2015) 140% + Tack Velas furling
Try-sail:
Stay-sail:
Mizzen:
Spinnaker:
Heavy and light duty
Depth-sounder:
Raymarine ST40
Wind Station:
Raymarine Tacktic solar wireless
GPS:
Meridian + Garmin 421
Plotter:
Garmin 421 cartographic
Radar:
Other:
Generator:
Inverter:
Batteries charger:
Automatic
Hot water:
Holding-Tank:
Air Conditionning:
Washing Machine:
Water-maker:
Miscellaneous:
Olle Enderlein is perhaps less known, than other Swedish or Scandinavian Naval Architects, but he left for sure a deep trace that even today is still visible: he designed, for example, the full Hallberg Rassy range of the Eighties that established the style of the "Swedish" cruiser still in fashion nowadays. However, Olle Enderlein had established another mark also far before than this one, when he designed the well known cruisers-racers of the Havsörnen range, wooden built by Storebro in two slightly different versions, I and II. 70 boats of each series were built in total and they had an important international success, being sold in numbers all over Europe. A Havsörnen (Sea Eagle) was also Enderlein's own boat, with which he won many races. The boat structure, with light but close frames, guarantees sturdiness and agility. The Havsörnen are fast and easy to handle. At the same time, the interior lay-out, with a central mounted engine, very low in the bilge, gives them an ideal weights distribution. The clever longitudinal galley, of amazing size on such a small boat, is balanced on the other side by an ingenious dinette convertible to a double berth and by the head, immediately forward. And everything is built with care and skills impossible to find on modern industrially built boats. Thus the Havsörnen class joined the economy of a series production to the handmade craftmaship. Diana is in very good general shape. With her previous owner she took part in many races, winning a good deal of prices. In June 2017 she won the overall price at the regional Championship of Classic Boats in Catalonia. With her present owner she has cruised extensively in the Med area. Some sails of her comprehensive equipment are quite recent and slightly used. In the recent past Diana benefited from structural work to the mast chain-plates and of a new white Hempel paint to the top-sides and new varnishes below decks that shine as if the interior was new.
These details are believed to be correct but not guaranteed. This specification can not form part of any contract. The purchaser should instruct his surveyor and/or agent to investigate any detail he wants validated. The boat is offered subject to prior sale, price change, inventory change or withdrawal without notice.