Fairmile
Ref. CA098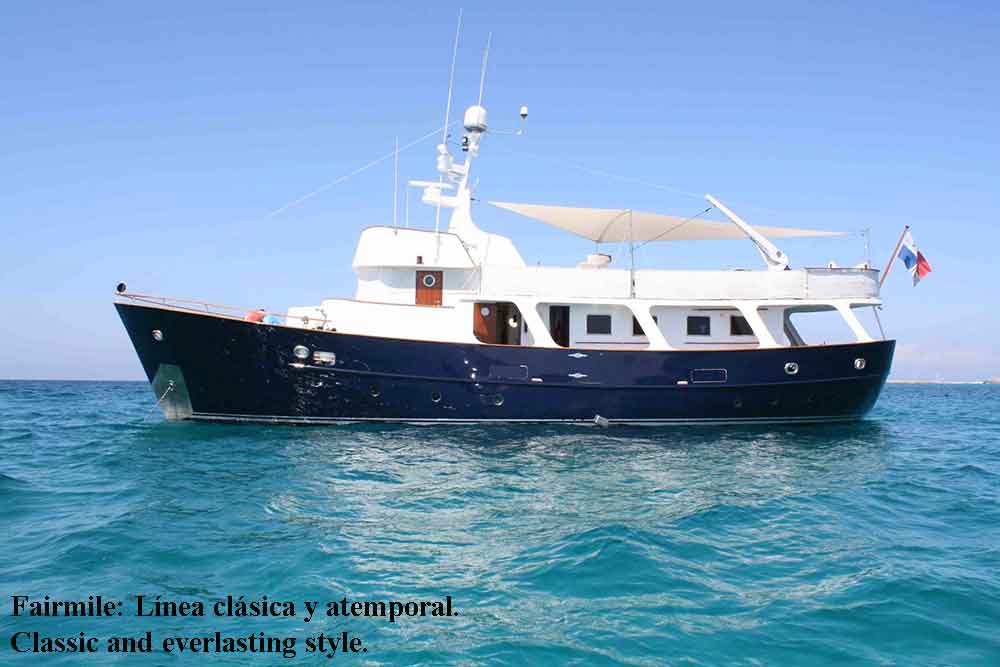 A gorgeous classic motoryacht, built for blue water sailing. She has an amazing range, thanks to her huge fuel tanks and economic engines (50 l./h. in total!). Restored in 2010, she will be found in perfect shape. Panama registered, but VAT paid in Europe. We have many more than the 86 photos that we are introducing here.
EUR 790,000 ,-
Model:
Blue water classic motoryacht
Hull Structure:
Stainless Steel
Deck Structure:
Stainless steel, teack laid
L.W.L.:
19.70

m.
60.05 feets
Displacement:
110
110 Tm.
Tm.
Type:
Winches:
Genova Furling:
Main Furling:
Spinnaker Pole:
Windlass:
Double electric drum and manoeuvres winches
Tender:
2 + 1 water motorbike
Serviced:
Every Year
Hours:
1.631 and 1685 (June 2017)
Bowthruster:
Main-sail:
Jib:
Genoa:
Try-sail:
Stay-sail:
Mizzen:
Spinnaker:
Gennaker:
Depth-sounder:
B&G Hydra 2000
Wind Station:
B&G Hydra 2000
VHF Radio:
2 Furuno FM 8500 Lsd
GPS:
1 Garmin 4008 + 2 Furuno: GP 32
Other:
Robertson mechanic Gyrocompass and KVH electronic one, Furuno FS 1550 SSB. Inmarsat Thrane & Thrane. Furuno Navtex and Meteofax
Voltage:
12V/24V/110V/220V
Generator:
B&N Triton 30 Kw/h and Triton 16 Kw/h
Total Beds:
Fridge:
Various and various freezers
Oven:
Fagor and Samsung Microwave
Air Conditionning:
Yes and heating system by radiators
Miscellaneous:
Authomatic Satellite TV KVH system, Panasonic internal phone net, jacuzzi-pool with fresh or salt water, barbecue and couter with galley on Fly. Hydraulic crane, passarelle and royal ladder.
The Fairmile Yard became famous during the Second World War by building various different classes of fast launches: torpedo boats, gun-boats and escort boats. All of them were well crafted, light and sturdy and very fast. They were the well known Fairmile classes A, B, C and D. After the war, the Yard built boats for the British Administration and afterwards they started building Fishermen, designed by the French Naval Architect Guéroult. It was the 24 m. loa. Fair Isle class of boats that obtained a huge success as they arrived at the good moment, when fishermen were about to replace their older vessels. When the building rithm of Fishermen started to weak, at the Berwick Yard (on the Scottish East coast) they considered building luxurious yachts. They already had the basics: a well trained workforce and a hull design well tested in rough conditions. This was the starting point for a class of blue water yachts of which nine were built between 1962 and 1972. They had different dimensions through adding frames forward and aft to the basic design and one unit was even conceived as a... sailing boat! Tanit was the second to be built, ordered by Spanish Tamames Duke. Her full life was home based in Spain. On the second half of the first decade of 2000, Tanit benefited from an important refit, that slightly modified her exterior shape, not touching however her hull lines. Her name was changed to Fairmile, to honor her building Yard. As her other sister-ships, the Fairmile has a huge sailing range because either her fuel tanks capacity and her Gardner engines proverbial austerity. These are amazingly kept. The Fairmile, with all her equipment on has a hourly consumption of about 50 l.! Nowadays she is being offered for sale due to her owner's health. He loved her all these years long and continue to love her as her excellent shape shows.
Request more info Fairmile
These details are believed to be correct but not guaranteed. This specification can not form part of any contract. The purchaser should instruct his surveyor and/or agent to investigate any detail he wants validated. The boat is offered subject to prior sale, price change, inventory change or withdrawal without notice.