Mary (Wanderer III Class)
Ref. CP116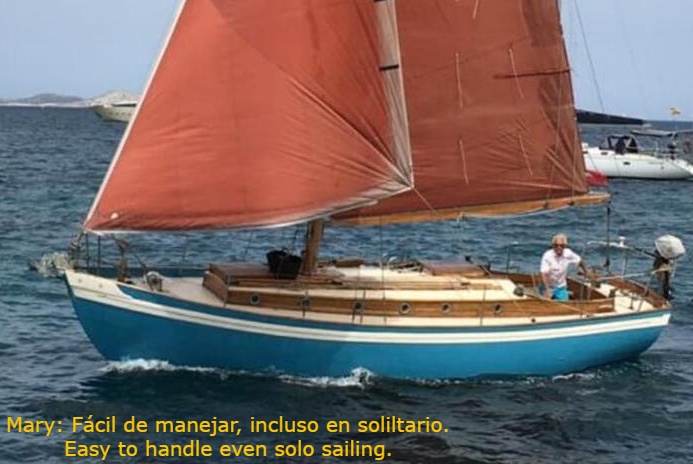 A gorgeous small cruiser. Sturdy, easy to handle, economic and elegant. Her sailing possibilities are amazing and were confirmed by her class sisters ships. She is in perfect shape.
EUR 28,000 ,-
Design:
Jack Laurent Giles
Hull Structure:
Iroko planks on iroko laminated beams, bronze floors
L.W.L.:
7.47

m.
22.77 feets
Genova Furling:
Colnebrook
Main Furling:
Spinnaker Pole:
Oregon Pine
Windlass:
Lofrans Tigres electric
Tender:
Outboard:
E.P.I.R.B.:
Engine:
Mermaid Marine Diesel
Serviced:
Every Year
Hours:
850 (March 2023)
Propeller:
Bowthruster:
Fuel Tank:
60 l. plastic made
Main-sail:
2 x Terylene, tanned, in good shape
Jib:
Genoa:
Terylene, tanned, furling, new
Try-sail:
Stay-sail:
Mizzen:
Spinnaker:
Gennaker:
Depth-sounder:
NASA Target2
Wind Station:
Plotter:
Radar:
Other:
Generator:
Inverter:
Batteries charger:
Mobitronic 25A
Showers:
Hot water:
Water Tank:
100 l. plastic made
Holding-Tank:
Oven:
Plastimo Neptune 3000
Air Conditionning:
Washing Machine:
Water-maker:
Miscellaneous:
Cello TV and Alpine radio
Erick and Susan Hiscock were a famous pair of globe-trotting sailors who proved that long cruises and voyages were possible in small boats that were robust enough for the enterprise. Between the 1930s and 1970s, they circumnavigated the globe several times and wrote a series of books that inspired many sailors to set out on their own adventures. With their Wanderer II built in 1936, when they were already famous, they brought fame to the then young designer Jack Laurent Giles who had just opened his own naval architecture practice. It was only natural that, after almost twenty years of sailing, when they set out to change the Wanderer II, they went again to ask Giles, then already famous, for a new design. The Wanderer III was born in 1952 from the experiences of the famous sailing couple and the know-how of Giles, who designed a strong displacement hull, as small cruising boats had to be, with very short overhangs and a mirror stern with an outside rudder. In this way, he fulfilled the request to get the most space out of her small dimensions. The Wanderer III was, and is, a great cruiser. The Hiscocks, who later owned two more boats, always regarded her with great affection and nostalgia. They circumnavigated the world three times with her! And the ship is the only one to have been awarded the Cruise Club of America's Blue Water Medal twice, in 1955 with the Hiscocks and 2011 with her current owners. From the Wanderer III design, Giles produced a similar model for series construction. The longer cabin trunk is the most visible difference. The interior layout was also changed and more than thirty units of this model were built in Taiwan by the famous Formosa shipyard. Many other units were also made by other shipyards and the Mary may well be the last one made, at least to date. Coincidentally, her builder is located very close to where the Hiscocks' ship was built. She is a beautiful classic cruiser whose long and relatively narrow cabin leaves good space for side passageways. At the bow and stern, two uncluttered platforms give relief to the small cockpit in case of crowded trips. But in the cockpit six people can sit and eat in an anchorage. Below deck the headroom is very good and the traditional layout of the forward cabin, with the head in the passageway and the galley at the entrance before the saloon, makes it possible to receive guests while respecting the owner's privacy in inclement weather. The very sturdy construction of the Mary, with bronze floors and a clamp fitted to the beam-shelf, as well as all the bronze screws and her excellent maintenance by all her owners to date, is a guarantee of great longevity for the future. With her traditional appearance, ease of handling and safety of navigation, proven by her older sister ship, the Mary is ideal for both long distant voyages and participation in regattas and classic boat meetings.
Request more info Mary (Wanderer III Class)
These details are believed to be correct but not guaranteed. This specification can not form part of any contract. The purchaser should instruct his surveyor and/or agent to investigate any detail he wants validated. The boat is offered subject to prior sale, price change, inventory change or withdrawal without notice.