MOLLY
Ref. CP073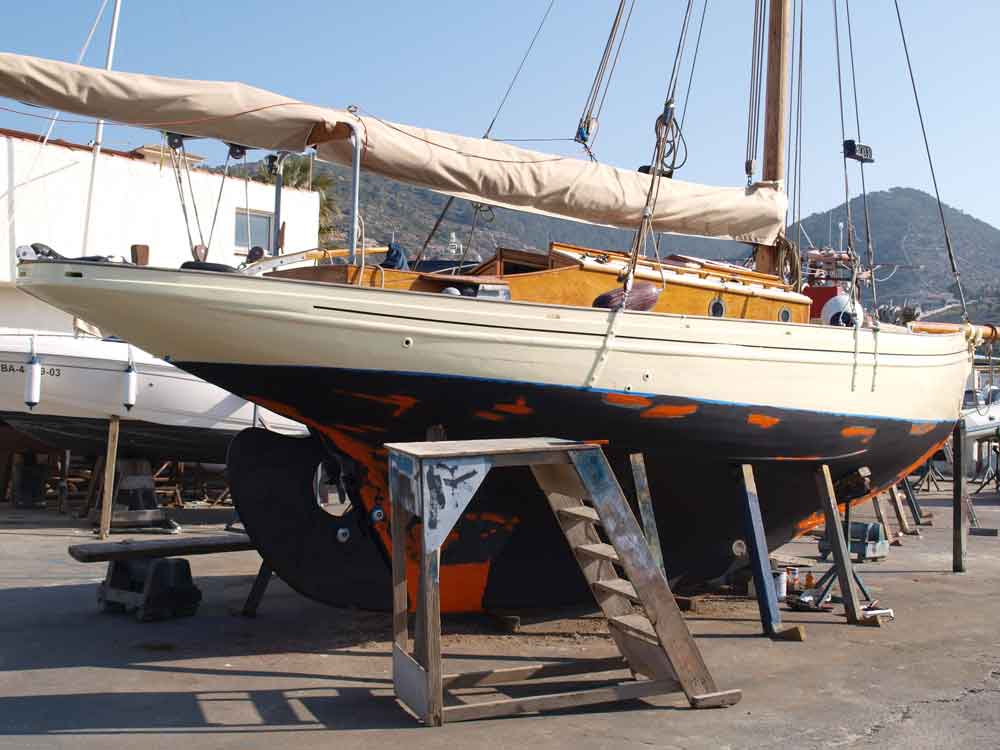 A precious small cruiser of deeply traditional lines. She is in very good shape.
EUR 35,000 ,-
Design:
William Crossfield
Model:
Morecambe Bay nobby
Hull Structure:
Larch, grown oak frames
Deck Structure:
Oak beams, plywood, epoxied cloth
L.W.L.:
7.92

m.
24.14 feets
Genova Furling:
Wykeham-Martin (1998)
Spinnaker Pole:
Botalón retráctil
Windlass:
Manual, de origen
Anchors:
Cqr, 25 lbrs. + Davey Thames
Serviced:
Every Year
Hours:
n.d.
Transmission:
Shaft (2004)
Propeller:
3 blades (2004)
Main-sail:
Terylene (1992)
Depth-sounder:
Raytheon Tridata
Batteries:
2 x Varta (2010)
Batteries charger:
Heads:
Hot water:
40 l. sin conectar
Miscellaneous:
In the Morecambe bay, the shrimper fisheries are well developped since old. To work these fisheries, a tipical boat was developped, during the XVIII and XIX centuries, the nobbie. They had easy lines, small draught, a cutter rig and a rounded stern that gave them a very personal character. The most famous among the nobbies builders was William Crossfield. He made numerous innovations to the nobbies shape and he is the responsible of the last evolution of the type. Crossfield built also the best yachts inspired to the nobbies style, some of them very luxurious, as the Moya, from 1910, which at present sails in Italy. The Molly too was born at Crossfield as a yacht. The races sailed across the Irish Sea, to the Isle of Man were specially hard. In these, during the interwars period and in the Fifties, one boat the Zulu, a 42 footer, sparkled among the fleet. She was designed by William Stoba, another great nobbies designer. But during the Easter race of 1950 even the Zulu was obliged to withdraw from the race, due to bad weather as all the fleet. All... but the Molly, then called Nahula. With her audacious crew (some of them were very seasick, by the way), the Nahula kept sailing to the victory of a historic edition. Nowadays, the Molly has been very well restored by her present owner who gave her back her original rig and a somewhat up-dated interior lay-out, that keeps however the austerity and charm of the past. 
These details are believed to be correct but not guaranteed. This specification can not form part of any contract. The purchaser should instruct his surveyor and/or agent to investigate any detail he wants validated. The boat is offered subject to prior sale, price change, inventory change or withdrawal without notice.