Mystic 60
Ref. VP255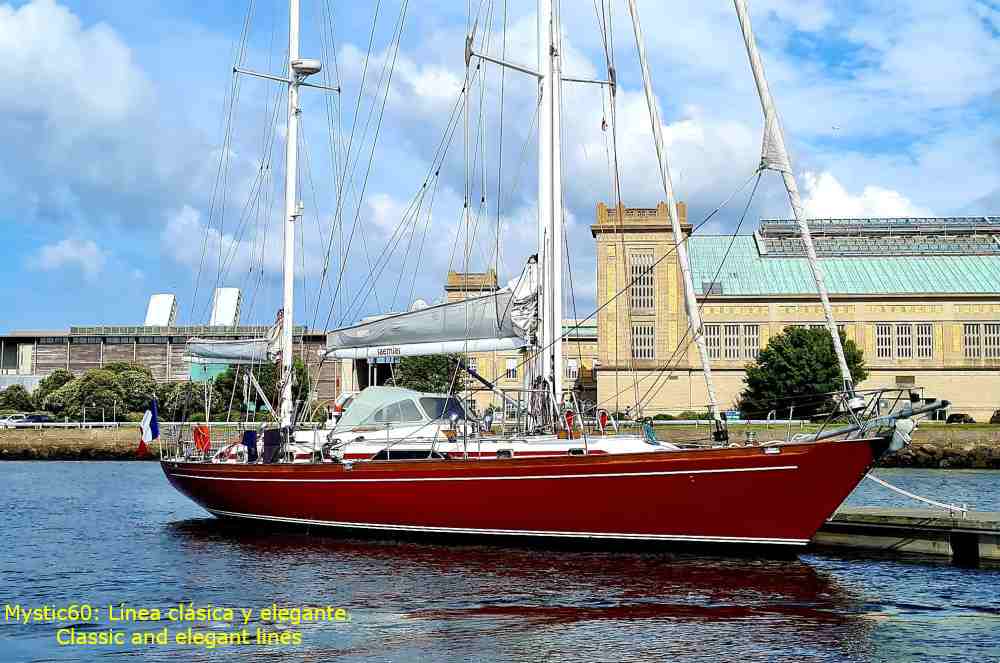 The ideal perfect cruiser: easy to handle, fast, ample, comfortable and very elegant. She has been completely restored and refurbished in every detail and she is ready to go anywhere.
EUR 345,000 ,-
Design:
Germán Frers, Alan Morgan
Hull Structure:
Divinycell sandwich, poliester resin
Deck Structure:
Divinycell sandwich, teak laid (2020)
L.W.L.:
14.55

m.
44.35 feets
Displacement:
25
25 Tm.
Tm.
Winches:
Barient: 2x37ste 3 spd. + 2x32ste + 3x32st + 1x28st + 3x27st + 6x17st
Genova Furling:
And for staysail: Harken manual, sent back to an electric winch
Main Furling:
No, gennaker furler
Spinnaker Pole:
Alloy and retractable bowsprit for gennaker
Windlass:
Maxwell 3500W/24V (serviced 2022)
Anchors:
Spade 30 kg + Cqr 40 kg + 80 m calibrated chain 14 mm
Tender:
Plastimo Pi 320VB (2022)
Outboard:
Honda 8hp/4strk. serviced in 2022
E.P.I.R.B.:
Ocean Signal (2022)
Engine:
Perkins Sabre M 135
Year:
Serviced:
Every Year, new intercooler in 2022
Hours:
1500 (August 2022)
Transmission:
Shaft, gearbox refurbished in 2022
Propeller:
Max-Prop 3 blades
Bowthruster:
Side Power SF 170/250 TC twin propellers
Fuel Tank:
1.200 l. in 4 s.s. tanks serviced in 2021
Main-sail:
Hydranet, 2009, three reefs
Jib:
Yankee, Hydranet, 2009
Genoa:
Mizzen:
Hydranet, 2009, twoo reefs
Spinnaker:
Incidences, simmetric (200 m2), Hood assimmetric (220 m2)
Gennaker:
On a Harken furler
Log:
B&G Hydra 2 Speed with Mult repeater at binnacle, companionway and chart table
Depth-sounder:
B&G Hydra 2 Depth with Mult repeater at binnacle, companionway and chart table
Wind Station:
B&G Hydra 2 Wind with Mult repeater at binnacle, companionway and chart table
Autopilot:
NKE with remote control and wireless MOB (2021), hydraulic piston serviced in 2022
VHF Radio:
Icom IcM 503 with speaker and command at binnacle + 2 x Navicom RT 320 handheld + USHIP V3 handheld (2021)
GPS:
Raymarine C140W at chart table and C120W at binnacle, serviced in 2022. Furuno Navigator GPS WAAS at chart table
Plotter:
Raymarine C140W at char table and C120W at binnacle, serviced in 2022
Radar:
Digital aerial Raymarine RD 424 4kw connected at Raymarine screens
Other:
Android tablet at binnacle (2021), AIS Comar CBS 200, Navtex McMurdo ICS 6, GPS Garmin 72H handheld
Batteries:
6x180Ah Bosch services (2021) + 2x180Ah Bosch engine + 1x108Ah Dolphin generator (2022) + 2x75Ah bowthruster (2021)
Generator:
Nanni QMF6M 6KW (2011/2015), 500 h. (April 2022) + Hydrogenerator Watt & See, excellent, needs service
Inverter:
3000W serviced in 2022
Batteries charger:
Victron 70A/24V services and 16A/24A services, engine y bowthruster + Victron 15Ah/12V generator + 2 x Victron IP22 for solar panels with controllers (2022)
Hot water:
Tank new in 2020
Water Tank:
900 l. in 4 s.s. tanks, serviced in 2021 MARCO 2022 silent pump
Holding-Tank:
With manual discharging pump, cleaned in 2021
Fridge:
Waeco + Waeco freezer
Oven:
Broadwater Marine, 4 burners + microwave
Air Conditionning:
No, Webasto Airtop heater serviced in 2022
Washing Machine:
Candy 4kg (2022)
Water-maker:
Duo 24V/220V 100l/h
Miscellaneous:
USB sockets all over the boat, waterproof in the cockpit. Fully detailed technical files of the boat. Revised or replaced seacocks in 2022 with new plumbing. Fresh water filter (2021). 2 Proheater 220V ceramic heaters (2021).ceramic
One day, towards the mid-Eighties, sailing back from a race to the Fastnet, Germán Frers and Alan Morgan had a long chat dreaming about the ideal boat to go cruising. Their enthusiasm grow up to the point that, when the concept was fully closed, Alan wanted to make it real. He found the Ta Shing Yard as the perfect executor of his ideal and the Mystic 60 was thus born having the luxury charter in the Caribbean as a first goal. To fulfill it she joined a roomy interior to a powerful and sturdy hull, certainly a very different formula from what it should be proposed nowadays for the same goal. This model was so much succesful that Alan Morgan continued buiding Mystic 60, even from British boatbuilders until the 2000 decade. Among the 12 units built by the Taiwanese Yard, only one was ketch rigged. Moreover she was built for private use and her building process was stricttly followed by the owner's skipper to keep up with the very high quality scale established. One that was even higher than the already high Ta Shing standards. This is why this unit offers a so high quality teak built interior, so cosy, extensively using hardwoods and cold moulded. She obviusly keep the excellent lay-out of the "standard" model, which as we have seen was considered "ideal". But the artisans at Ta Shing surpassed themselves to create the most cozy and elegant possible atmosphere dow below. Even the f'c'sle with a comfortable skipper's cabin is so luxurious that it can easily double as a guest cabin with no prejudice. But, even if the interior is perhaps her most amazing and thrilling feature, we have also to consider that her hull lines and her rig conform a combination at least as good as the best boats of her era, I mean Swans and Baltics, and that she even outclasses them in practicality and easy of handling as she is a boat fully conceived for cruising work and easy and safe life onboard. Her very powerful hull lines are exempt of any distorsion made by racing formulae which so many times caracterize other contemporary designs. Her high aspect ratio rig confirms that she is a real sailer and being it conveniently divided in two different masts it is poweful and easy to handle by a reduced crew at the same time. The deck hard-ware is also fit with electric winches which make easy unfurling and tacking the headsails and hoisting the mainsail. Her present owners acquired her two years ago with the aim of living onboard for long periods and charter her in summertime. To do so, they submitted the boat to a long refitting period, revising and renovating equipment, accessories and instruments. The boat is now fully up-to-date and does not need any further work. The technical room is a clever feature and every equipment has been thought out for long periods of use and for blue water cruising in safety and comfort. The boat is now fully up-to-date and does not need any further work. No osmosis and no equipment has been left unattended or renewed. She is up for sale because the high standard charter work did not came up as it was expected thus she has become too big for her owners. This makes a great opportunity for the future owner as he will not be worried by anything. She is a real classic in outstanding conditions! The asking price has been already lowered and it does not match the overall investment put by the owners on the boat. A detailed list of works can be released a part.
Request more info Mystic 60
These details are believed to be correct but not guaranteed. This specification can not form part of any contract. The purchaser should instruct his surveyor and/or agent to investigate any detail he wants validated. The boat is offered subject to prior sale, price change, inventory change or withdrawal without notice.