Najad 34
Ref. VP265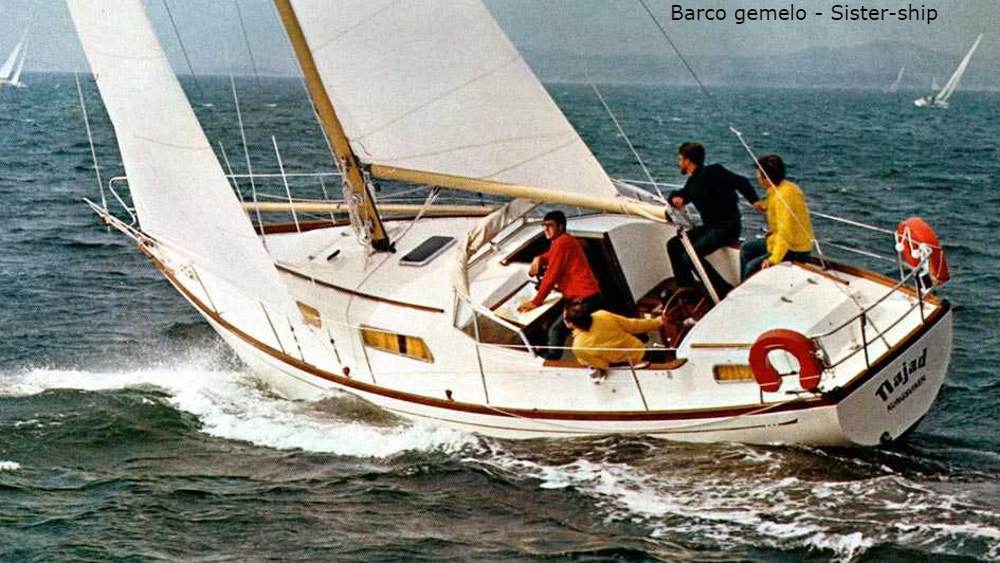 A great "pocket blue water cruiser" with excellent finishes and sturdy construction. SHe sails very well in every weather condition. She has a roomy interior and big water and fuel capacities for long term cruises.
EUR 25,000 ,-
Design:
Olle Enderlein - Tornwald Karlsson
L.W.L.:
8.40

m.
25.60 feets
Winches:
2x40st Andersen, 1x10 Andersen, 1x8 Lewmar, main-sail halyard Lewmar inmagasinator
Windlass:
Lewmar, electric
Anchors:
Bruce, 55 m. chain
Tender:
Outboard:
Engine:
Solé Diesel Mini 44
Serviced:
Every Year
Hours:
400 (Oct. 2023)
Propeller:
Fixed, three blades
Bowthruster:
Main-sail:
Lundh, terylene, furling (2010)
Jib:
Genoa:
O.S. Segeln, terylene, furling (2021)
Try-sail:
Stay-sail:
Mizzen:
Gennaker:
Wind Station:
B&G WS320 wireless (2021)
Autopilot:
Simrad AP 60 (2021, old motor)
VHF Radio:
B&G V60 Dsc – AIS (2021)
Radar:
Other:
Batteries:
1x65Ah engine + 3x65Ah services
Generator:
No, solar panels: 2 x 300W
Batteries charger:
Cotech 12V/15A
Showers:
Hot water:
Oven:
Dometic Sunlight 45 (2021)
Air Conditionning:
Washing Machine:
Water-maker:
Miscellaneous:
TV, Hi-Fi, new mattresses inside
The Najad 34 was the first Najad in history. Bernd Arvidson and Torwald Karlsson, the founders, asked Olle Enderlein to design a 10-metre cruiser for them. When the project arrived, the three of them had to make many modifications to it, as the entrepreneurs wanted to offer as much habitability as possible. When the boat was presented as a model at the 1971 Gothenburg boat show, it made a great impression, but the first interested party who wanted a unit asked for two cabins instead of the one cabin, which meant that a central cockpit had to be redesigned to give way to an aft cabin. In this simple way, the association between Najad and the central cockpit of most of his boats was born. Some 354 Najad 34s were built between 1972 and 1980, some with the original aft cockpit and a more powerful rig. It is a vessel that still today has important arguments to offer to those looking for a "pocket-sized" offshore cruiser: three separate bedrooms: one per cabin and one with a double bed in the saloon. Large water and fuel capacities, compared to boats of similar dimensions. Agile hull with smooth reactions in all weather conditions, high quality finish. The Elenor also offers very recent electronics, an excellent engine with few hours, sails in very good condition and many details to make long stays on board pleasant: double gas and electric cooker, new mattresses, a TV, etc., etc... With a good cleaning and small touches to the interior varnish, she will look almost as good as new.
Request more info Najad 34
These details are believed to be correct but not guaranteed. This specification can not form part of any contract. The purchaser should instruct his surveyor and/or agent to investigate any detail he wants validated. The boat is offered subject to prior sale, price change, inventory change or withdrawal without notice.