Najad 361
Ref. VP258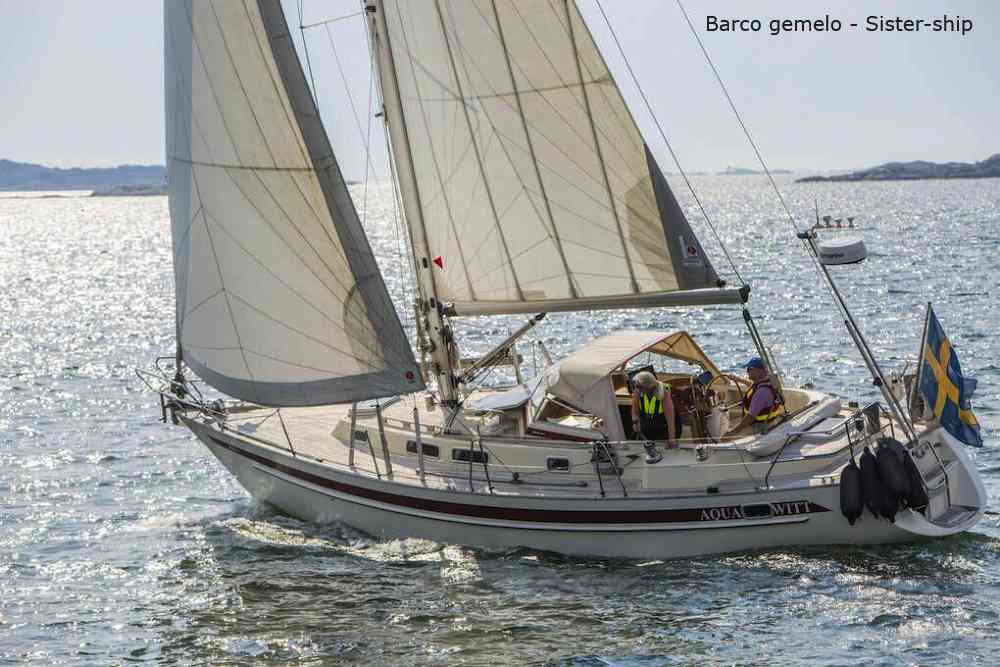 A blue water cruiser of reduced dimensions. Strong, easy, safe and very elegant. Sturdily built and well cared of. She is ready to sail away.
EUR 110,000 ,-
Hull Structure:
Divinycell sandwich
Deck Structure:
Divinycell sandwich
L.W.L.:
9.25

m.
28.19 feets
Displacement:
7.5
7.5 Tm.
Tm.
Winches:
Andersen: 2x52st + 1x34st + 3xst at mast
Main Furling:
Anchors:
Bruce 15Kg, 50 m. chain (2018)
Outboard:
Honda 2,3cv (2003)
E.P.I.R.B.:
Engine:
Volvo Penta D2-55F
Serviced:
Every Year
Hours:
1250 (Oct. 2022)
Transmission:
Shaft 35mm, Volvo stern-gland 2022
Propeller:
Brunton's, 3 blades, variable pitch, folding (2018)
Bowthruster:
Sleipner Side Power SE80 twin propellers, 80/95 kg push
Main-sail:
Terylene, full batten, 2 reefs (2015)
Jib:
Terylene, on detachable stay
Genoa:
Terylene, furling (2014)
Try-sail:
Stay-sail:
Mizzen:
Spinnaker:
Gennaker:
2017 with socket
Depth-sounder:
Raymarine ST50
Wind Station:
Raymarine ST50
VHF Radio:
Icom IcM 323, int./ext. loudspeakers (2016)
Plotter:
Raymarine Hybrid Touch
Radar:
Other:
Seatec AIS 6 connected to Gps and plotter
Batteries:
1x75Ah engine (2018) + 2x100Ah services (2018) + 1x50Ah bowthruster (2020)
Generator:
UNISUN 110W Back Contact Solar panel with Victron MPPT 15A regulator (2021)
Inverter:
2500W, gives current throughout
Air Conditionning:
No, Autotherm diesel heater, electric air vent with electronic speed regulator 2,3Kw (2021)
Washing Machine:
Water-maker:
Miscellaneous:
Full cockpit cover (2018), 5 steps bathing ladder (2020), Samsung TV and Sony radio CD/Usb with int./ext. loudspeakers
Thorwald Karlsson and Bernt Arvidsson established the Najad Yard in 1967. Both were raised in boatbuilders families. Thorwald studied Naval Engineering and he had a good ground in nautical design. He designed some of the first succesful models of the yard, among them the Najad 360. This model had a long life of more than ten years in production (1984-1995). She was a very elegant yacht with a roomy and liveable interior. Towards the end of her career, due to the continued success that the model had on the market, it was decided to renew it somehow, instead of replacing it with a new model. Thus was born the N 361, in a way that the Yard was to repeat many times in the future with their most succesful models. The main differences between the two models are: the 361 has the ballast outside the hull, bolted to the keel and has a deeper draft. The stem has a longer overhang and chainplates are placed closer to the roof, thus allowing a better upwind performance. Below decks the lay-out is similar, but many details of design and finish are improved, giving to the model a more modern and cosy ambience. The N 361 was again a succesful model and was in production for seven more years.
Request more info Najad 361
These details are believed to be correct but not guaranteed. This specification can not form part of any contract. The purchaser should instruct his surveyor and/or agent to investigate any detail he wants validated. The boat is offered subject to prior sale, price change, inventory change or withdrawal without notice.