Nanany
Ref. CP114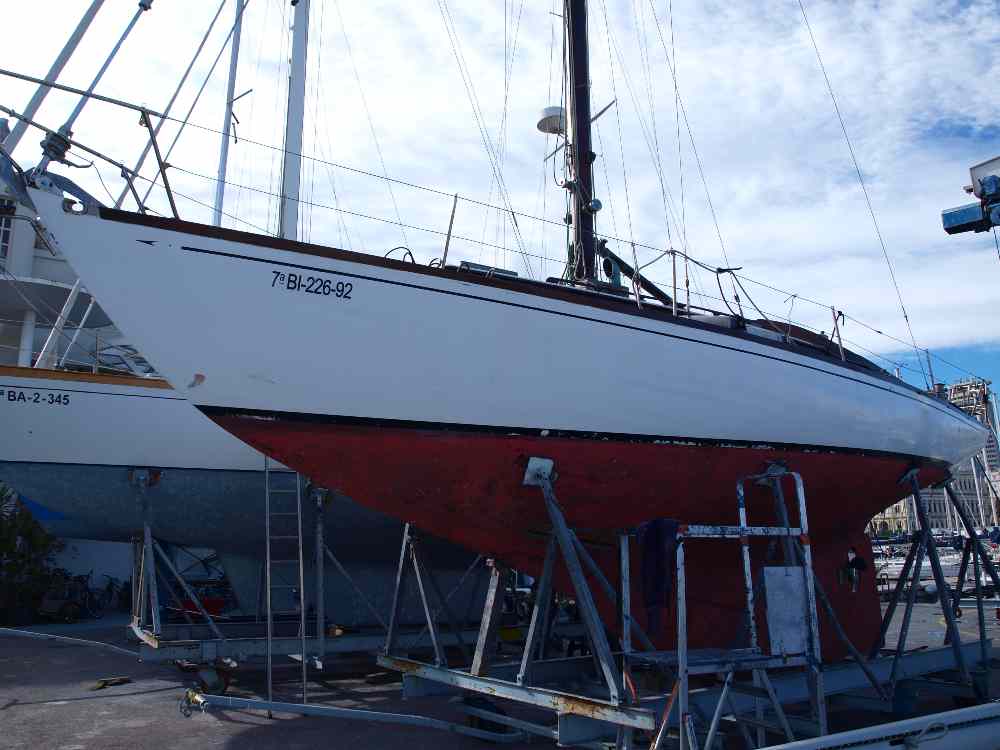 The Nanany is a master interpretation by the Udondo Yard of the most produced S&S design, the n. 1710. She is in fantastic original conditions and only needs mainly cosmetic work.
EUR 28,000 ,-
Design:
Sparkman & Stephens n. 1710
Hull Structure:
Mahogany on oak frames
Deck Structure:
Plywood, teak laid
L.W.L.:
7.77

m.
23.68 feets
Winches:
2 x Lewmar 44 3 speeds + 2 x Gibb 9CR + 3 at mast
Main Furling:
Spinnaker Pole:
Oregon Pine
Windlass:
Tender:
Outboard:
Safety equipment:
E.P.I.R.B.:
Year:
Serviced:
Every Year
Hours:
Propeller:
Fixed, three blades
Bowthruster:
Fuel Tank:
Main-sail:
Terylene, in good shape
Jib:
Try-sail:
Stay-sail:
Mizzen:
Gennaker:
Log:
Depth-sounder:
Raymarine ST40
Wind Station:
Raymarine ST60
Autopilot:
Raymarine ST7200 Smart Pilot
GPS:
Plotter:
Radar:
Other:
Batteries:
2 x Ager 12V/89Ah + 1 x Fulmen 12V/100Ah
Generator:
Inverter:
Batteries charger:
Cetrek 5A
Hot water:
Holding-Tank:
Oven:
Air Conditionning:
Washing Machine:
Water-maker:
Miscellaneous:
The n. 1710 drawings from Sparkman & Stephens have been the most successful ever in their production: it was produced by 17 different Yards. They say that it derived from the design of the famous Hestia. In fact the rudder attached to the keel was already outfashioned by the famous Clarionet, Rainbow and Rounabout, issued from drawings n. 1857. Compared to Hestia, the 1710 design has the same dimensions but a longer overall length. It was also thought out to be produced in series as it was commissioned by the Italian Benello yard which built on these plans the famous Gaia 36 range of 16 glassfibre units. Also Cheoy Lee built three 1710 units: the Sigma 36 (the first being 1710/C8). The most famous builder of these boats thought was Finnish Nautor which built her first model, the Swan 36 on these plans (1701/C39), modified with a separate rudder on skeg. Nautor built the first unit in wood, to use her as a mould for the GRP version and that 1710 unit is the only wooden Swan of the history. Other famous boats, built over these same drawings were the Diana III (1710/C6 built by Walsted in Denmark), winner of the 1965 One Ton Cup and Cybèle (1710/C39 built by Poul Molich also in Denmark), third at the 1967 One Ton Cup, both were wooden boats. Bilbao based yard Udondo built at least three vessel using the 1710 design: Fra' Diavolo (1710/C14, owner Mr. Nicolaidis), Asu (1710/C28, owner Mr. Ferrer), which is the boat we are introducing herewith, Nananay (1710/C35). These two follow the lines of the second keel version of the 1710, with a bigger rudder with marked lower corner compared to the Benello built boats, identical to the Hestia hull. As we already wrote, the Swan 36 had a separate rudder with different keel shape and a reversed transom, something which could have been possible (but it never was done) also in the Udondo built boats, as it is suggested in the original plans. To summarize, the 1710 was at the moment the perfect racing boat able to allow the owner also for pleasant family cruises. The Hestia, Diana III and the Swan 36 illustrate this virtue. The Nanany is in very original shape: below decks she has not be modified as the Asu for example and she still presents her ribs behind the minimal but very practical furniture. Her hull seems dry and during the last haul out in January 2021 a soft plank was replaced. She is in need of an important cosmetic work, but structurally she appears sound. Her owner sailed her all over the Mediterrnean waters and along the Atlantic Spanish coast. The Nanany is a great opportunity to acquire a classic boat of noble origins and in very original shape.
These details are believed to be correct but not guaranteed. This specification can not form part of any contract. The purchaser should instruct his surveyor and/or agent to investigate any detail he wants validated. The boat is offered subject to prior sale, price change, inventory change or withdrawal without notice.