Nerissa, 10,5 m. Int. C/R
Ref. CP001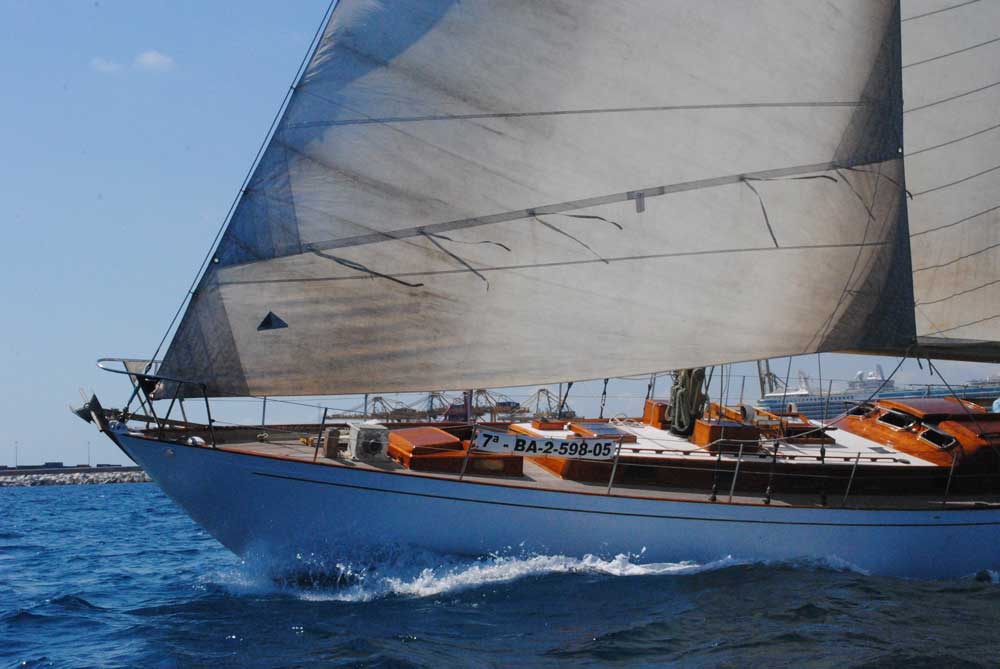 Each vessel designed to the International Cruiser-Racer rule must be sturdy, fast and comfortable to achieve the Ocean races to which they were designed. Nerissa perfectly complies with this and she benefits also from the elegant lines typical of A. Robb. She is fully teak made and in very good shape.
EUR 450,000 ,-
Yard:
Vincenzo Beltrami, Sturla Génova
Hull Structure:
Teak, acacia frames, monel reinforcements
Deck Structure:
Teak, acacia beams
L.W.L.:
12.30

m.
37.49 feets
Displacement:
20
20 Tm.
Tm.
Type:
Sloop, Alloy Proctor/Sparlight (1965)
Winches:
2x65.2stBarbarossa + 2x19Baron + 1x44.2st Barbarossa + 2x34st Lewmar
Main Furling:
No, roller boom for reefing
Windlass:
F.lli Stagnaro, hydraulic
Safety equipment:
Spanish, 60 miles
Engine:
Solédiesel Mini 62
Serviced:
Every Year
Hours:
985 (Jan. 2018)
Transmission:
Hydraulic Borg-Warner gearbox, shaft
Propeller:
Max Prop, 3 blades
Main-sail:
Hood, terylene (1980)
Genoa:
Hood, light (1980), Solent B&M with reefs
Stay-sail:
Mizzen:
Gennaker:
Log:
B&G, repeater at binnacle
Depth-sounder:
B&G, repeater at binnacle
Wind Station:
B&G, repeater at binnacle
Autopilot:
VHF Radio:
Sailor RT 143, Icom IcM 411 Dsc
GPS:
Antenna connected to Vhf
Plotter:
Radar:
Other:
Batteries:
1 x 120Ah + 1x220Ah
Generator:
Inverter:
Total Beds:
Water Tank:
600 l. Monel + stainless steel
Holding-Tank:
Grey waters tank
Air Conditionning:
Washing Machine:
Water-maker:
Miscellaneous:
Sun awning and winter cover. Topsides painted 2014, external varnishes renewed each year. Lateral folding wooden bathing ladder.
The Nerissa was built with the A1 Malta Cross standard of the Lloyds Register: the top quality. She is fully built in teak using a batch that was drying since more than 80 years! Her hull, her deck and her impressive dog-house (very difficult to build) are all of teak. All her floors (acacia built as the frames) are doubled with monel floors. The monel raises the full frame at chainplates and involves the two bilge stringers. A first quality building made thanks to the high craftmanship of her builder, the Beltrami Yard. Ing. Vincenzo Beltrami built during 50 years the finest boats in Italy. His Yard closed at his death, two years after the launch of Nerissa. In her fifty years of life, Nerissa has enjoyed the ownership of four persons, the present one, since more than twenty years already. Her most famous owner was the second, Count Alberto Marone Cinzano. She is a very fast vessel, capable of points of 13 plus knots and averages of 7 plus. Her present owner used her mainly for family cruises and club racing with friends. No doubt that with a good grew and new sails she can make a surprise in the classic races in the Med. She is in very good shape and very original. She was never restores, just kept in good mood for each owner and the present one has preserved her as she was twenty years ago. He just replaced the engine and the rig. She needs a new sails suit and, perhaps a check to the electronics.
Request more info Nerissa, 10,5 m. Int. C/R
These details are believed to be correct but not guaranteed. This specification can not form part of any contract. The purchaser should instruct his surveyor and/or agent to investigate any detail he wants validated. The boat is offered subject to prior sale, price change, inventory change or withdrawal without notice.