Papaya, Scia 50
Ref. CP112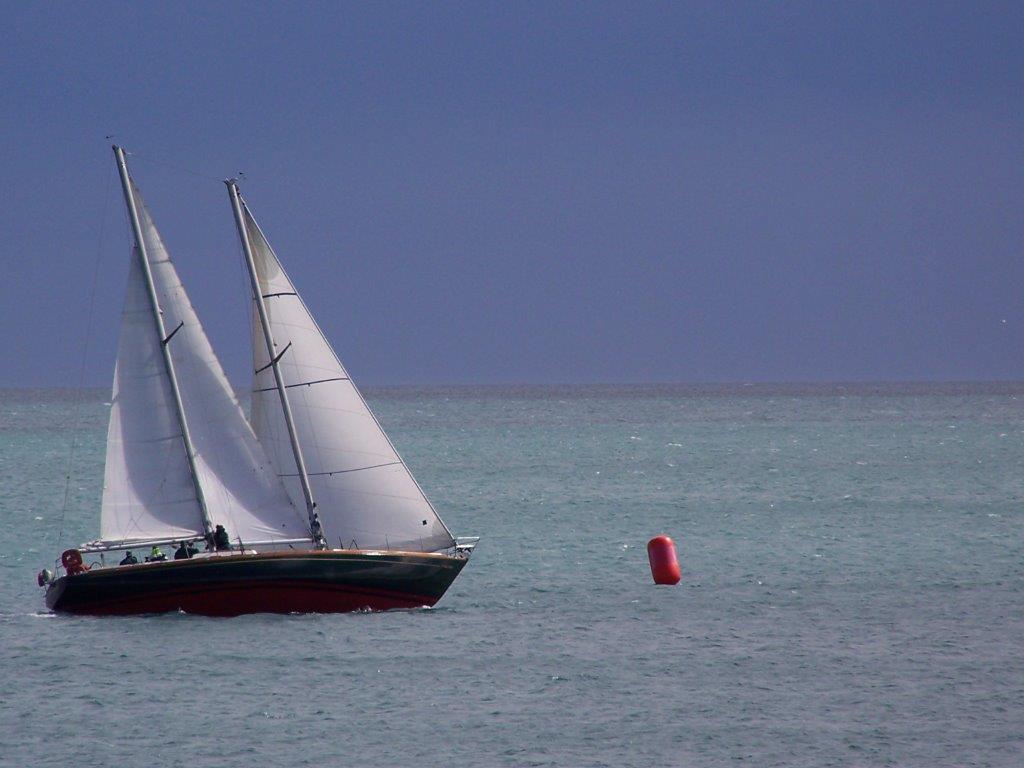 An elegant fast cruiser with a practical rig for blue water sailing. A classic among the Italian handmade production. She was recently restored and she is still in good shape.
EUR 70,000 ,-
Design:
Carlo Sciarrelli (Design n.60)
Deck Structure:
Plywood on Mahogany beams, teak laid
L.W.L.:
12.40

m.
37.80 feets
Displacement:
11.5
11.5 Tm.
Tm.
Winches:
Barbarossa: 2x48.2st + 2x40
Main Furling:
Spinnaker Pole:
Alloy + bowsprit
Tender:
Zodiac, 2,50 m., rigid hull
Safety equipment:
Spanish 60 miles
Engine:
Volvo Penta TMD 31 B
Serviced:
Every Year
Hours:
3.000 (July 2020)
Propeller:
Max Prop, 3 blades
Bowthruster:
Main-sail:
Terylene, three reefing lines
Jib:
Genoa:
Terylene, furling 1 heavy + 1 light
Try-sail:
Stay-sail:
Detachable staysail and boomed between masts
Mizzen:
Spinnaker:
Yes+ 2 Fisherman 1 big and 1 small
Gennaker:
Depth-sounder:
B&G System 290 Hercules 2
Autopilot:
Raymarine 6001 Smartpilot
VHF Radio:
Icom IcM 411 Lsd + Sailor RT144
GPS:
Lowrance Globalmap 5200c + Garmin Gps Map 4800 at chart table
Plotter:
Lowrance Globalmap 5200c + Garmin Gps Map 4800 at chart table
Radar:
Other:
Batteries:
Exide 12V/180Ah
Generator:
Inverter:
Holding-Tank:
Yes, needs to be connected
Air Conditionning:
Washing Machine:
Water-maker:
Miscellaneous:
Naval Architect Carlo Sciarrelli started his career at the end of the Fifties in Trieste (North-East of Italy). Very early his boats won many races in the Adriatic Sea under the R.O.R.C. rating, thus giving him an important number of wealthy customers. In the following years his designs started growing in dimensions and he still managed to design some winner for the I.O.R. rating. But Sciarrelli did not agree with the evolution of this Formula towards delicate racing machines every year more specialized and less adequate for cruising use. During the Seventies, he started designing cruising boats, fast and easy to handle, with elegant lines that unveiled their author's deep erudition. Sciarrelli was in fact also a noted Yacht design historian and wrote and interesting book about this matter. His new boats arrived first quite always, but were not capable to defend their rating which is understandable if we consider the aberrating last evolution of the I.O.R. During the Eighties, with the eclosion of the classic boats passion, Sciarrelli was asked to create a formula to match such different boats spanning more than a hundred years of history and to promote at the same time their preservation in their original shape. Its out-come is still in use, as the base for the C.I.M. rating rule in force in the classic mediterranean circuit.The International Trading Company in its nautical division acted through the Ambrosi Yard, in Lavagna (Ligurian) and asked Sciarrelli to design a 50 foot schooner for blue water cruising. Sciarrelli has always suggested that the schooner rig is the best suited for long passages with short crew: it can hoist a high amount of canvas, divided into many small, manageable sails. A part of allowing a sole hand on deck to handle with all the sails, it also allows to hoist the exact amount of canvas for any weather condition. Out of all Sciarrelli's production the Scia 50 was the most successful, as the "Master" as he was known in Italy used to design "one offs". Eleven units were built in total, of which just one sloop rigged and another ketch rigged. This unit, launched in 1977, has been cared a lot by her last owner. In 2007-2008 she was deeply restored, changing the teak deck, with hatches and many other details. Today the Papaya is still in very good shape. She only needs new paint in the bilge and engine room and new outside and inside varnish work, with other small details that do not require much investment.
Request more info Papaya, Scia 50
These details are believed to be correct but not guaranteed. This specification can not form part of any contract. The purchaser should instruct his surveyor and/or agent to investigate any detail he wants validated. The boat is offered subject to prior sale, price change, inventory change or withdrawal without notice.