Peer Gynt
Ref. CP092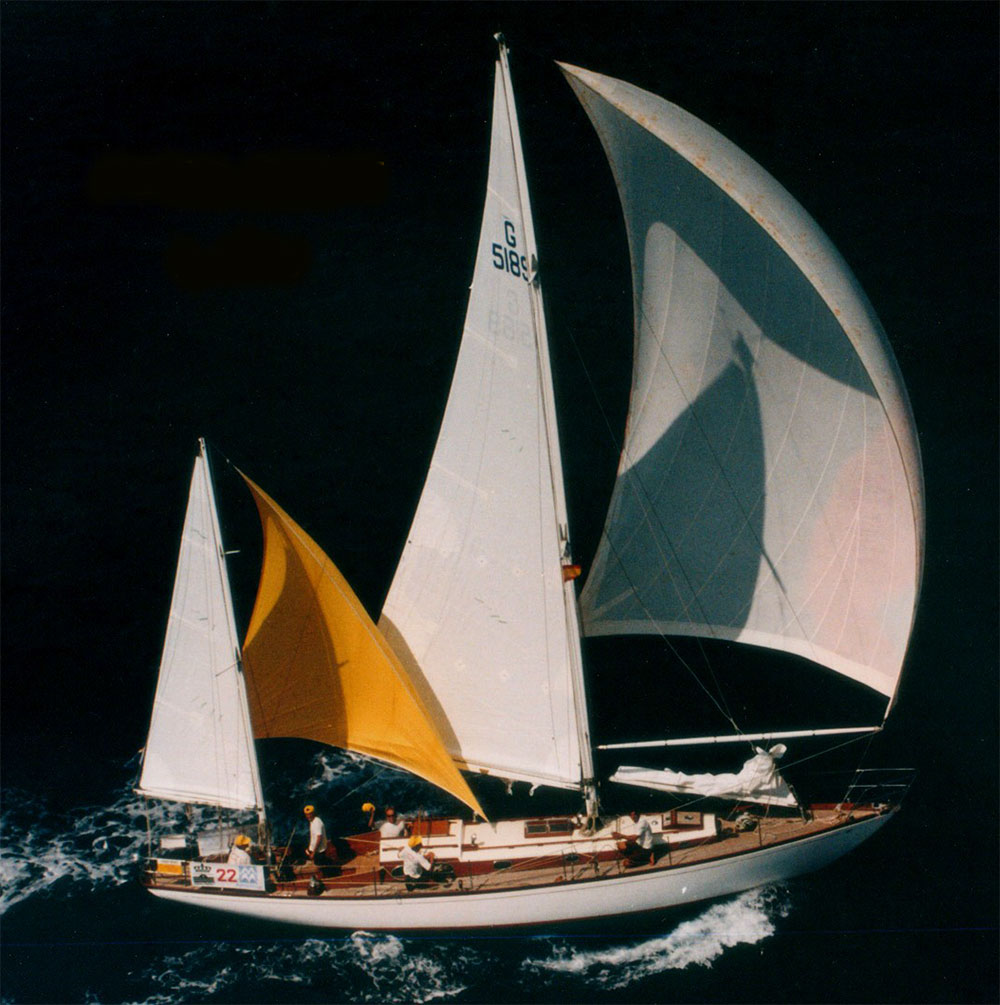 A precious cruiser-racer fast and elegant. She has been well built and is being restored to a very high originality degree.
EUR 150,000 ,-
Yard:
Westermoens Batbyggery
Hull Structure:
Finnish Pine on grown and laminated frames
Deck Structure:
Plywood, teak laid new
Windlass:
Manual de doble efecto
Year:
Serviced:
Rebuild in 2013
Hours:
33 h.
Propeller:
Fixed, three blades
Main-sail:
Terylene, slightly used
Genoa:
Terylene, poco usada
Stay-sail:
Terylene, poco usada
Mizzen:
Terylene, poco usada
Miscellaneous:
Peer Gynt will be delivered in a process of restoration with a new 12mm teak deck on 12mm plywood and many new beams. New cockpit coamings and new upper side of the stem, where the anchor roller has been moved to a side, when she cut the stem on the middle. The engine has just a few running hours. All floors, but six are new. The gorgeus Pine and Mahogany interior has been fully token apart and varnished. The frames around the main mast were replaced with new laminated ones. The hull has been refastened with new bolts. Sails, although ageing, have been slightly used since new. Keel bolts were replaced in 1983, just before the present owner purchase. Some of them have been recently checked and founded in perfect shape. A new mast step has been placed. Masts are white painted for protection. Booms were opened and reglued. There is a new 100 m. anchor chain. At her next relaunch Peer Gynt could be considered quite as a new boat.
When, in 1948, the Norwegian sailor commanded a new fast yawl to the Yard, Jan Herman was appointed to design her. He then created a narrow and elegant vessel, innovative for that moment, using laminated and solid wood with a precious result, even aesthetically. The Oregon Pine hull, light and strong, is very fast. With his Peer Gynt, Bergesen sailed around the Norwegian fjords more than twenty years, alternating cruisings with long skiing promenades. For this purpose, he always carried a pair of skis on bord. Her widow, later got married to the Norwegian Consul in France and they both sailed Peer Gynt to the Mediterranean, were the Old Port of Marseille became her new home base for the next 15 years. In 1984 she was found there by her present owner, Master on a classic big gaff ketch and a well known expert on classic boats. Since 1986, her home is in Mallorca Island. Linge, her designed, later became famous for two Olimpic series he designed: the Soling and the Yngling. The names of his series of boats finished with the -ling suffix of his second name.
Request more info Peer Gynt
These details are believed to be correct but not guaranteed. This specification can not form part of any contract. The purchaser should instruct his surveyor and/or agent to investigate any detail he wants validated. The boat is offered subject to prior sale, price change, inventory change or withdrawal without notice.