Petán, ex Sogalinda VII
Ref. CP102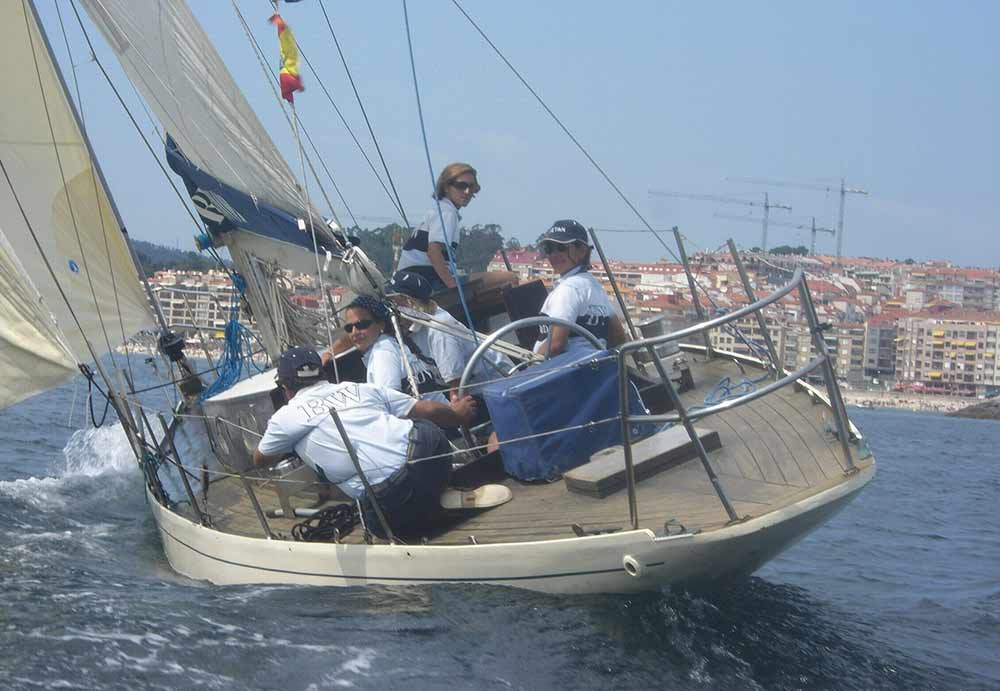 An Eight metre International  of noble birth and full of history. She was deeply involved in the sportive life in Bilbao and along all the Spanish North coast. Today she deserves a deep restoration to her original shape.
EUR 95,000 ,-
Yard:
Hermanos Sagredo, Bilbao
Deck Structure:
Plywood, teak laid
Displacement:
12
12 Tm.
Tm.
Tender:
Outboard:
Safety equipment:
Spanish 5 miles
E.P.I.R.B.:
Year:
Serviced:
Hours:
Propeller:
Fixed, three blades
Bowthruster:
Main-sail:
Terylene, furling
Jib:
Try-sail:
Stay-sail:
Mizzen:
Spinnaker:
Gennaker:
Log:
Wind Station:
Autopilot:
Plotter:
Radar:
Other:
Batteries:
Generator:
Inverter:
Batteries charger:
Cabins:
Total Beds:
Showers:
Hot water:
Water Tank:
Holding-Tank:
Fridge:
Oven:
Air Conditionning:
Washing Machine:
Water-maker:
Miscellaneous:
An Eight Metres Int. designed by William Fife can be today one of the best dreams come true of any passionate of classic boats. Moreover if the boat we are talking about is the Sogalinda VII, today called Petán, which was of Count Zubiría fame, the son of the Spanish representative to the International Conference held in London in 1906 that settled the new racing Formula. Thus it is an Eight full of history and not only of good origins. The Zubiría family named all their yachts with the Biscay name of a small lizard: and as agile lizards, all the Sogalindas succeed in many regattas, from the first one (by the way, the first Spanish 6 metre Int.) to the last one, the Sogalinda VII indeed. It is interesting to note the great achievement that the Eight metre class had in Spain: the first Eight metre boat ever built was the Baira, from a design from Alfred Mylne, built in UK by Fay & Co. for Mr. Juan José Gurtubay y González de Castejón, from Bilbao. Many other followed, being even built in Spain, as the Sogalinda VII, built at the Yard of Sagredo Hermanos (Sagredo Brothers) later known as Udondo, when it was run by the Alonso-Allende family. Rafael de Zubiría was killed by the republican militiae during the Spanish Civil war and Sogalinda was purchased after the war by another powerful personality from the Biscay aristocracy: Mrs. Pilar de Careaga whose family was also related to the Zubirías. Mrs Pilar was a very active and eclectic woman: She was the first woman graduated as civil Engineer in Spain, it seems that she was also the first woman in Spain to drive a train and, when she entered the politic career, she was also the first female Major of the Bilbao town. She was most probably who changed the rig of the boat to yawl and she probably built the distinctive coach-roof that still characterised the boat. She certainly changed her name to Sortxi. During the Sixties, the Sortxi went to sail from Santander as her home port. She changed again her name to Sotileza IV (something as Subtlety IV) and she continued a racing life with some short cruises around the coast. In August 1977 she was dismasted during a storm. When her present owner found her, she was in need of a restoration and he carried on a conservative work. Today Petán, the old Sogalinda VII is awaiting a new ownership that could offer her a restoration to the original shape and to meet again her sisters in the regatta field. She deserves it.
Request more info Petán, ex Sogalinda VII
These details are believed to be correct but not guaranteed. This specification can not form part of any contract. The purchaser should instruct his surveyor and/or agent to investigate any detail he wants validated. The boat is offered subject to prior sale, price change, inventory change or withdrawal without notice.