Puma 350
Ref. VP266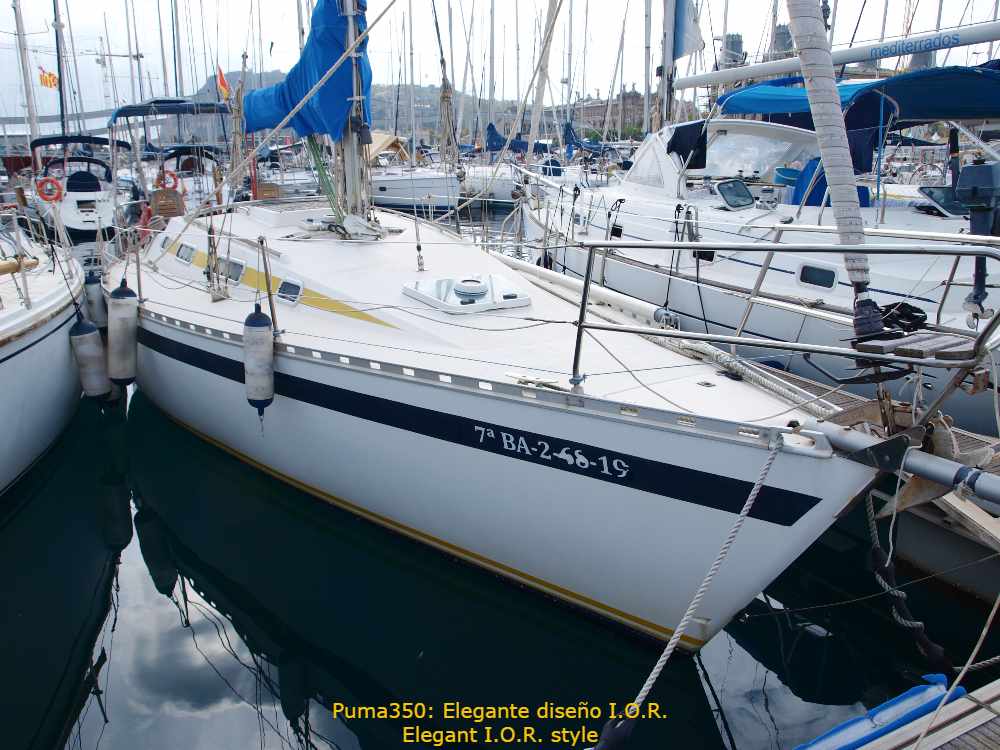 A cruiser-racer very well designed, of styrdy construction and high quality. Fast, easy to handle, elegant and comfortable, she has everything to be a fantastic cruiser (water, fuel, space) and racer (rig, easy handling).
EUR 45,000 ,-
Yard:
Astilleros Puma S.A.
L.W.L.:
9.20

m.
28.04 feets
Displacement:
4.8
4.8 Tm.
Tm.
Main Furling:
No, full battens
Spinnaker Pole:
Alloy + Bowsprit
Windlass:
Vetus Puma, 500W
Anchors:
Tipo CQR, 16 Kg. + spare anchor
Tender:
Outboard:
Engine:
Solédiesel Mini 34
Serviced:
Every Year
Hours:
998 h. (Oct. 23)
Propeller:
Fixed, three blades
Bowthruster:
Main-sail:
North Sails, terylene, full batten (2013)
Jib:
Genoa:
North sails, terylene, furling, (2013) anti-UV band to be replaced
Try-sail:
Stay-sail:
Mizzen:
Spinnaker:
Gennaker:
North Sails (2013)
Depth-sounder:
By the Plotter
Wind Station:
By the Plotter
Autopilot:
Autohelm 2000, electronics 2021
VHF Radio:
Garmin VHF 200i
GPS:
Garmin GPS 720s + Mlor FX 310
Radar:
Batteries:
1 x 95Ah engine, 1 x 180Ah services
Generator:
2 solar panels with charge controller
Inverter:
Batteries charger:
Tecsup Tecplus II 20A
Hot water:
Holding-Tank:
To be connected
Air Conditionning:
Washing Machine:
Water-maker:
Miscellaneous:
Samsung TV, Jsd 52 HiFi
The Puma 350 was the swan song of the great Spanish shipyard and it shows in the quality of its construction in the interior carpentry and in the finishing details. Designed by the great Xavier Soler, this is a magnificent cruiser-racer of the kind we need so much nowadays: excellent upwind, agile downwind, you have to keep the bow light in bad weather to get the best out of her. On deck it is very comfortable, with luxurious features such as the side openings in the lifeline. The elegant cockpit ends forward, flush with the deck, in keeping with the style of the moment, and makes it easy to move between bow and stern. The very spacious cockpit has comfortable seats that do not hinder the winch handling. The manoeuvers are very easy to handle and everything is routed to the cockpit. The whole thing conveys a feeling of robustness unknown in modern boats. The interior features luxurious woodwork, superbly crafted with a profusion of high quality details. Only 5 units of the 350 were built at Puma, which are highly sought after on the second-hand market due to their quality. A sixth unit was built ten years later for the designer himself, Xavier Soler, a sign of the quality of this magnificent boat. The unit we present is in very good overall condition. Her name, Piteas, the great Greek explorer of Massalia, conveys a greater preference for long distance cruising, which facilitates the good water and fuel capacities of this vessel. On the other hand, the powerful rig, with a double spreader mast, spinnaker pole and boom, offers excellent sailing sensations. The Piteas only needs a change of standing rigging and of some covers to be in perfect sailing condition.
Request more info Puma 350
These details are believed to be correct but not guaranteed. This specification can not form part of any contract. The purchaser should instruct his surveyor and/or agent to investigate any detail he wants validated. The boat is offered subject to prior sale, price change, inventory change or withdrawal without notice.