Rampart 48, Sea Dawn
Ref. CP109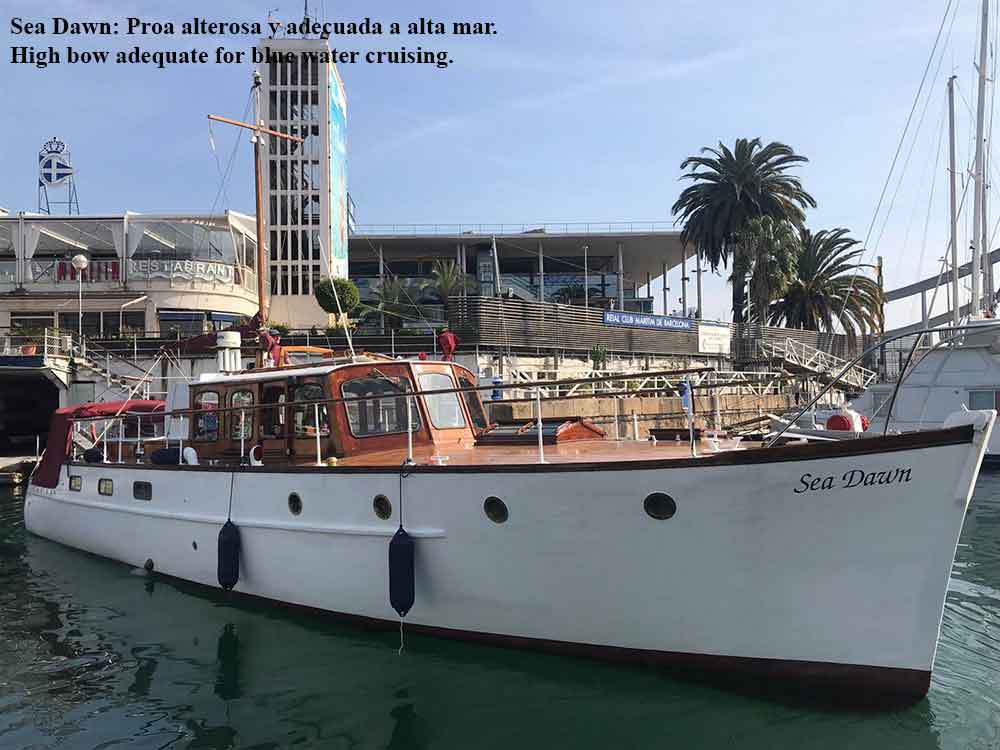 A gorgeous gentleman's motor yacht, classic even when she was firstly launched. She in in perfect shape, very original kept and she sails beautifully.
EUR 79,500 ,-
Yard:
Rampart Boat Building Works
Hull Structure:
Mahogany, on oak frames
Deck Structure:
Iroko, on oak beams
L.W.L.:
13.50

m.
41.15 feets
Displacement:
18
18 Tm.
Tm.
Type:
Winches:
Genova Furling:
Main Furling:
Spinnaker Pole:
Windlass:
Simpson Lawrence, manual
Anchors:
Danforth + Brittany
Outboard:
Mariner 2,5 hp/4 strks.
E.P.I.R.B.:
Serviced:
Every Year
Hours:
Propeller:
3 blades, bronze, fixed
Bowthruster:
Main-sail:
To stabilize the boat against swell
Jib:
Genoa:
Try-sail:
Stay-sail:
Mizzen:
Spinnaker:
Gennaker:
Depth-sounder:
Autohelm Depth
Wind Station:
Plotter:
Raymarine Dragonfly
Other:
Generator:
Honda portable 1 kw
Inverter:
Batteries charger:
25A/24V
Holding-Tank:
Air Conditionning:
Heater (2019)
Washing Machine:
Water-maker:
Miscellaneous:
TV, radio, summer and winter covers, passarelle
George Desty, the son of a shipwright, started working around the beginning of the XX Century in different Yards of the South Coast in England, among them Thornycroft. In his spare time he used to build smal dinghies at home. With them he reached so much success that he was prompt to start his own business. Thus Rampart Boatbuilding Works was created in 1919. Ten years later, Rampart introduced its first motor yacht the Rampart 30 whose design from Thornicroft himself was to mark the style for all the Yard's future production: a high bow with flush deck forward, ending up to a glazed deck-house followed by a lower hull aft. These were the lines of the gentlemen's motor boats of the period, based on an American style so succesful in the first half of the XX Century. George Desty built many models, designed following the desires of each customer, increasing or reducing dimensions, always keeping the original style. The range increased to a 39, then a 40 and lately a 48, whith even a 50 never so named. George died in 1946 and his son Horace took over the direction of the Yard. During the Sixties the third generation of the family was introduced to the works. Rampart built boats, always in wood and with the same lines until mid Eighties and a 48 was precisely the last Rampart to be built. Then the Yard switched to maintenance and restoration works. Sea Dawn, this Rampart 48 being offered, is to be found well kept in magnific original shape. Her present owner, a shipwright himself, was the owner of a restoration Yard in England. Sea Dawn is his second Rampart 48 to be restored and the closer to original specifications. Everywhere on board the classic old feeling (already classic even when the boat was new) has been preserved intact. All the structure is sane and in perfect shape. The engines have been serviced with original parts. This boat sails very comfortably, being stabilised by a short sail devoted to this. She is a real spectacle while sailing!
Request more info Rampart 48, Sea Dawn
These details are believed to be correct but not guaranteed. This specification can not form part of any contract. The purchaser should instruct his surveyor and/or agent to investigate any detail he wants validated. The boat is offered subject to prior sale, price change, inventory change or withdrawal without notice.