Regalade, Shpountz 38-40
Ref. CP115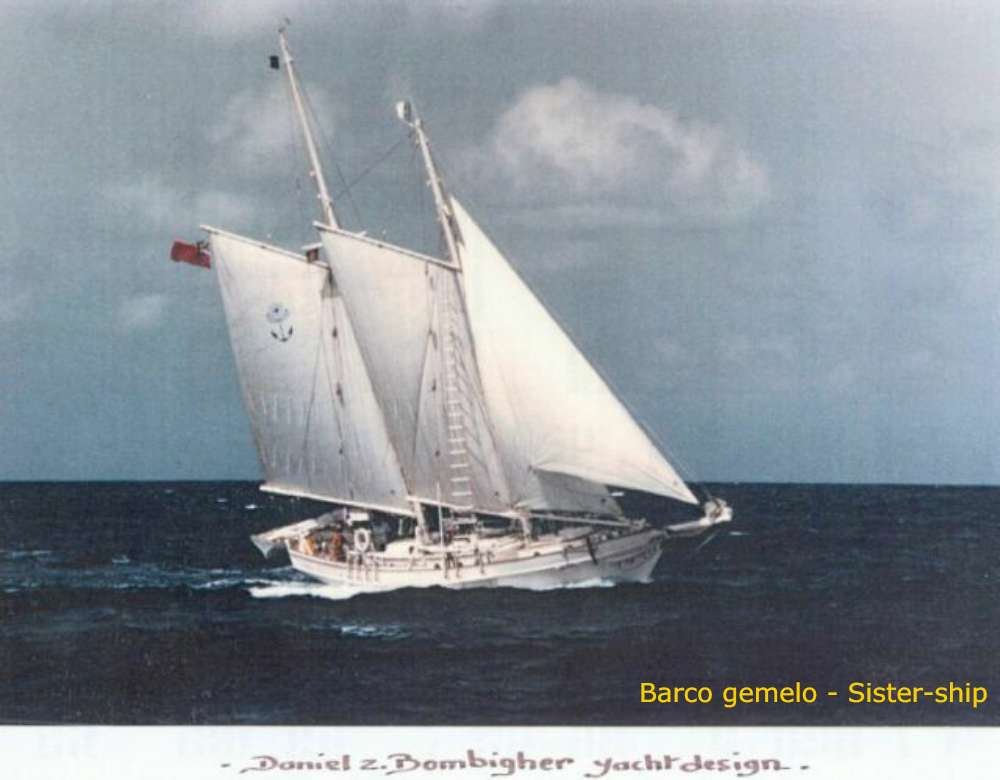 A gorgeous modern built, classic lines vessel in perfect shape. Very apt for blue water cruising and long stays on board.
EUR 140,000 ,-
Yard:
Chevallier, amateur building
Design:
Daniel Z. Bombigher
Hull Structure:
Cold moulded Iroko wood on kotibé laminated frames. Resorcinol
Deck Structure:
Plywood, teak laid
L.W.L.:
10.40

m.
31.70 feets
Displacement:
12
12 Tm.
Tm.
Winches:
2 x 50st Lw + 2 x 41.2st Barbarossa
Main Furling:
Spinnaker Pole:
2 disembarked
Anchors:
Cqr + Brittany + FOB + alloy detachable
Tender:
Could moulded wood
Outboard:
Yamaha 2.5 hp/ 4 strk.
E.P.I.R.B.:
Engine:
Beta Marine (Kubota) V3800 Di - E501
Serviced:
Every Year
Hours:
1.500 (Nov. 2021)
Transmission:
Shaft, hydraulic gearbox serviced Nov. 2021
Bowthruster:
Main-sail:
Elvström, Terylene (2018) still unused + Terylene old
Try-sail:
Stay-sail:
Terylene, Elvström (2018)
Mizzen:
Trinquete Elvström, terylene, footloose (2018) still to be used + the old one
Spinnaker:
Main Topsail and Fisherman still to be used
Gennaker:
With roller in and out
Log:
Raymarine St60 + Tridata
Depth-sounder:
Raymarine St50 + Tridata
Wind Station:
Raymarine St60
Autopilot:
Raymarine St8002 Smart Pilot
VHF Radio:
Radio Ocean RO2500 + Icom IcM35
GPS:
Raymarine E120 + Garmin 128
Plotter:
Raymarine E120 + Garmin 128
Batteries:
180Ah engine + 4 x 130Ah services
Generator:
Onan 4kw (2007-145 h.)
Batteries charger:
1 x 10A generator + 1 x 15A windlass + 1 x 100A Mastervolt
Cabins:
Showers:
Air Conditionning:
Washing Machine:
Water-maker:
Miscellaneous:
Daniel Zadig Bombigher was a French Naval Architect of Rumanian origins whose work was characterised by a very personal style. He joined his passion for the traditional sailing to his knowledge of modern wood techniques of moulding together with his gypsy origins. His work started around the end of the Sixties and lasted until his sudden death, at the beginning of the new millennium when only 60 years old. His designs are nowadays still proposed on the market by her disciple Hervé Coutard and his daughter Zoé Bombigher. His aim on his activity was to offer to sailing globetrotters a range of beautiful boats, mainly gaff schooner rigged and built using the most advanced wood techniques available, as moulding with the use of resorcinik and epoxy resins apt to drastically reduce the maintenance exigences of classic built boats. Obviously enough this blend of traditional themes and modern technology has been and still is a polemical matter among passionate people! Bombigher used to say that the schooner rig is the handiest for short handed crews, as it divides big sailing surfaces (around 130 sqm in the Regalade case) among different sails, each one easy to handle. He used to affirm that his masts were cracking-proof and he even stated that "you can test them against a low bridge and even then the outcome its unsure!" A nice overstatement typical of his charming spirit. The fine lines of his hulls would deliver sweet sailing and quick manoeuvring. Bombigher used to say that the average heeling on his boats was about 8º to 10º. The lateral view of this design reveals a very traditional hull wit reduced wetted surface and fast vessel touches. She is then a boat that fullfils what she promises: easy and safe sailing in every weather condition, picturesque appearance and ample space down below decks thanks to the absence of full bulkheads, reduced maintenance thanks to the wood treated with modern techniques. As a curiosity, the Shpountz name was used by Rumanian Gypsies to name the village's fool; a fool however that following Bombigher knows the secret of the winds, the spring and the flowers and a flower whose stem ends up on an anchor is the signature of these models that appears on the sails and in other details. The number of the Spountz models has no relation with their dimensions: they are the calibers of Bombigher's preferred guns! The Regalade was built by her first owner with the Bombigher's help. Her present second owner found her in poor shape around fifteen years ago. He had to fully rebuild the external wooden layer, a work that was carried out by an expert shipwright. Since then he has lovingly kept her in good shape. He sailed with Regalade all around the Mediterranean Sea. He proudly remembers a plus 10 force storm that he had to confront to without any help, as his mate was seasick and out of work. The boat was easy to handle and responded well in any situation. Today she sparkles in perfect shape, clean and well painted, with a very good engine and new sails. She seems ready to any sailing program or long term living on board that his next owner should fancy doing.
Request more info Regalade, Shpountz 38-40
These details are believed to be correct but not guaranteed. This specification can not form part of any contract. The purchaser should instruct his surveyor and/or agent to investigate any detail he wants validated. The boat is offered subject to prior sale, price change, inventory change or withdrawal without notice.