Sa Bardissa II S&S 34
Ref. CP063bis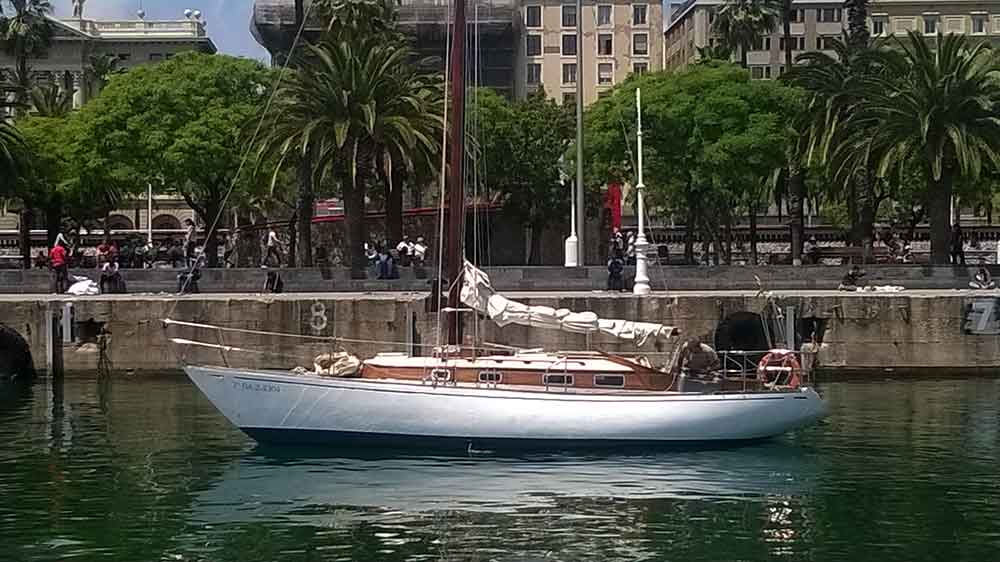 This vessel, with an outstanding history on her frames, is a S&S 34 a legendary cruiser racer. She is in very good shape.
EUR 35,000 ,-
Design:
Sparkman & Stephens
Hull Structure:
Tongue and grooved Mahogany planks on laminated and massive frames
Deck Structure:
Plywood teak laid
L.W.L.:
8.90

m.
27.13 feets
Displacement:
6.5
6.5 Tm.
Tm.
Winches:
Barlow and Barient
Genova Furling:
Main Furling:
Spinnaker Pole:
Windlass:
Lofrans Royal, hand-cranked
Anchors:
2xCqr + Fisherman
Tender:
Outboard:
Safety equipment:
Spanish 60 miles
Engine:
Solé Diesel Mini 33
Serviced:
Every Year
Hours:
Propeller:
Fixed, three blades
Bowthruster:
Main-sail:
Quantum, Terylene (2006)
Jib:
Genoa:
Quantum, 160%, Terylene on hanks (2007) + Planas 110%, Terylene on hanks (2010)
Try-sail:
Hood, Terylene on hanks
Stay-sail:
Mizzen:
Spinnaker:
Gennaker:
Sail Select, socket (2011)
Depth-sounder:
Lowrance HD5x
Wind Station:
VHF Radio:
Cobra, lsd + CMDSS hand-held
Radar:
Other:
Generator:
Inverter:
Batteries charger:
Showers:
Hot water:
Oven:
Air Conditionning:
Washing Machine:
Water-maker:
Miscellaneous:
Jacinto Viladomíu and her wife Nena sailed around the world and wrote their experiences on two books difficult to find nowadays. Their straightforward style describes a world, still close to us in terms of history, but so different due to the technological advances. Their first boat was a Holman & Pye 28, called "Sea Fever". She was, curiosly enough, later sold to Enrique Curt editor of an important magazines Empire, that today is editing the only classic boat Spanish magazine, called "Sea Fever"! The second boat of the couple, called "Cariño" (Spanish for Caress), was a S&S 34 now called Sa Bardissa (Spray in the dialect of Cadaqués). The seriousness and efficiency of the Stephens brothers (Olin and Rod) was so appreciated by Jacinto and Nena that also the second and last "Cariño", was designed by them. All these boats were built at Carabela, the famous Yard in Barcelona, owned by Nick Canyeres, a Hungarian fellow that, after an adventurous youth, settled his activity in Barcelona and raised his yard to the success with his seriousness and integrity with his customers. The S&S 34 is a very succesful model, still built in fibreglass today. Since her start, in 1967, she won many races. Her initial owners quickly created an association and named their boats with the word "Morning". The most famous was the "Morning Glory", owned by Edward Heath, later British Prime Minister. In 1969 her boat won the Fastnet Race in her class and in 1970 overall the very hard Sidney-Hobart race, establishing a legend that was recently, in 2015, renovated by the second overall (!) position gained by the Quickpoint Azzurra, a S&S 34 from the Seventies, coming just 3 hours behind the winner, a powerful and modern TP52! The two main
features of this model are her upwind and bad weather performances. When she was introduced, at the end of the Sixties, she amazed also by the headroom inside. Carabela built a previous sistership of Cariño, the Melibea, whichs is still sailing in Barcelona waters. The high quality craftmanship of the Yard is patent in every detail of the building and in the care of the structural reinforcements. The Sa Bardissa will be found in very good shape, having been restored a few months ago in her hull and having received new paint and varnishes everywhere, new electronics and many more details.
Request more info Sa Bardissa II S&S 34
These details are believed to be correct but not guaranteed. This specification can not form part of any contract. The purchaser should instruct his surveyor and/or agent to investigate any detail he wants validated. The boat is offered subject to prior sale, price change, inventory change or withdrawal without notice.