Silver Heels, Maine "Coaster"
Ref. VP075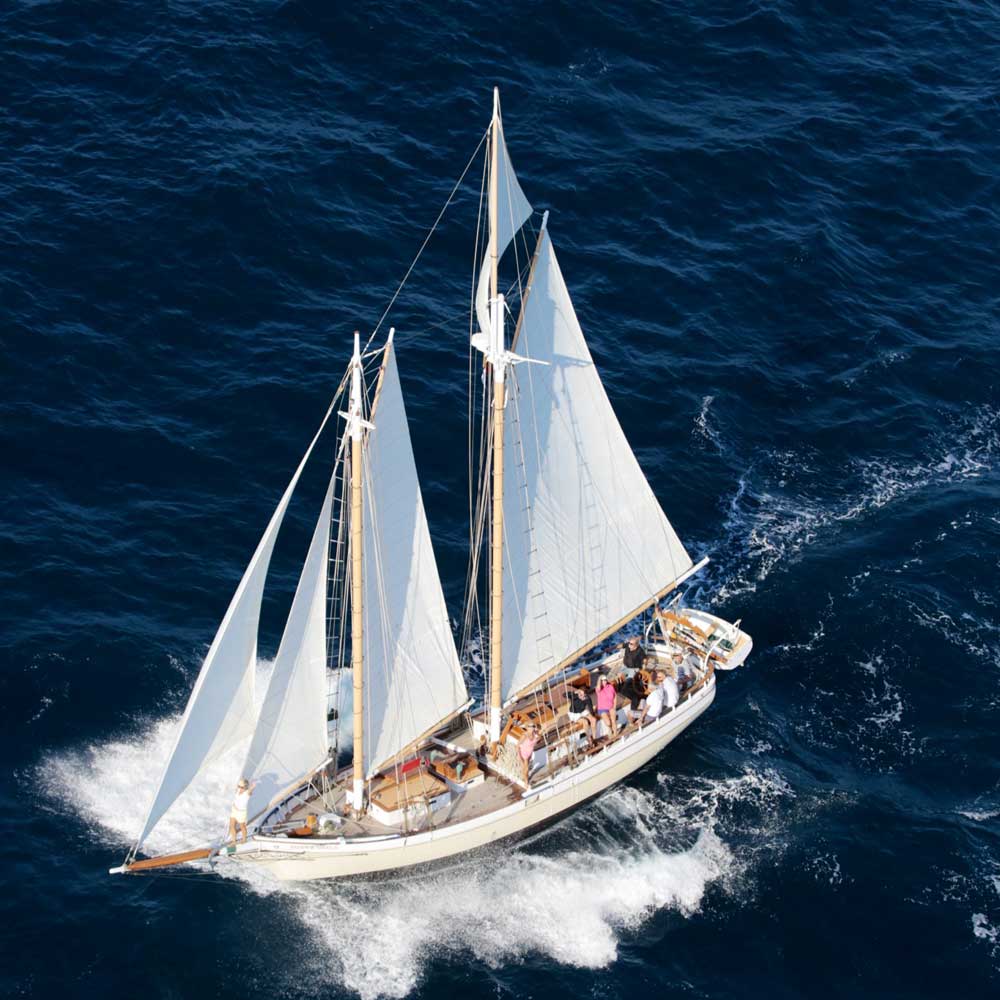 A classic Maine schooner, with magnific lines, good history and in perfect shape. Ideal for blue water cruises.
EUR 135,000 ,-
Hull Structure:
Mahogany on white oak frames (refastened in 2001-2008)
Deck Structure:
Teak on white oak beams (racaulked in 2008)
L.W.L.:
10.30

m.
31.39 feets
Displacement:
19.05
19.05 Tm.
Tm.
Type:
Gaff topsail schooner
Anchors:
Delta + Fisherman
Safety equipment:
American
Serviced:
Every Year
Hours:
5.800
Propeller:
Variprop, folding
Main-sail:
Dacron with topsail
Stay-sail:
Dacrón y mayor de trinquete
Spinnaker:
Fisherman Gollywobbler (entrepalos)
Depth-sounder:
Datamarine Link
Wind Station:
Datamarine Link
Autopilot:
Simrad Robertson Ap20 (2012)
Batteries:
Engine + Services
Batteries charger:
The schooner has been since a long ago the favourite rig of the American sailors. Around the first half of the XX Century, Murray Peterson reached a good fame for his sturdy yet manageable and fast designs. Silver Heels is considered as his more representative creation, at least among his designs that are still sailing around. In 1974 she had the honor of being tested on the first issue of the known American magazine Wooden Boats. Without any doubt her sturdy construction has allowed her to last so well during this time. But we have as well to thank for this all her previous owners, including the present one. Silver Heels is a perfect vessel for blue water cruising and for living a board. She is easy to handle, faster than you can think about her and comfortable at the same time, so much that no one has cared for the lack of a gimballed galley! Her good general conditions are credited by a survey carried on in 2012. All her seacocks were replaced in 2008. Her features include an Edson spare wooden wheel. 
Request more info Silver Heels, Maine "Coaster"
These details are believed to be correct but not guaranteed. This specification can not form part of any contract. The purchaser should instruct his surveyor and/or agent to investigate any detail he wants validated. The boat is offered subject to prior sale, price change, inventory change or withdrawal without notice.