Spirit of Oysterhaven
Ref. VP260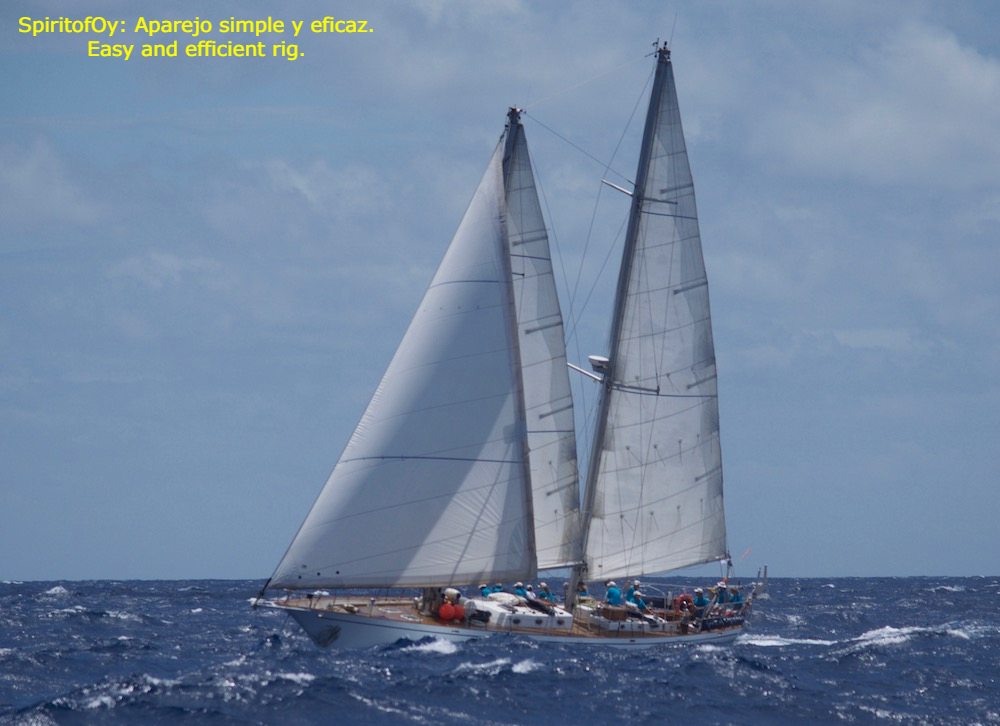 Amazing schooner in excellent maintenance conditions: she has been inspected until 2018 by the Irish Department of Transport to comply with ComSail Passenger Boat Regulations. An easy to handle rig. Very elegant Burma teak interior. Ready to sail away. Huge range. VAT not paid.
EUR 298,500 ,-
Model:
Classic Bermudan Schooner
Deck Structure:
6mm Steel. Cork/Polyurethane over an epoxy layer
L.W.L.:
15.49

m.
47.21 feets
Displacement:
50
50 Tm.
Tm.
Winches:
2xLw65st+2xLw55st+Hk53 3v+4xLw52st+2xHk46st+Lw40+Bw32+2xBw25+Gibb810
Genova Furling:
Profurl C480
Main Furling:
Windlass:
Hardy Eng. Torkmaster M2DHGD hydraulic with twin chain drums and twin warping drums
Anchors:
Fortress FX-85 + CQR 30kg + Stokes 68kg stockless anchor + Bohr HHP-N 79kg
Engine:
Perkins Sabre M135
Serviced:
Every Year
Hours:
Transmission:
Borg Warner hydraulic gearbox, shaft. Bearing support
Propeller:
Bronze 4 blades, fixed
Bowthruster:
Main-sail:
Terylene 10,38oz Cap Horn heavy duty, three reefs (2013)
Jib:
Yankee: Terylene 10,38oz Cap Horn heavy duty, Mitre cut, furling (2013)
Genoa:
Terylene 9,39oz Cap Horn heavy duty, radial cut, furling (2013)
Mizzen:
Forestaysail: Terylene 10,38oz Cap Horn heavy duty, two reefs
Spinnaker:
1 Wollyglobber + 1 Fisherman (2013)
Gennaker:
Log:
Raymarine ST60+ Graphic repeater at chart table
Depth-sounder:
Raymarine ST60+ Graphic repeater at chart table
Wind Station:
Raymarine ST60+ Graphic repeater at chart table
Autopilot:
VHF Radio:
Simrad RS35 + Simrad hand-held
GPS:
Raymarine C60 Multifunction + Garmin GPS-Map 230
Plotter:
Raymarine C60 Multifunction (Navionics) + Garmin GPS-Map230 (Garmin)
Radar:
Raymarine C60 Multifunction
Other:
AIS Raymarine C60 Multifunction, Navtex ICS Nav6,
Voltage:
12V/24V/110V/220V
Batteries:
6 x 115Ah services + 2 engine + 2 spare
Generator:
Volvo 2002, 18hp, 180A
Inverter:
Heart Freedom 20 - 2 Kw
Batteries charger:
2 x Tecsup 24V/40A
Holding-Tank:
Air Conditionning:
Washing Machine:
Water-maker:
Miscellaneous:
Frederick Parker (1912-1984) was a succesful Yacht designer whose career started as an apprentice at the famous century-old English shipyard Berthon. A few years later, in the mid-1930s, he took up a position as a draughtsman in the firm of the famous naval architect Frederick Shepherd, whom he replaced on his retirement. Parker's happier moment came at the end of II World War, when he designed an wide range of large motor yachts, very elegant, sturdy and seaworthy. His sailing yachts too brought him fame, with many victories in races and through the collaboration with major shipyards as Moody and Sons. Towards the end of his career, which came to an end in the late 1970s, Parker specialised in steel vessels, as wooden boats were gradually disappearing, displaced by fibreglass, which he did not like. In 1971, he received a request from a French client for a boat with ocean-going capabilities that could sail around the world in comfort and safety. The Senouire was born, a 67-foot schooner with a steel hull, built in England by the Joyce brothers' shipyard, well known to the designer. The finishing was done in France, in St. Malo, using top quality Burmese teak. The doors were made of walnut and the floors of teak and holly, very resistant to rot. The Senouire had a long career as a private cruiser, but in the mid-1980s she was sealed by the American Coast Guard after a raid on underwater treasure hunters. She was found there by her current owner who was looking for a boat suitable for the training of Yacht Master candidates in Ireland. The Senouire met all the criteria and soon changed ownership and name, and has since been called the Spirit of Oysterhaven, after her new owner's place of origin. Since then she has been in continuous service and continuously updated in every detail, in order to meet the very demanding Irish standards for training ships. Today, she could very well return to private service and be an excellent classic ship in enviable maintenance conditions and with an interior that is surprisingly luxurious in materials and workmanship. During her career she has amply demonstrated her seakeeping qualities and ease of handling, as the sails of her schooner rig are relatively small compared to any other type of rig on a ship of this size.
Request more info Spirit of Oysterhaven
These details are believed to be correct but not guaranteed. This specification can not form part of any contract. The purchaser should instruct his surveyor and/or agent to investigate any detail he wants validated. The boat is offered subject to prior sale, price change, inventory change or withdrawal without notice.