Wauquiez Centurion 32
Ref. VP251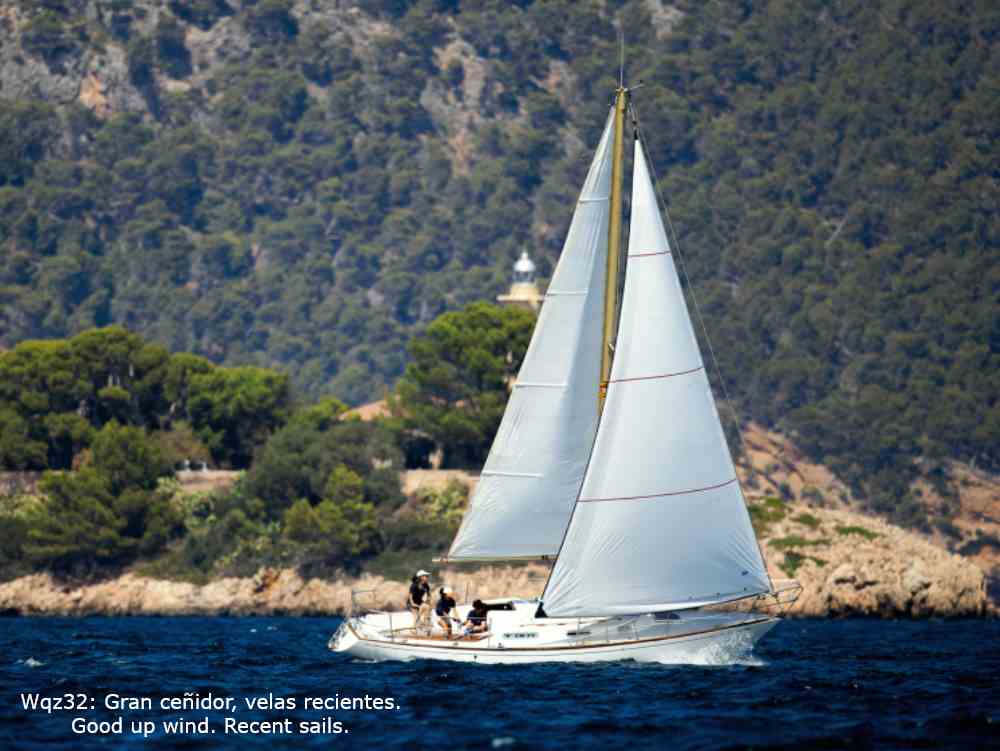 A splendid small great cruiser with lot of quality, in very good shape and very original.
EUR 24,000 ,-
L.W.L.:
7.45

m.
22.71 feets
Displacement:
4.65
4.65 Tm.
Tm.
Windlass:
Tender:
Outboard:
Safety equipment:
E.P.I.R.B.:
Year:
Serviced:
Every year oil and fresh water impeller replacement, oil filter every two years and air filter when needed. Engine belts replaced every 2/3 years. Engine compression tested in 2021.
Hours:
Transmission:
New shaft, new dry stern gland
Propeller:
Fixed, three blades
Bowthruster:
Main-sail:
Terylene (2017)
Jib:
Genoa:
Furling, Terylene (2021)
Try-sail:
Stay-sail:
Mizzen:
Spinnaker:
Two, the light one needs new eyelets
Gennaker:
Log:
Wind Station:
Raytheon Wind
Autopilot:
VHF Radio:
Sailor Type 46 T
Plotter:
Radar:
Other:
Generator:
Inverter:
Batteries charger:
Hot water:
Holding-Tank:
Oven:
Air Conditionning:
Washing Machine:
Water-maker:
Miscellaneous:
Henry Waquiez had a very strict ideas about the quality when building a boat. To the point that instead of having to look for a designer for his boats, designers went to him to have their own boats built! This happened with the Naval Architects Kim Holman & Don Pye whose Elizabethan 29 Wauquiez was building under license for the French market. Having seen the building quality of those boats, they proposed to Henri Wauquiez to directly build their future models. Although we don't know for sure who was the actual designer of the Centurion 32 among the three members of the H&P Bureau (Kim Holman, Don Pye and David Cooper), as Kim Holman left the Bureau about that period, for sure it has all the typical H&P elements: very elegant lines, with a nice balance between the topsides (high for those years) and the roof. A good hull lines for up-wind work and not bad while downwind (the Centurion 32 won among many other races twice the Cape to Rio race, mainly sailed downwind), fine deck lay-out, with usable side-ways and deep and safe cockpit. Down below the lay-out is well fitted out and liveable for blue water sailing (these comments are made of course keeping in mind the age of the boat and in relation with contemporary designs). The Centurion 32 was born in fact as a real blue water cruiser-racer of compact dimensions and the conjunction between its designer and the seriousnes of its builder made a master piece of it that still todays raise the interest of connoisseurs and can obtain good outcome at club races. To build and to equip them the best quality materials of the moment were used: polyester isophtalic resins for hull and deck, lead keel, Proctor mast, Barient winches and Gaastra sails (as standard). Down below she has a high quality teak built joinery, using much hardwood, with a traditional partition, very British, ideal and safe for long cruises. All this made for the huge commercial success, with 380 units built between 1969 and 1977 and keeping in mind that she always has been an expensive boat. Even if the Centurion cannot obviously compete in liveability terms against modern boats of similar L.o.a. its owners satisfaction is evident by their comments at the quay and on the web. Mayki, the unit offered, has been very well cared of by her present owner who sailed her for more than twenty years. She is in an enviable original state (very interesting for the Spanish Classic boats future law): everything is correctly working on board, except the autopilot (that could be repaired, although it does not seems advisable). The standing rigging and sails are recent, the engine receives each year new filters, oil and a water cooling impeller, the internal light is LED, while keeping the original aesthetics. The Mayki finds herself very often close to the award places on her Club races, against much more modern boats. She is a vessel really ready for every sail program.
Request more info Wauquiez Centurion 32
These details are believed to be correct but not guaranteed. This specification can not form part of any contract. The purchaser should instruct his surveyor and/or agent to investigate any detail he wants validated. The boat is offered subject to prior sale, price change, inventory change or withdrawal without notice.