Windekind
Ref. CP099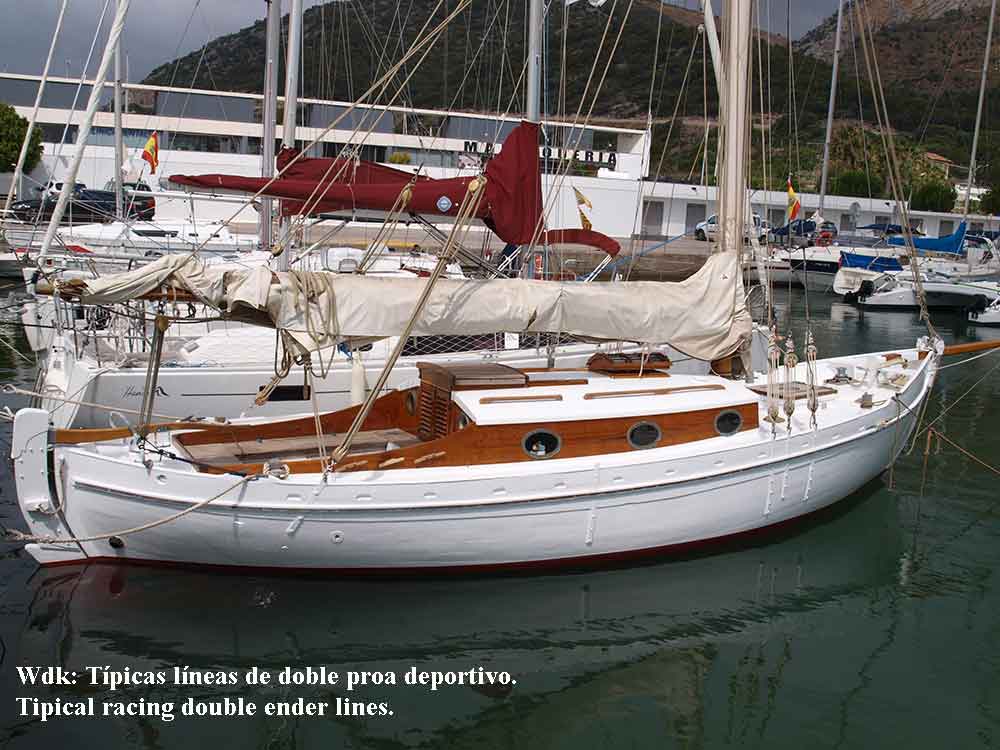 A small cruiser racer double ender. A Spitzgattern in the Scandinavian countries, built in Belgium and in very good shape and originality.
EUR 20,000 ,-
Model:
Spitzgatter (Double ender)
L.W.L.:
8.50

m.
25.91 feets
Type:
Gaff cutter, Oregon Pine
Winches:
Genova Furling:
Main Furling:
Spinnaker Pole:
Windlass:
Simpson Lawrence, manual (2010)
Safety equipment:
E.P.I.R.B.:
Year:
Serviced:
Every Year
Hours:
Propeller:
Fixed, three blades
Bowthruster:
Main-sail:
Hood, terylene (2007)
Jib:
Hood, terylene (2007)
Genoa:
Hood, terylene (2007)
Try-sail:
Stay-sail:
Hood, terylene (2007)
Mizzen:
Spinnaker:
Gennaker:
Depth-sounder:
Wind Station:
Autopilot:
Autohelm ST2000 +
Plotter:
Garmin Gps Map 420
Radar:
Other:
Total Beds:
Hot water:
Oven:
Air Conditionning:
Washing Machine:
Water-maker:
Miscellaneous:
Colin Archer did not invent the double ender concept as we nowadays tend to believe in a unquestioned way. His doubler ender designs had indeed a deep success worldwide when they were adopted by the Norwegian Customs and Safety services. But there were already doubler enders of many different fashions and not only of the "Colin Archer" type, eminently conceived for long blue water stays in any kind of weather. At the end of the XIX Century in the Scandinavian countries they started drawing small double enders for cruising and racing. The top of their heydays was reached in the years between the two World Wars. Their success was so amazing that they were diffused also in such remote Countries as in Argentina for example, where they were introduced by designers and builders of German origins. During the Twenties of the last Century, the Spitzgattern, as they are known in Scandinavia, were divided in classes by their sailing surface, as it happened to so many other cathegories of sailing boats. Traditionally three were the best known Designers of Spitzgattern: Aage Utzon, Georg Berg and Marius Sofus Hansen. But there were many others as C. de Smet who designed and built Windekind (that Means Son of the wind) in Belgium. We have no other information about him for the moment. Windenkind is her original name and she was clearly designed to race, as it is proved by an old Belgian rating certificate valid from 1937 to 1941 by which we know also that his first owner was a member of the Gant Yachting Club. We don't know more than this of her history, until she was purchased from a German by the late and so lamented Alfonso Etchegaray, a great classic boats passionate and expert, at the beginning of the new Century and Millennium. Since then, she has sailed so much around the Mediterranean Sea, firstly with Alfonso and his wife and later with her present owner, Alfonso's close friend. Windenkind in a very sturdily built boat, as usual among the Spitzgattern and C. de Smet made use of a peculiar building method, were an enormous keelson saves the use of floors. He also cut the frames at less than a centimeter from the keelson thus preventing them to rot away by the moisture in the bilge, thought Windekind's bilge is very dry, by the way. She is in fact a very well crafted boat, in very good shape, with good and recent sails and ready to go cruising or racing in classic boats regattas.
Request more info Windekind
These details are believed to be correct but not guaranteed. This specification can not form part of any contract. The purchaser should instruct his surveyor and/or agent to investigate any detail he wants validated. The boat is offered subject to prior sale, price change, inventory change or withdrawal without notice.