Amusco IV, Viudes 20m
Ref. CP106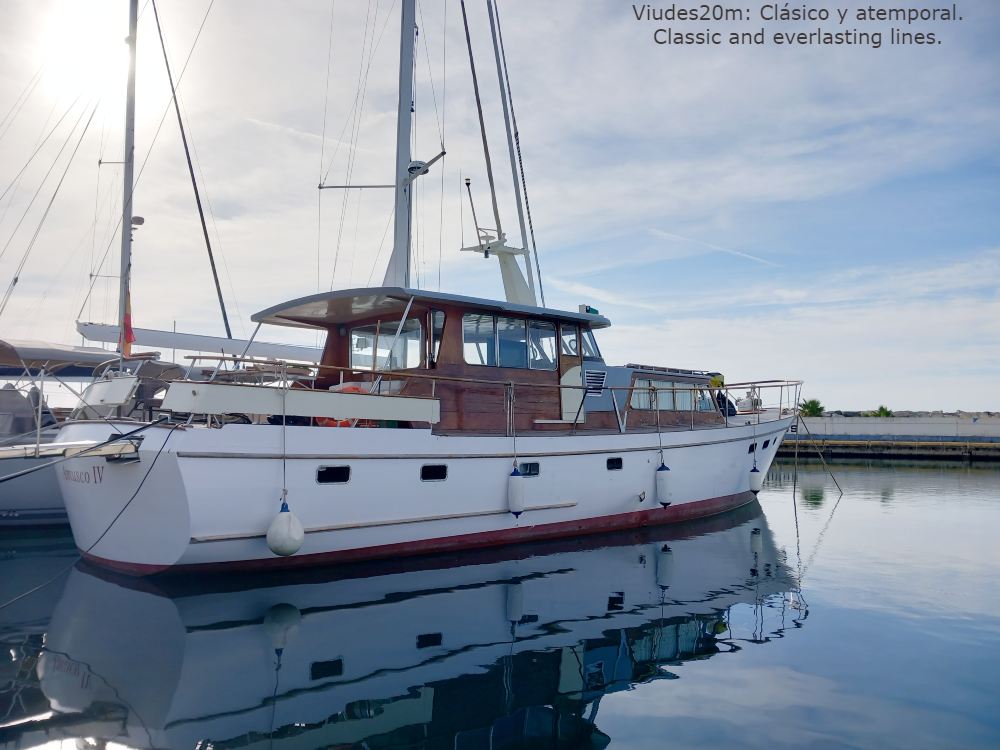 Perhaps the best interpretations of the Fleur de Lys design were made by Astilleros Viudes the Spanish Yard. Their impressive craftmaship and their luxurious details are at the highest international standards. The Amusco IV is under a restoration process close to the end.
EUR 300,000 ,-
Yard:
Astilleros Viudes, Barcelona
Design:
Inspired on a J.F. Jones design: Fleur de Lys
Hull Structure:
Mahogany planks
Deck Structure:
Plywood and Iroko
L.W.L.:
17.67

m.
53.86 feets
Displacement:
23
23 Tm.
Tm.
Type:
Winches:
Genova Furling:
Main Furling:
Spinnaker Pole:
Windlass:
Lofrans Titan 24V/3500W
Anchors:
Brittany, Danforth type
Tender:
Outboard:
Safety equipment:
Spanish 60 miles
E.P.I.R.B.:
Engine:
2 x Volvo Penta D6-310
Serviced:
Every Year
Hours:
Main-sail:
Jib:
Genoa:
Try-sail:
Stay-sail:
Mizzen:
Spinnaker:
Gennaker:
Depth-sounder:
B&G to be mounted
Wind Station:
B&G to be mounted
Autopilot:
B&G to be mounted
Plotter:
B&G to be mounted
Radar:
Other:
Batteries:
Generator:
Mastervolt Whisper 12 Ultra
Inverter:
Batteries charger:
Mastervolt 24V/100A
Air Conditionning:
Preinstalled
Washing Machine:
Water-maker:
Miscellaneous:
Between the Sixties and beginning of the Eighties a British Yard called Dagless built a sucessful range of power yachts based upon a design from Jack Francis Jones: the Fleur de Lys of which different versions ranging from 50' to 98' where built. Towards the mid Sixties, three different families of the Catalan gentry placed an order for three 20 m. boats at the Astilleros Viudes (founded in 1940) based on the Fleur de Lys design. They were the Geno, the Danae and the Amusco IV. Having the same hull lines, each one differed from the other on the deck and internal lay-out. They formed a Mediterranean improvement on the original Fleur de Lys design. In fact, the life "en plein air" was better cared of and the internal comfort well detailed. All three boats, of a very high craftmanship and much more opulently finished than the original British built boats, are still sailing nowadays: the Geno in Italy, while the Danae and Amusco IV still in Spanish waters. The Amusco IV was restored a few years ago. She received a full check to the hull, cleaning and painting inside, new engines, new electric and hydraulic systems, new galley and furniture equipment. More recently her owner has rebuilt the decks, replaced some beams and serviced the equipment. The transom is totally new. She has since sailed very little, always being maintained in good shape and the engines show very low hours. Today he is about to mount new electronics and ask for a new Official inspection to get out sailing again.
Request more info Amusco IV, Viudes 20m
These details are believed to be correct but not guaranteed. This specification can not form part of any contract. The purchaser should instruct his surveyor and/or agent to investigate any detail he wants validated. The boat is offered subject to prior sale, price change, inventory change or withdrawal without notice.