Columbia 52
Ref. VP251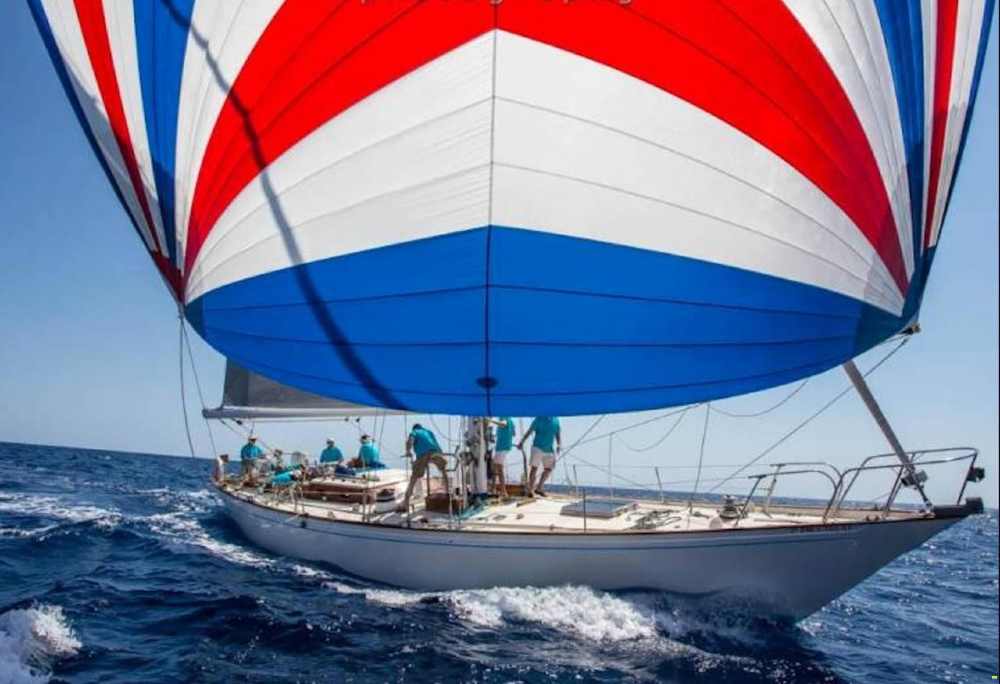 An amazing cruiser-racer from Bill Tripp's desk. She is perfectly equipped to go away cruising or racing. She has a well protected cockpit and a luxurious ample interior.
EUR 180,000 ,-
Displacement:
17.2
17.2 Tm.
Tm.
Winches:
Barient: 2 x 3 speed coffe grinders - 2 x 10 – 4 x 16 - 2 x 22 – 1 x 26 – 1 x 28 – 2 x 32
Main Furling:
Spinnaker Pole:
Carbon fibre with carbon fibre jockey pole
Safety equipment:
To be checked
Year:
Serviced:
Hours:
Propeller:
Bowthruster:
Main-sail:
Jib:
Genoa:
Try-sail:
Stay-sail:
Mizzen:
Spinnaker:
Gennaker:
Depth-sounder:
6 B&G repeaters
Wind Station:
6 B&G repeaters
GPS:
B&G with a repeater in the owner's cabin
Plotter:
B&G with a repeater in the owner's cabin
Radar:
Other:
Furuno Navtex NX-300
Batteries:
Generator:
Batteries charger:
Victron Phoenix 50A + Victron Centaur 60A
Holding-Tank:
Air Conditionning:
Washing Machine:
Water-maker:
Miscellaneous:
During his less than 20 years of professional career, Bill Trip Jr. (1920-1971, he died on a car accident) could clearly show his brilliant ideas and love for innovations. Common features of his designs were the low and short cabin trunk (they called it a "turret" dog-house), often of aerodinamic proportions, a notable sweet sheer with higher topsides than was then accepted, thus avoiding the use of reversal sheer so used those days and keeping a good interior height. His boats had long overhangs and his bows are high and dry sufficiently protecting the deck. At the stern the overhang gives buoyancy when sailing down wind. Tripp was a genius of the CCA (Cruising Club of America) rule mainly used on the West Coast were the most important regatta is the Transpac race (from California to the Hawai). Bill Tripp specialized also in the new Glass reinforced building technique, although his probably most known boat was the first Ondine that he designed for Huey Long in 1959, aluminium built which won the Transpac, The Bermuda and Fastnet races and quite every race in which she took part! On the industrial production his most famous boat is the Hinckley Bermuda 40, from 1959, perhaps the boat much longer in production of the world: you can still order a new one to the Yard! The relatively long and very productive Tripp's collaboration with the Columbia Yachts Yard started in the mid Sixties and he designed a very ample range of boats from 20 to 57 feet. The Columbia 52 was precisely the last Tripp's design before his fatal car accident. The first unit out of seven (or ten following other sources, even thought that one of them was enlarged before completion) built by the Yard was named "Tribute" in honor to her recently disappeared designer. The Columbia 52 epitomises a Tripp perfect design: a short Turret cabin, aerodinamic and elegantly finished in varnished wood; an uncluttered and accessible deck; a high bow that ends up a sweet sheer. A long and beamy stern, apt to easy sailing down wind; a deep and safe cockpit. Down below, an ample and elegant interior, with many bunks and only two luxurious cabins each one with its ensuite are tipical features of Tripp's brilliance. The Fátima was built a year after his dead and today she is in perfect original conditions. Her owner kept her in perfect sailing trim, adding a modern electronic system, a fully serviced engine with low hours of use since the rebuilding, sails and sheets, batteries and chargers: everything has been recently serviced or replaced and the Fátima is ready to sail away at any moment, not loosing her original romanticism.
Request more info Columbia 52
These details are believed to be correct but not guaranteed. This specification can not form part of any contract. The purchaser should instruct his surveyor and/or agent to investigate any detail he wants validated. The boat is offered subject to prior sale, price change, inventory change or withdrawal without notice.