Contessa 35 custom
Ref. VP070bis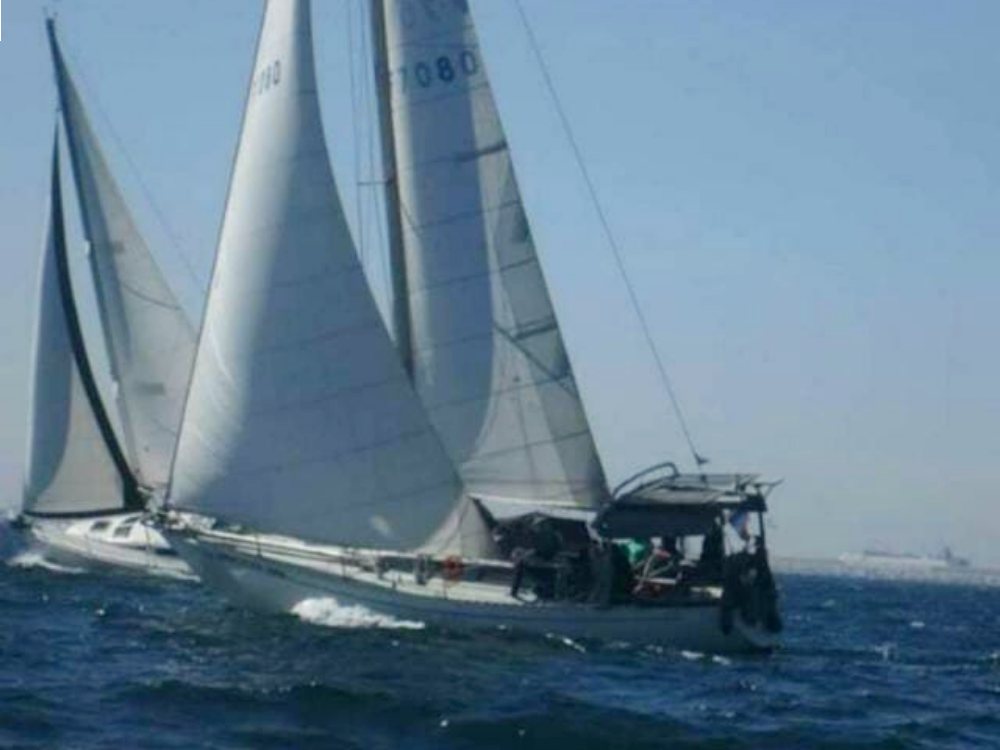 She seems a standard Contessa 35, but she is a cruiser racer originally fitted to win everything and nowadays prepared to sail across oceans. Huge history behind and ready to sail many more miles ahead.
EUR 65,000 ,-
Yard:
Contessa Yachts (Jeremy Rogers)
Hull Structure:
Fiberglass with isophtalic polyester resin, bulkheads laminated to hull and deck
Deck Structure:
Balsa sandwich with isophtalic polyester resin
L.W.L.:
9.00

m.
27.43 feets
Type:
Cutter, Proctor, two pair of spreaders
Winches:
2 Barbarossa 42st3 main 2 Harken 4 Barbarossa 40 + 2 Barbarossa 30 at mast base
Main Furling:
Spinnaker Pole:
2 alloy + jockey pole
Anchors:
Delta type + Fortress
Outboard:
Evinrude 3,3hp/2strks.
Engine:
Beta Marine 38, Based on Kubota
Serviced:
Every Year
Hours:
2.265 (january 2022)
Transmission:
Shaft, Technodrive TMC60 gearbox
Propeller:
Max-Prop, three blades
Bowthruster:
Main-sail:
Delta, Terylene (1999), semifullbatten + a Hood original, used only in three regattas and serviced in 2016.
Genoa:
Delta, Terylene (1999), furling + a total of 16 jibs of various sizes
Stay-sail:
Delta, Terylene, on hanks (1999)
Mizzen:
Gennaker:
Big Boy + Double Stay
Depth-sounder:
Garmin 521S without through hull
Wind Station:
Autopilot:
Raymarine ST2000 + Raymarine ST4000 + Windvane
VHF Radio:
Icom IcM 45 + Uniden MM 955 hand-held
GPS:
Garmin Map 521 + Garmin 75 batteries
Radar:
Batteries:
1 x 750Ah Gel engine + 1 x 1500Ah services
Generator:
2 solar panelse 55Ah + 2 x 50Ah
Inverter:
Water Tank:
2 x 100 l. + 2 x 100 l. to be mounted, all plastic bags
Air Conditionning:
Washing Machine:
Water-maker:
Miscellaneous:
2 sun-awnings: a light one for summertime and a heavy one on a detachable rigid structure. Rigid and canvas spray-hood
From the 1950 to the 1980 these thirty years are named the "Stephens Era" on the sailing races field for the absolute freehold that boats designed by him had in every race, including the America's Cup. One of those vessels was the Palynodie, own by businessman and politician Gaston Defferre from Marseille, France, who was also for a long period the major of that town. The Palynodie was surprisingly constant in winning every regatta she attended to. In those days the French nautical magazine par excellence was the "Neptune Nautisme" whose editorial team was composed by such sailors as Alain Gliksman, Michel Malinovski and others, all friends of Eric Tabarly or Bernard Moitessier and today historic names of the French Yachting. The magazine's owner was Henry de Constantin de Chateauneuf and he was willing to defy Defferre on his own Mediterranean waters. Pushed by his editors they started looking for a suitable boat and the research was not long! In 1974 the One Top Cup was won by a British built new boat, the Contessa 35 prototype, called "Gumboots" and designed by a then young an unkown Doug Peterson. Her builder, Jeremy Rogers, was also at the tiller and though a young man too he no longer needed any introduction: he was already building a range of boats, mainly designed by... Olin Stephens! And the quality of his buildings was already amply recognised. Michel Malinovski had already tested the standard model and was really impressed by her balance between sailing performances and cruising comfort, by the building quality and the seriousnes of her builder. The development of the new boat lasted two years and Malinovski himself worket at the yard for a long while. On board the boat there is still the sail bag in which he stored the tools to repair sails. In 1977 was at last launched the "Neptune One", with which name de Constantin jointly honoured the Sea god, its own magazine and the British origins of the boat. The hull lines of this boat show a deep V forward and become fairly flat around the keel, becoming more radiused aft at the stern: thus the route stability is improved without penalties from the I.O.R. rating. The topsides have a light tumblehome, i.e. they slightly reduce the beam at deck level. On deck, the cabin-roof profile dilutes forward on the deck itself, following the dominant style until the end of the Eighties. The two spreaders mast, one more and taller than the standard and the lead keel, of trapeizodal lines and deeper that the standard (2,05 m. Against 1,93 m.) are the bigger differences, together with a rudder of increased surface compared to a standard Contessa 35 and show Malinovski priorities when thinking a fast vessel. The deck hard-ware follows the original lay-out but is organised with bigger and more powerful pieces. The builder used polyester isophtalic resin (then a novelty) and prepared a really sturdy structure with floors, ribbands and stringers directly laminated to the hull without counter moulds. The Neptune One is thus a real ocean cruiser racer ready for any sailing program. Naturally enough she was published once at least on the Neptune Nautisme magazine cover. Once Henri de Constantin reached his goal, arriving before the Palynodie three times in real time (in 1978, 1979 and 1983) he used the boat for cruising and log distance racing, as in the 1979 Marseille – Sidi Bou Said. In 1992 he sold the boat to her second and present owner. He is an old French submarine officer and sailed single handed initially between Brittany, Ireland and England, two times including the Azores. In 2010 he sails to the Baltic Sea, to Norway, Northern Sea and the Azores, crossing the Gibraltar Strait and arriving to Barcelona that becomes Neptune One's home port. Hence he sails on short cruises around the Med. Today, Today being well in his Eighties he considers that the vessel deserves a younger owner who understand the sturdines, the frugality and austerity of an uncompromised ocean vessel, full of history and in very good conditions.
Request more info Contessa 35 custom
These details are believed to be correct but not guaranteed. This specification can not form part of any contract. The purchaser should instruct his surveyor and/or agent to investigate any detail he wants validated. The boat is offered subject to prior sale, price change, inventory change or withdrawal without notice.