Ivanhoe
Ref. CA76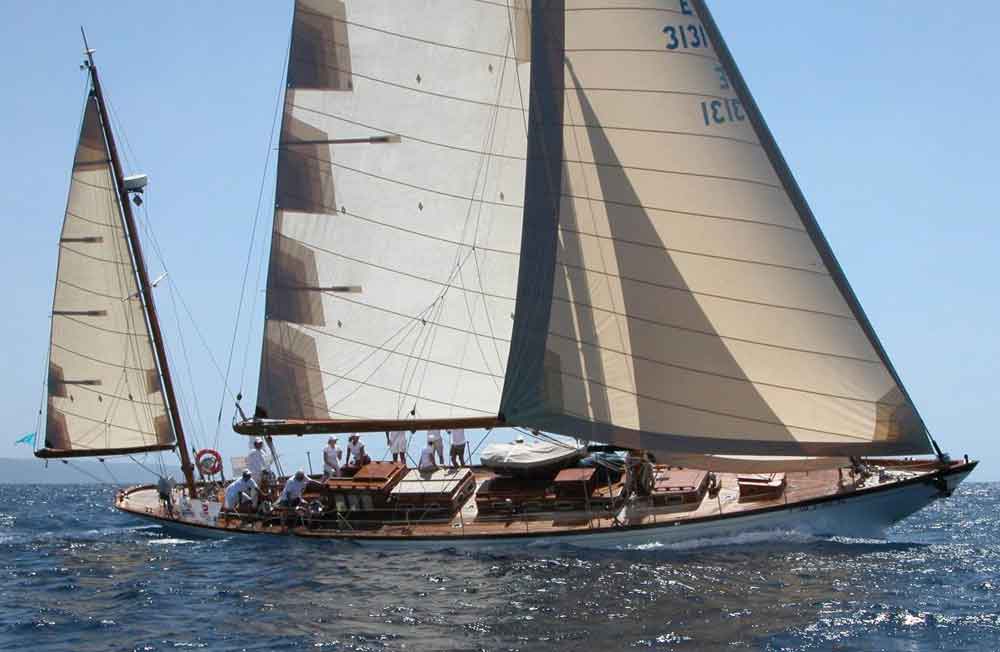 The biggest boat from the big Tore Holm, her deigner and builder. She was retored by Belliure to her wonderful present conditions.
EUR 580,000 ,-
Yard:
Holm de Gamleby (Suecia)
Model:
Yawl de crucero-regata
Hull Structure:
Mahogany on composite frames of steamed oak and steel
Deck Structure:
Plywood, teak laid
L.W.L.:
14.30

m.
43.59 feets
Displacement:
32
32 Tm.
Tm.
Type:
Yawl de crucero-regata
Winches:
Enkes y Barient, dos eléctricos
Tender:
Chinchorro de tingladillo
Serviced:
Every Year
Hours:
n.d.
Transmission:
V-Drive Borg Warner
Propeller:
Max Prop, 3 blades
Main-sail:
North Sails, full batten (2007)
Jib:
Yankee, North Sails, enrrollable (2007)
Stay-sail:
North Sails, enrrollable (2007)
Mizzen:
North Sails, sables forzados (2007)
Spinnaker:
Drifter (1996), entrepalos Diamond (1992)
Wind Station:
B&G Hydra 2000 (2005)
Autopilot:
Hidráulico Cetrek 727
VHF Radio:
JMC, con Lsd (2007), BLU Skanti 8250S
Batteries:
180Ah motor, 75Ah generador, 12x2V (todo 2012)
Inverter:
12V y 24V a 220V
Batteries charger:
Heads:
Oven:
Fagor inducción + Míele micro
Air Conditionning:
Clima CWS 251 (2005)
Miscellaneous:
Tore Holm knew pretty well what to do since since his earlier years: his father Knud Holm had created the Yard at Gamleby around 1905 and Tore and his brothers had grown in those surroundings and with the steady presence of their father. Well before the age to sign projects, Tore had designed boats built by the Yard. They were mainly Skerry-cruisers, the known Swedish cruiser-racers to which concept, as well as to that of the International Rule, Tore would be always linked. At the beginning of the Thirties, he took over the Yard from his father and in 1938 he built there the biggest boat the Yard ever built. The Havsörnen II (Sea Eagle II) was built for Sven Salén, Tore's mate in the Olimpics even two years before. She was a magnific vessel, of fine, easy lines very much Swedish indeed and she had an innovative yawl rig, easier to handle, that in those years the Stephens brothers had made so fashionable and victorius in ocean races. To move the huge main mast from the shed to the crane, all the Yard's hands were involved and still in recent times the survivors of that moment recalled an important detail of that outstanding vessel. The Second World War did not diminished the racing life in Sweden and the Havsörnen II won as much as his design and building and his owner deserved. She even went to the Med in the mid Sixties, to race in Greece under the hands of King Constantine. Later on she lived a decadence period and ended up on a Sothesby auction where she was sold to a Spanish owner. From then on she was named Ivanhoe and her home port was Palma de Mallorca. In the Nineties, Ivanhoe raced in the Classic circuit winning many trophies. Following an accident (the boat falled down from a crane during a haul-out) the famous Spanish builder Vicente Belliure was charged for the restoration and interior refit. The good taste and high craftmanship of the master from Alicante made possible for the Ivanhoe to "rise from ashes" with a nice blend of classic and modern taste that makes the two names of her history shine together: Tore Holm and Vicente Belliure and their own Yards.
Request more info Ivanhoe
These details are believed to be correct but not guaranteed. This specification can not form part of any contract. The purchaser should instruct his surveyor and/or agent to investigate any detail he wants validated. The boat is offered subject to prior sale, price change, inventory change or withdrawal without notice.