Margarita estálindalamar, I.O.R. II Class
Ref. CP119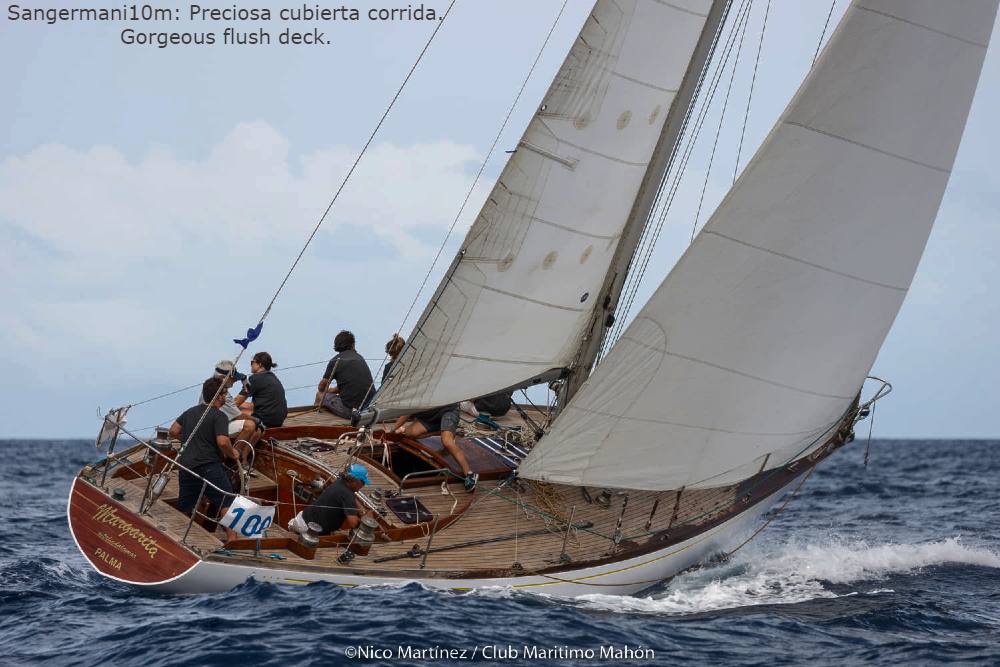 Sangermani is synonymous with a well-built ship and this cruiser-racer confirms this. Her genesis is very peculiar: to serve as a mould for a series, but her subsequent life served to confirm the goodness of her builder.
EUR 80,000 ,-
Hull Structure:
Gran Bassan mahogany planks on acacia naturally grown and oak laminated frames. A thin original fibreglass cover
Deck Structure:
Plywood, teak laid (2013)
L.W.L.:
8.90

m.
27.13 feets
Displacement:
8.08
8.08 Tm.
Tm.
Winches:
2 x 55 Lewmar genoa 2 x Baron spi 2 x Baron mainsheet track 6 x Baron on deck 2 x Andersen 40 halyards at mast
Genova Furling:
Facnor + Harken for spare
Main Furling:
Rolling reefing original boom for spare
Windlass:
Quick, electric (2013)
Anchors:
Brake MPI + Fisherman
Outboard:
Honda 2hp/4strks.
E.P.I.R.B.:
Engine:
BMW Marine Diesel 50
Serviced:
Rebuilt 2018
Hours:
100 h.
Propeller:
Gori three blades + Fixed three blades as spare
Bowthruster:
Jib:
2 x Terylene furling (2009 y 2010)
Genoa:
Hood, terylene, furling + Balsails, light, terylene, furling (2001) + Balsails, light, terylene, triradial (2014)
Try-sail:
Hood, never used
Stay-sail:
Terylene, furling
Mizzen:
Gennaker:
Drifter, Hood + assimmetric both furling
Depth-sounder:
Raymarine ST60 Depth
Wind Station:
Raymarine ST60 Wind + upwind magnification
Radar:
Other:
Voltage:
12V/220V panel and wire new in 2018
Batteries:
2 x 110Ah engine (2023) + 2 x 110Ah (2021) services
Generator:
Inverter:
Hot water:
Holding-Tank:
Yes and grey waters
Fridge:
In saloon and on deck
Air Conditionning:
Washing Machine:
Water-maker:
Miscellaneous:
Churro may seem an odd name for a boat, but in the local Lavagna slang, where the Sangermani shipyard was founded, it means "handsome". And that is what the Sangermani father and son called the new boat they designed themselves and built in 1972 with the intention of making a small series in fibreglass, a material that was by then already surpassing wood in the number of constructions. For this very reason the hull of the Churro was taken to one of the best fibreglass lamination companies of the time, who, in order to perfect the quality of the mould they were going to build from it, covered the hull with a thin layer of fibreglass, to avoid imperfections due to the porosity of the wood. Since then, the Churro has maintained this coating, which we can consider original and which was certainly not the first (the same thing was done in the 1950s), nor would it be the last (many boats were built between the 1970s and 1980s in wood, with a layer of fibreglass). In addition to serving as a mould for a fibreglass series, the Churro was designed to proclaim the virtues of the Sangermani on the race courses, with a family crew from the same shipyard. But the boat was sold in the finishing phase to a customer who christened her Santa Maria and which would give rise to a family of boats, all Sangermani built and all with the same name, typically preceded by the numeral, up to the Quinta Santa Maria, a carbon fibre built boat, in which Sangermani only took care of the interior. The Santa Maria did its best in the regattas in which it took part, while its fibreglass relatives, of which ten were built, were not so successful because of their reduced rig. The lines are typical of the I.O.R. with a rhomboid design on deck, notable bow and stern overhangs and very fine water lines, without any of those tensions that would come later, to cheat the rule. Buttocks are fine and the lateral plan is characterised by a marked V-shape. The wetted surface is thus reduced to a minimum and makes the Churro a very fast boat in all conditions. On deck, we can see the typical rig lay-out of the period, with a high aspect ratio sail plan, with a relatively small main-sail and where the power is given by the forward sails and in which the maximum of one winch for each manoeuvre is a must, something apparently complicated, but which was overcome more for economic reasons than for practical ones. In any case the two winches on the cabin top are equipped with three cam-cleats each. The deck is fully uncluttered and marked only by the elegant cockpit coamings. It does not have the pronounced cant of later designs and has some luxurious details, such as the fridge on deck. Internally the Churro, being conceived as a pure racing boat, was finished in an austere manner, but with typical Sangermani quality. A comfortable aft cabin offers the owner the comfort of a big boat. In the galley, although small in size, nothing is lacking. The chart table, very important at the time, is of more than adequate dimensions. The saloon is also luxurious and comfortable, with a fixed folding table that allows the sails to be properly manoeuvred down below. The forepeak has been kept as it was originally, for the storage of sails, rigging and other manoeuvring equipment, with two folding bunks for longer races. In conclusion, the "Margaritaestálindalamar", the current name of the Churro, which is inspired by the famous poem by Rubén Darío to Margarita Debayle, is ready to sail in any programme proposed by her new owner, be it regattas in the Mediterranean circuit or blue water cruises.
Request more info Margarita estálindalamar, I.O.R. II Class
These details are believed to be correct but not guaranteed. This specification can not form part of any contract. The purchaser should instruct his surveyor and/or agent to investigate any detail he wants validated. The boat is offered subject to prior sale, price change, inventory change or withdrawal without notice.