Marigan
Ref. CP117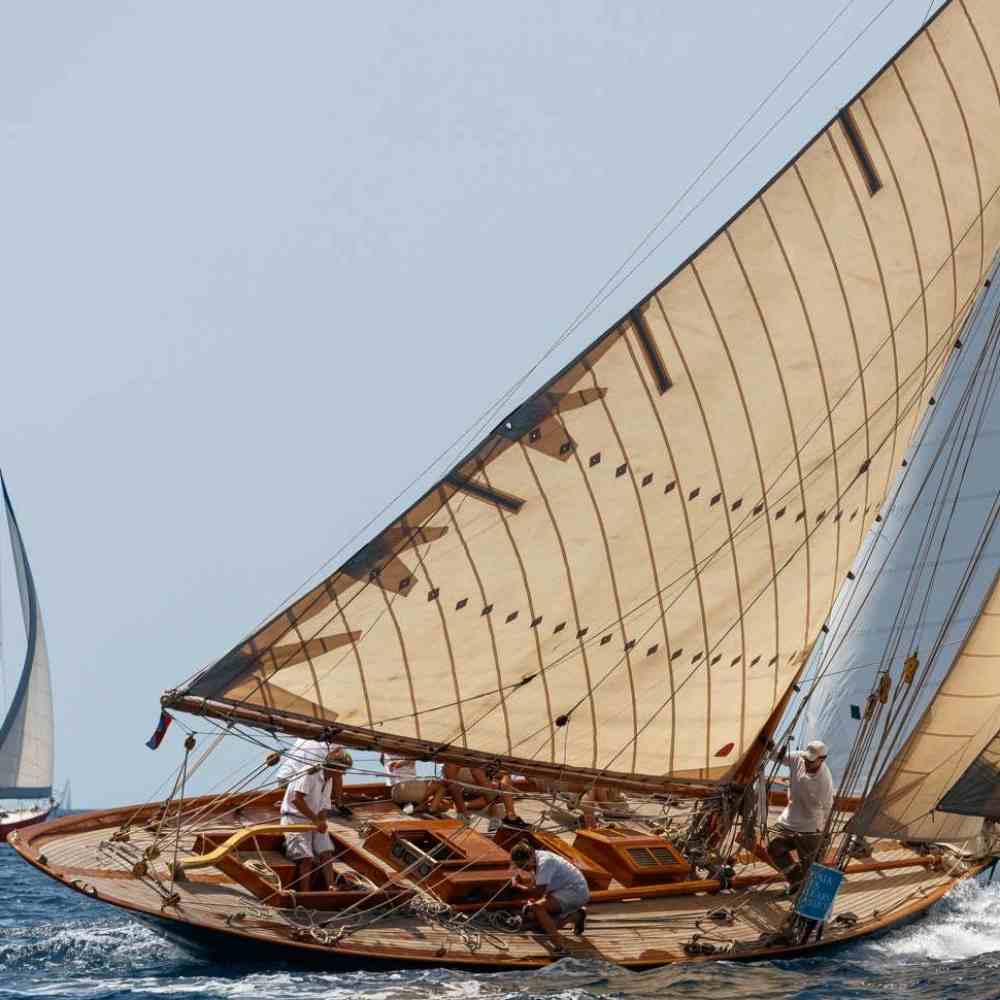 A perfect vintage vessel of great heritage and ready to win races. She allows also for family sailing, with friends, enjoying unique feelings. Structurally she can stand for another hundred years!
EUR 390,000 ,-
Yard:
Samuel Bond, Birkenhead
Design:
Charles Livingston
Hull Structure:
Pitch Pine and Oregon Pine. Elm keel. Forefoot and stern-post moulded Iroko. Main frames moulded Iroko and secondary frames vapour bent oak (2005)
Deck Structure:
Teak laid (2005) over double plywood sheets and Pine sub-deck
L.W.L.:
11.50

m.
35.05 feets
Displacement:
13
13 Tm.
Tm.
Type:
Gaff cutter, Oregon Pine (2006)
Winches:
Genova Furling:
Main Furling:
Spinnaker Pole:
Oregon Pine (2006)
Windlass:
Electric, 24V/500W bronze made
Tender:
Outboard:
E.P.I.R.B.:
Year:
Serviced:
Rebuild in 2006
Hours:
Transmission:
Hydraulic, shaft sided to port
Propeller:
4 blades, feathering
Bowthruster:
Fuel Tank:
50 l., plastic tank
Main-sail:
Ratsey & Lapthorn, Terylene, gaff (2014), Main Top-sail, Terylene
Jib:
Yankee, R&L, Terylene (2019) Flying jib, R&L, Terylene (2019), Top-sail flying jib, R&L, Terylene (2014)
Genoa:
Light, Ratsey & Lapthorn, Terylene (2019)
Try-sail:
Stay-sail:
Ratsey& Lapthorn, Terylene (2019)
Mizzen:
Spinnaker:
Heavy Balloon jib (2014) + Light Baloon jib (2019)
Gennaker:
Depth-sounder:
B&G Hydra 3000
Wind Station:
B&G Hydra 3000
Autopilot:
VHF Radio:
Icom Ic-M 411 + Icom Ic-M 33 hand-held
GPS:
Lowrance Globalmap 9200c
Plotter:
Lowrance Globalmap 9200c
Radar:
Other:
Batteries:
1 x 85Ah Varta engine + 2 x 105Ah SLCA AGM in series (all of them from 2019)
Generator:
One alternator 12V and one 24V
Inverter:
Showers:
Hot water:
Water Tank:
Holding-Tank:
Air Conditionning:
Washing Machine:
Water-maker:
Miscellaneous:
Birkenhead is funded on the Liverpool's opposite side of the Mersey. Since the beginning of the XIX Century there was a long tradition of boatbuilding, either for merchantmen, as for the Navy. One of the most renowned yards was the one that Samuel Bond started at the beginning of the Seventies. Its activity lasted without a break until 1962. Among its customers many of them were members of the Royal Mersey Yacht Club, a brilliant club with fine racing history, even if it was smaller compared to the South East Coast English clubs and the Scottish clubs. On the second half of the XIX Century yachting lived an enormous growth everywhere in UK. This was due to the very long prosperity period that followed the Napoleonic wars and many a sailing passionate started designing their own boats with different outcomes. Charles Livingston (1857-1937) had quite a good success and created winning boats of different sizes and also a few steaming yachts and some monotypes. Thanks to his good technical approach he was involved in the America's Cup challenges of Lord Dunraven and Sir Thomas Lipton. When he designed the Molita for his own use he was inspired by the lines inaugurated six years before by the Glenn Lennox Watson designed Dora and by the Valkyrie built for Lord Dunraven's 1893 challenge. She had a spoon bow, triangular side shape with reduced wetted surface, a raked stern-post and an uncluttered deck. The gaff cutter rig was then the most racing rig and thanks to her dimensions the Molita was up to the better 10 raters of the moment. Livingston had her built by Samuel Bond. Even thought she was the personal boat of her own designer and she was named after the diminutive of his daughter (Molly) the Molita does'nt seem to appear so often under the focus of the history! We must suppose the she participated to many races and made some short cruise around her domestic waters of Merseyside and Scotland where Livingston used to live, as by her dimensions she was then not meant to be a long distance cruiser. We do know that, as many other old vessels of the past Century, during the Thirties of the XX, she received her first combustion engine, a Bergius-Kelvin with a sided propeller to port, in order to save the rudder-post structure and her rig was replaced by a Bermudan one, that by then was sufficiently strong as to avoid accidents. Her present owner found her lying in Scotland in quite complicated conditions and moving her to his home in Mallorca, he assumed the mission of restoring everything in the most robust possible way, thus maintaining the original shape from Livingston's drawings. This way, we find that the keel is Black Elm, while the forefoot and stern-post are laminated Iroko. Main frames are laminated Iroko, secondary frames are vapour bent oak. Hull planking is Pitch-pine made, very rare to find today and Oregon Pine and the teak deck is laid over a sub-deck composed by two plywood layers and a first pine planked deck. Everything is copper bolted and the deck hard-ware is made by pieces all made of the same bronze quality and they are through bolted to the deck with bronze bolts and platens. Chain-plates are stainless steel built bolted to laminated Iroko frames and they reach the mast-foot, thus composing a fully continuous structure. Below decks she is conceived for racing and day-sailing, more than for cruising and some details need still finishing, particularly in the aft cabin. As a real thoroughbred as she is, the Marigan shows up her building structure around and behind the joinery and this is part of her charm and beauty. She is a vessel in very good conditions and has already demonstrated that she can win races with a family and friends crew. Her owner day sails her also on the Palma Bay with every canvas on the air, making a very fine view on the fine panorama of the Island. Marigan is ready to stand any effort as hard and bold as they can be without any failure!
Request more info Marigan
These details are believed to be correct but not guaranteed. This specification can not form part of any contract. The purchaser should instruct his surveyor and/or agent to investigate any detail he wants validated. The boat is offered subject to prior sale, price change, inventory change or withdrawal without notice.