Niña Luisita, Staysail Schooner
Ref. CP120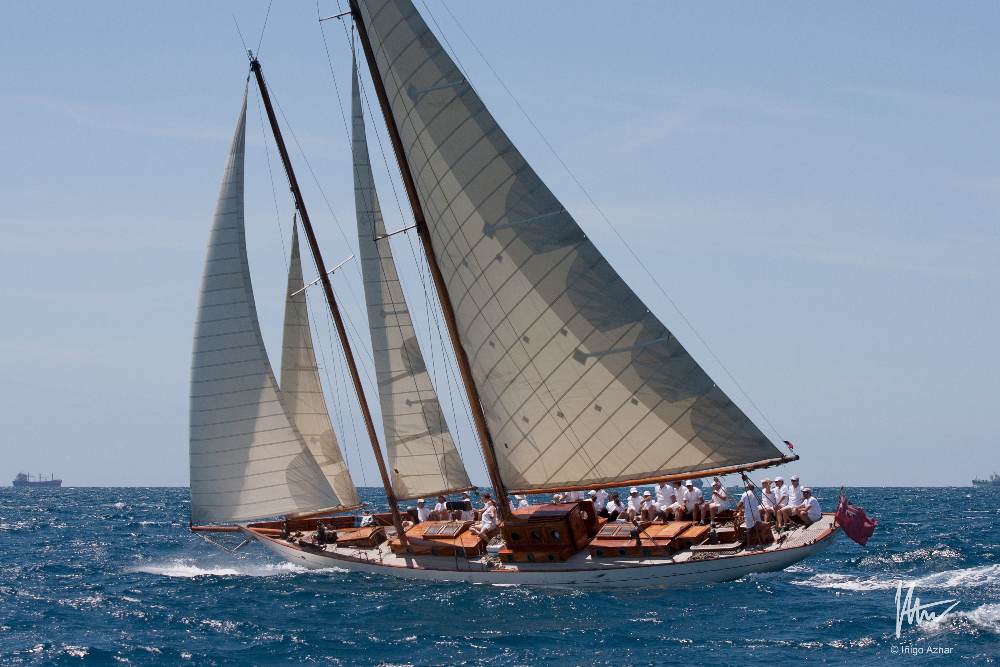 Since her launch this schooner has been owned only by two families. She will be found in good shape and in sailing trim, She can be registered in Spain in the Historic vessels Register.
EUR 580,000 ,-
Design:
Vincenzo Vittorio Baglietto
Hull Structure:
Iroko on oak frames, new stern-post (2021)
Deck Structure:
Teak on oak beams (1983)
L.W.L.:
14.46

m.
44.07 feets
Displacement:
39
39 Tm.
Tm.
Type:
Staysail schooner, new Staysail mast (2021), main mast 1968
Winches:
Mainsheet immagasinator and Topping lift winch
Genova Furling:
Main Furling:
Spinnaker Pole:
Tender:
Outboard:
E.P.I.R.B.:
Year:
Serviced:
Every Year
Hours:
Transmission:
Mechanic gear-box, shaft
Propeller:
Fixed three blades
Bowthruster:
Fuel Tank:
Main-sail:
Zaoli, yellowish terylene, in very good shape
Jib:
Zaoli, yellowish terylene, in very good shape
Genoa:
Zaoli, yellowish terylene, in very good shape
Try-sail:
Stay-sail:
Zaoli, yellowish terylene, with boom, in very good shape
Mizzen:
Spinnaker:
Gennaker:
Log:
Depth-sounder:
Wind Station:
Autopilot:
VHF Radio:
GPS:
Plotter:
Radar:
Other:
Generator:
Inverter:
Batteries charger:
Mastervolt
Showers:
Bath tube in owner's head
Water Tank:
Holding-Tank:
Oven:
Air Conditionning:
Washing Machine:
Water-maker:
Miscellaneous:
They say that Naval Engineer Vittorio Baglietto, grandson of the famous Italian Yard's founder, took inspiration from Charles Nicholson drawings, when Count Bruzzo placed an order for his next boat: a 20 m. schooner. She was to be the last out of three big sailers built by Baglietto between the Twenties and Thirties. All of them are still afloat, the two others being the Janua and the La Spina. Count Bruzzo's Schooner was called Pofi and many details on board tell us about the care he put while following the building process. The bow overhang for example, closely followed the Count's taste. He was an Eight metre Racing passionate, while Baglietto draw for the rest a more cruising biased hull lines. The Schooner rig too was probably Bruzzo's choice. In fact it replicates the Niña's innovative shape, the formidable racer from William Starling Burgess (1928). Due to the big difference in height between the main and the stay-sail masts, the triatic stay, which passes on both trucks, goes straight to the bowsprit, thus allowing to hoist two different enormous sails: a genoa and the golllywobbler (a kind of Fisherman), both with the genoa tacked to the boom end. This rig became to be known as... "Two masts cutter"! Below decks, the schooner keeps still today all the feel and original taste of the era and also Count Bruzzo's touch: a large owner's state room with two chests of drawers, one with a small secretaire. An owner's ensuite with bathroom, the light and ventilated saloon and particularly a small Virgin made of Murano's glass that Count Bruzzo asked be placed on a niche before the owner's bed. She still today protects the vessel and her owners. Pofi, as was called the schooner, has a very tranquil cruising life, sailing around the Mediterranean waters, starting from her home port of Rapallo. Bruzzo family protagonized the Italian sailing sport during the years before and after World War 2. Pofi passed that difficult war period calmly moored in Rapallo, without novelties. Towards the end of the Sixties, an aging Count Bruzzo received several insistent requests to sell the schooner from Count Tagliaferri. Count Bruzzo at the end accepted to sell in 1971 and the schooner is known since as the Niña Luisita, in honor of the Count's mother and of his Argentinan wife. Counts Tagliaferri carried on with the Med cruises, now from Imperia as home port. When Niña Luisita reached 55 years, in 1987, they sent her to Baglietto Yard for a deep general refit. At the Yard some old workers did recognise the old Pofi and her particular building! Then she received her third teak deck, a new main mast as well as a new halyard winch to easy the hauling of the main and some improvement to the interior electric lights. For the rest, she continued to be as when she was born. This is the reason why the Niña Luisita occupies a honor place among the classic races fleet that in the meantime spread along the Mediterranean Sea. In 2006 and 2007 a new refit work saw the engine replacement, mounting a gen set, and new electric wire system and panel, under the supervision of famous Naval Architect Franco Giorgetti. In 2022 she was again restored in Barcelona: some planks an the stern-post where replaced with new pieces, the caulking made new, new pain to the topsides, etc., etc. Today she is in very good conditions and keeps with proud her original shape, her rig and her famous interior.
Request more info Niña Luisita, Staysail Schooner
These details are believed to be correct but not guaranteed. This specification can not form part of any contract. The purchaser should instruct his surveyor and/or agent to investigate any detail he wants validated. The boat is offered subject to prior sale, price change, inventory change or withdrawal without notice.