Whisstock Selestra 48
Ref. VP261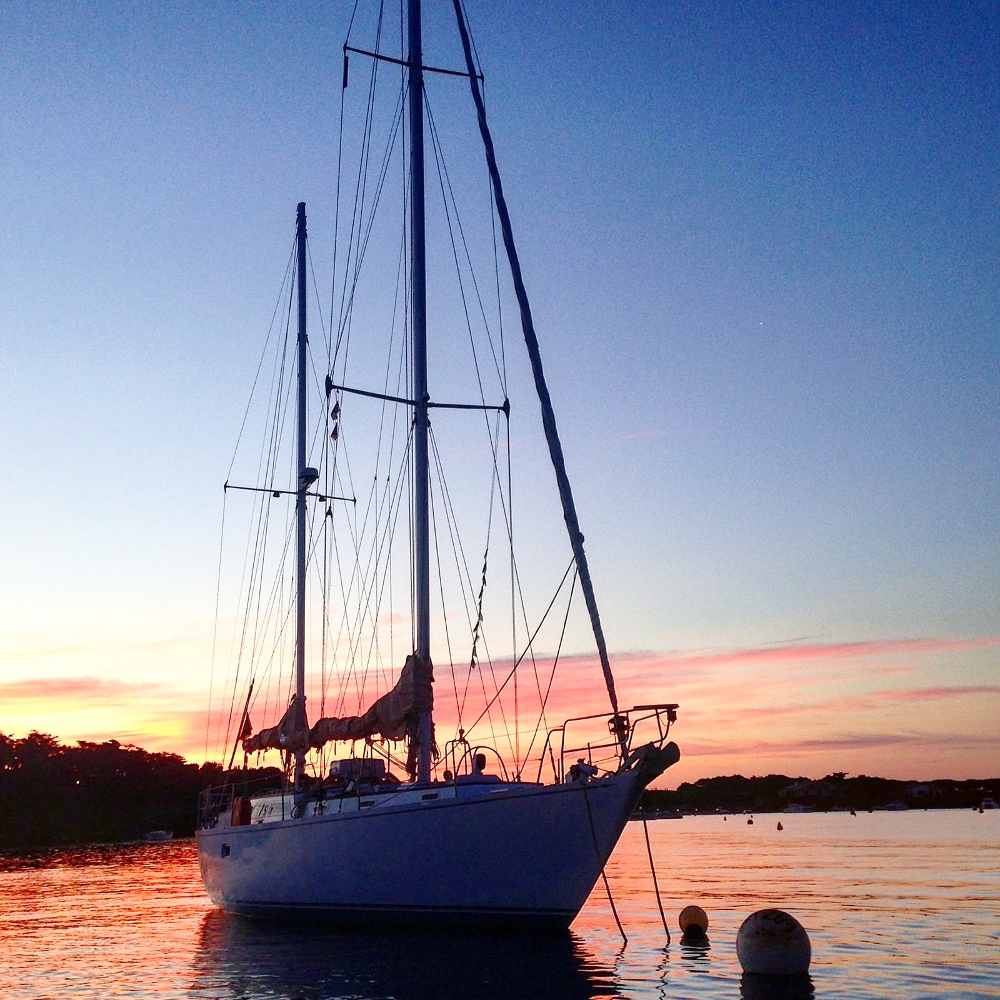 A blue water cruiser, magnificently built and finished. Comfortable to handle, good sailer. She has a lifting keel. Excellent conditions and ready to sail away.
EUR 135,000 ,-
Yard:
Whisstock, Woodbridge
L.W.L.:
12.50

m.
38.10 feets
Displacement:
16
16 Tm.
Tm.
Winches:
Lewmar: 2 x 48ST, 4 x 42ST, 6 x 30ST, 1 x 8.
Genova Furling:
Profurl LC42
Main Furling:
Windlass:
Lofrans Tigres 12V/1000W
Anchors:
2 x CQR ("0 y 25 kg) + 100 m chain (2017)
Tender:
Highfield 280 (2017)
Outboard:
Mercury 9,9 cv 4t (2022)
Safety equipment:
Complete and recent
E.P.I.R.B.:
McMurdo G5 Smartfind Plus GPS (serv 2021)
Engine:
Solé Diesel Mini 62
Serviced:
Every Year
Hours:
650
Bowthruster:
Fuel Tank:
175 + 125 stainless steel
Main-sail:
Terylene, full batten (2020)
Jib:
Yankee, terylene (2020)
Genoa:
Terylene, furling (2022)
Try-sail:
Stay-sail:
Terylene, on hanks (2020)
Spinnaker:
Inner staysail, terylene
Gennaker:
Depth-sounder:
B&G Triton (2015)
Wind Station:
B&G Triton (2015)
Autopilot:
Raymarine ST6000
VHF Radio:
Standard Horizon Lsd (2015) + BLU Icom IcM725
Plotter:
Other:
Batteries:
2 x 90Ah Exide engine and generator + 3 x 115Ah Trojan services
Generator:
Northern Lights M 673 230V/6 Kw/h (2.400 h) + wind-vane AIR-X Marine 12V/400 W (2018) + 2 sided solar panels JWS Poly 12V/130 W (2019)
Inverter:
Erayak 1500 W (2020)
Batteries charger:
Victron 12V/50A (2015)
Water Tank:
2 x 280 l. Polyethilene (2016)
Holding-Tank:
Air Conditionning:
No, kerosene heater
Washing Machine:
Water-maker:
60 l/h (2017)
Miscellaneous:
In the period 2013-16 the ship was almost continuously dry-docked. The works carried out in that period were: 2013: refurbishment of the reinforced plastic seacocks. 2014: Overhaul of all deck and mast fittings. 2015: Sandblasting and painting of the hull, deck and masts. Replacement of all standing and running rigging. Installation of a new engine. Electrical renovation (new batteries, charger and electrical panel). Electronic renovation (new VHF, GPS, wind equipment and sounder/browser). 2016: Total reconstruction of the keel and dagger-board box: emptying, revision and restoration of the ballast to its original location (5,900 kg of lead suitably insulated from the aluminum with 200 lt. of epoxy based pitch). Replacement of the stainless steel water tanks with polyethylene. In recent years afloat the boat has enjoyed the following improvements: 2017: renewal of anchor and mooring line, rehabilitation of the water-maker and purchase of a new dinghy. 2018: Installation of a wind turbine. 2019: Installation of two solar panels, two side accesses and new battery renovation. 2020: Installation of a boom for the foremast and steps on the masts. Renewal of sails: mainsail, yankee, foresail and mizzen. 2021: Change of flag registry and overhaul/renewal of safety equipment. New wind vane and pilot screen. 2022: Renewal upholstery interior ceilings, genoa and outboard. In the last few years afloat, every year before the start of the summer season, the boat has gone out to dry dock to clean and paint the bottom and to replace the anodes.
The shipyard that Claude Whisstock founded in 1926 on the banks of the Deben River in the town of Woodbridge soon became famous for the quality of its boats and remained in business until the early 1990s. Whisstock built numerous cruising boats. Famous series such as the Deben 4 tonner or unique specimens such as Francis Chichester's Gypsy Moth I came out of Claude and his son George's shipyard. By the end of the 1970s, wooden construction, even epoxy-molded, was languishing and Whisstock began to build aluminium boats, with a technique and precision that would soon bring them international success. The Selestra series, based on models of different lengths, was mainly dedicated to cruisers between 38 and 72 feet. Only three examples of the Selestra 48 were built, and this is a pity, because it is a very robust, elegant and well-performing cruiser. Designed by Stephen Dalzell, then a young designer, now specialized in mega yachts, the Selestra 48 has slender and asymmetrical lines, with a rather rounded side profile and reduced draft. A small retractable keel improves the upwind performance, also favoured by the shape of the hull. Originally designed as a cutter, the Selestra 48 was rigged as a ketch, more suited to the globetrotting program proposed by the shipyard. Mainsail and mizzen have a notable high aspect ratio to give agility and dynamism in all conditions and the owner of the Hio, as the model on offer is called, confirms this with the little use of the engine since it was fitted new. Its water and diesel capacities, the presence of a robust and reliable diesel generator, a wind generator, a reliable water-maker and two sided solar panels are a pledge of great autonomy. The Hio was subjected by its current owner, a shipwright by profession, to a thorough overhaul, from heel to keel, changing what was unusable, revising what could be used and cleaning up any imperfections. The result is evident and also confirms the care with which the boat has been treated from the first moment. The uncluttered deck, with a high quality deck handling hard-ware, has a very safe cockpit that allows convivial meetings protected by a sun-awning. The interior, with a high level of finishing, offers a pleasant succession of bright and dark between the different essences that have been used for the bulkheads and mouldings. The excellent galley allows to work with any heel, the saloon is well delimited and all over the boat there are handles and props to walk in all conditions. The recent engine with few hours of use, the modern and functional equipment and a panoply of spare parts and tools make the Hio a highly recommended boat for long stays on board and for any sailing program that the next owner would start.
Request more info Whisstock Selestra 48
These details are believed to be correct but not guaranteed. This specification can not form part of any contract. The purchaser should instruct his surveyor and/or agent to investigate any detail he wants validated. The boat is offered subject to prior sale, price change, inventory change or withdrawal without notice.