Rob Roy
Ref. CP097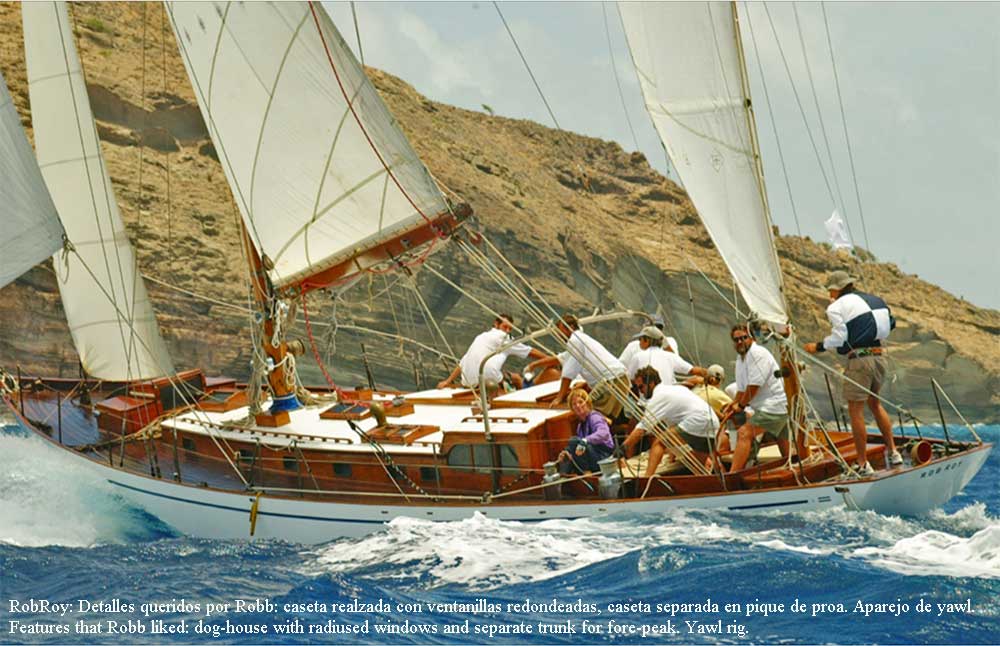 Magnific blue water cruiser, designed by a clever Architect and crafted by a great Boatbuilder. She is in very good shape and very original. Being USA flagged, VAT must be paid in Europe.
EUR 185,000 ,-
Design:
Arthur C. Robb, MBE
Hull Structure:
Honduras Mahogany on Canadian rock elm frames
L.W.L.:
12.20

m.
37.19 feets
Displacement:
21
21 Tm.
Tm.
Winches:
2 x Lewmar 65 + 2 x Barient + various
Genova Furling:
Main Furling:
Anchors:
2 x Bruce + Danforth + Luke
Tender:
Yes and a wooden dinghy
Year:
Serviced:
Every Year
Hours:
Propeller:
Max Prop 3 blades
Bowthruster:
Jib:
2 x terylene on hanks
Genoa:
2 x terylene on hanks
Spinnaker:
Simmetric, recent
Depth-sounder:
Fishfinder 80
Wind Station:
Plotter:
Garmin and Furuno
Total Beds:
Air Conditionning:
Heating system
Washing Machine:
Water-maker:
Miscellaneous:
The collaboration between a clever Designer, as Arthur Robb was, and a great builder, as was the Yard founded by Herbert Woods in the Twenties in the Norfolk Broads, could only produce a great yacht and Rob Roy is for some historians one of the best boats designed by the New Zealander. When in 1966 a Florida based broker offered her in the second hand market for the first time, he claimed that she had costed 230.000 $ to build, a statement of her hig quality craftmanship. And in her Robb placed many of his favourite features as the radiused windows of the dog-house, already shown on the two 10,5 Int. CR of his design built in 1954 by Gino D'Este in Venice (the Mila II and Paola). He will repeat the same feature also in the Mistress Quickly (today Nerissa, another 10,5 Int. CR) built ten years later by Beltrami, in Genoa. Other issues favored by Robb and found on board Rob Roy are the butterfly hatches that were rapidly becoming old style, but that give plenty of light and ventilation with only a small reduction in the strenght of the structure. Or the navigation room, placed at the companion-way on a elevated position to keep better communication with the crew and to reduce the slope with the interior, as there are two different levels. Or the folding chart table, the only allowance of the Designer in the search for ample spaces below decks. Or the gorgeous soles of massive wood and the then state-of-the-art laminated beams. In short, a real summary of ideas and woodwork of exceptional quality. The long over-hangs too, that give to the vessel her classic feel, were a favourite of Arthur Robb, a man that carried on drawing wooden boats even when the fibreglass was taking over. The lifting keel became popular in the Fifties with the victories of the Finisterre (launched in 1954, to a design of Olin Stephens). Robb had that in mind when designing this boat for an American racing sailor. In fact the Rob Roy, with a draft between 1,80 and 3,05 m., had an effective racing career against the best racing boats of those days, that lasted well into the Eighties. Afterwards, she started a tranquil blue water cruising life that took her to the Baltic and North Seas and, now, to the Mediterranean. She is in very good shape and originality, something very important for a classic boat.
Request more info Rob Roy
These details are believed to be correct but not guaranteed. This specification can not form part of any contract. The purchaser should instruct his surveyor and/or agent to investigate any detail he wants validated. The boat is offered subject to prior sale, price change, inventory change or withdrawal without notice.