Rob Roy
Ref. CP097bis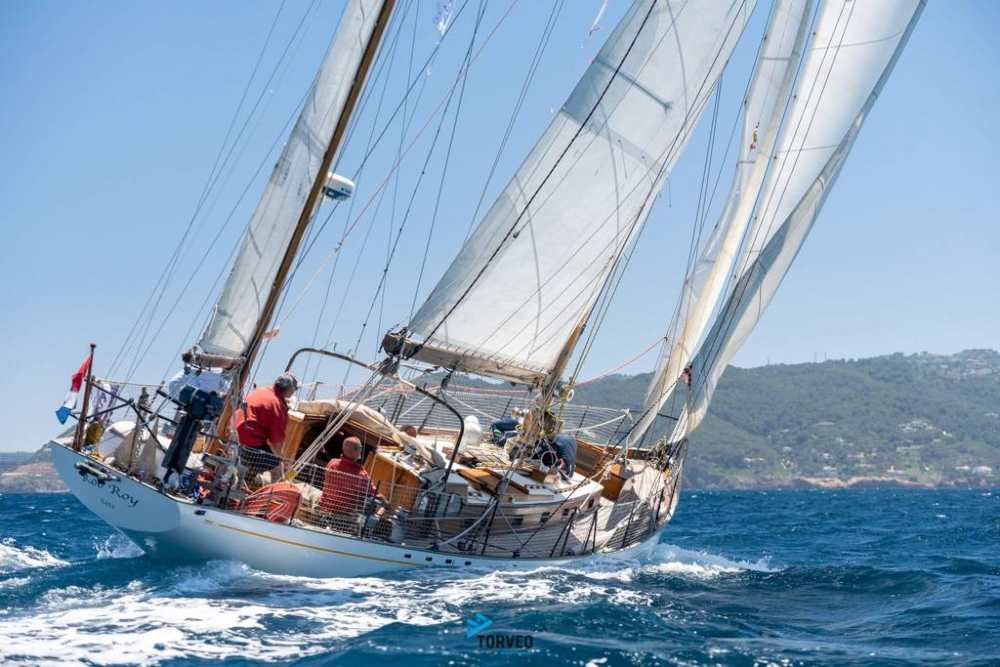 Wonderful and fast lifting keel yawl, easy to handle and in very good sailing conditions. Sturdy construction. She has new engine, new masts, new standing rigging,  some new sails, new full hull caulking and new topsides paint cycle.
EUR 280,000 ,-
Yard:
Herbert Woods Ltd, Norfolk Broads
Hull Structure:
Honduras Mahogany on Canadian elm frames, glued at topsides and caulked at hull
Deck Structure:
Grown teak, tongued and grooved, without joints.
L.W.L.:
12.20

m.
37.19 feets
Displacement:
21
21 Tm.
Tm.
Type:
Bermudan Yawl, Sitka Spruce (2020)
Winches:
2 x Lewmar 3 spds. + 2 x Barient + other Lewmar and original bronze
Genova Furling:
Main Furling:
Anchors:
2 Bruce + 1 Danforth
Tender:
Strip planking built dinghy
Engine:
Craftsman Marine CM 4.65 Mitsubishi based
Serviced:
New engine
Hours:
100 hrs. (Oct 23)
Transmission:
TM345 Gearbox, Shaft
Propeller:
Max-Prop 3 blades
Bowthruster:
Main-sail:
Elvström, Terylene, three reefs (2019)
Jib:
2 x Terylene on hanks
Genoa:
2 x Terylene on hanks
Spinnaker:
Assimmetric (2020)
Gennaker:
Depth-sounder:
Fishfinder 80 + Advansea S 400
Wind Station:
Autopilot:
WInd-vane, to be tested
VHF Radio:
Simrad RS40 with AIS, Gps and Dsc
Plotter:
Garmin GPS Map 182
Other:
Furuno Navtex NX-300
Voltage:
12V/220V + Converter to 110V
Batteries:
100Ah engine (2017) + 175Ah services + windlass (2018)
Generator:
Solar panels (2 x 80W + 2 x 65W)
Batteries charger:
Victron, automatic control (2020)
Showers:
Hot water:
220V and by the engine
Water Tank:
2 x 220 l. Mone builtl
Holding-Tank:
To be connected
Fridge:
12V and 220V + fresh box
Air Conditionning:
No, Force 10 gas heater
Washing Machine:
Water-maker:
Miscellaneous:
At the end of the II World War, Arthur Cecil Robb, a New Zealander living in the UK, opened his own Naval architecture business in London thus starting a brilliant professional career. He very soon raised a fame of elegance and efficiency on his designs. Regarding the elegance, Robb very often favoured important over-hangs and a marked sweet sheer for his designs. Regarding the efficiency, the Mokoia of 1948, his first important design, arrived second at the Kristiansand race, in Norway, having been launched just days before the race, without the time to check the new sails and loaded with stuff for long distance cruising. The Kahurangi, of 1953, won every kind of race in New Zealand, to the point that a street in Auckland was dedicated to this vessel. In those times of post-war and with the economics still recovering these boats stand out for her dimensions and their achievements. The collaboration between an experienced sailor as American August Boorstein was, a clever Designer as Arthur Robb was and a great builder, as was the Yard founded by Herbert Woods in the Twenties in the Norfolk Broads, could only produce a great yacht and Rob Roy is for some historians one of the best boats designed by the New Zealander. As a son of that Country, Robb had already good experience of lifting keels, but it was only when asked to design the Robb Roy that he could apply in facts his know-how. When in 1966 a Florida based broker offered her in the second hand market for the first time, he claimed that she had costed 230.000 $ to build, a statement of her high quality construction. In the Rob Roy A. Robb repeated many of his favourite features as the three radiused windows of the dog-house, already shown on the two 10,5 Int. CR of his design built in 1954 by Gino D'Este in Venice (the Mila II and the Paola). He will repeat the same feature also in the Mistress Quickly (today Nerissa, another 10,5 Int. CR) built ten years later by Beltrami, in Genoa. Other issues favoured by Robb and found on board Rob Roy are the butterfly hatches that at the time were rapidly becoming old style, but that give plenty of light and ventilation with only a small reduction in the strength of the structure. The navigation room, placed at the companion-way on an elevated position is another typical Robb feature to keep better communication with the crew and to reduce the interior's slope with the outside, as there are two different levels. As the folding chart table is, the only allowance of the Designer in the search for ample spaces below decks. Or the gorgeous soles of massive wood or the then state-of-the-art laminated beams. In short, a real summary of ideas and woodwork of exceptional quality. The long over-hangs too, that give to the vessel her classic feel, were a favourite of Arthur Robb, a man that carried on drawing wooden boats even when the fibreglass was taking over. Those over-hangs together with the full forward lines of the hull which have not any hollow on them as some American designs already showed, give buoyancy to the boat and a sweet motion through the waves. Her beam, just a bit ampler than a British design of fixed keel, but less than a lifting keel American design of similar dimensions, boosts her up-wind performances. The lifting keel became popular again in the Fifties with the victories of the Finisterre (launched in 1954, to a design of Olin Stephens). Robb had that in mind when designing this boat for an American racing sailor who was about to challenge the Finisterre herself. In fact the Rob Roy, with a draft between 1,80 and 3,05 m., had an effective racing career against the best racing boats of those days, that lasted well into the Eighties. Afterwards, she started a tranquil blue water cruising life that took her from the USA to the Baltic and North Seas. Now she sails in the Mediterranean. Barcos Singulares sold her to her present owner years ago. The Rob Roy benefits from a solid construction, with a monel (nickel-copper alloy) structure lining many of the stringers and frames, and a double monel frame taking the load from the shrouds on either side of the mast.
The bronze centreboard rises and falls in a monel box that forms part of the keel fin. This daggerboard ensures exceptional upwind performance.
The special assembly of teak deck battens ensures excellent watertightness, as does the use of fibreglass on top of the coachroof. Down below the owner's cabin aft, close to the chart room, is particularly comfortable and pleasant, with a wide double berth (140 cm to the shoulders) and a second berth (110 cm). It communicates directly with the doghouse and the head (shower, WC, washbasin). The f'c'sle has a huge triangular berth and plenty of storage space. It has its own access from the deck.
The saloon, which is also accessible via a side companionway, has a warm atmosphere and 4 berths. The forward galley allows to prepare meals in complete safety, both at anchor and at sea. The present owner has restored her to the very good conditions she is today, keeping her in the condition she needs for long cruises and regattas in complete safety and comfort. Since 2018, her current owner has had a number of maintenance and renovation works carried out by professionals, including a complete overhaul of the hull in 2023 and the installation of a new engine, as well as a new mainmast in 2020. The full list of work and equipment is shown below:
2023-
- Complete overhaul of the hull. Replacement of some planking and full caulking
- Complete painting of the hull
- New Craftsman 65 hp engine
- New plastic diesel tank (220 litres)
2020-
- Asymmetrical spinnaker
- New Sitka Spruce mainmast
- Complete change of standing rigging.
- Battery controller
- Installation of engine output flexible coupling
- Installation of 220V circuit
- New depth sounder
- New VHF antenna
2019-
- New GV , three reefs
- New fixed VHF, with AIS receiver
- New gas cooker (oven + 2 burners)
- New life raft (8 places)
- New fire extinguishers(4)
- EPIRB beacon
- IOR boom
- 8 self-inflating lifejackets
- New 6-seater dinghy
- Anti-UV covers for headsails
2018-
- New 170Ah service battery
- Overhaul of the hull. Minor repairs and caulking of weak spots
- Complete painting of the hull.
She is thus in very good shape and ready for new adventures. Her amazingly original conditions are something very important for a classic boat.
Request more info Rob Roy
These details are believed to be correct but not guaranteed. This specification can not form part of any contract. The purchaser should instruct his surveyor and/or agent to investigate any detail he wants validated. The boat is offered subject to prior sale, price change, inventory change or withdrawal without notice.
Best_Wordpress_Gallery id="551″ gal_title="Rob Roy nueva"